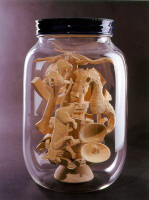 THE INSIDE, 1997
Blown glass and carved wood, metal, 24 x 13 x 13 inches
SOLD



During the summer of 1998, Buck was an artist in residency at Pilchuck Glass School in Stanwood, WA. He worked with a few lamp workers and glass blowers to develop the format for several glass pieces, which were crafted later with the help of Ben Moore and James Minson in Seattle. The initial inspiration for these glassworks came from elemental science experiments where root systems are grown from an avocado seed or potato that has been suspended by toothpicks in a jar of water.

Apparently, these science projects made quite an impression on John as a child and, like many of the elements in his sculptures and prints, they have remained as visual memories.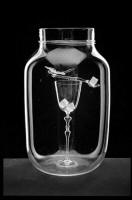 A JAR OF ABSINTHE (dragonfly/spoon), 1997-99
Blown and lamp worked glass, 18 x 11 x 11 inches
SOLD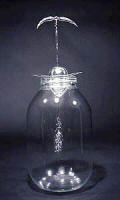 Untitled (avocado - detail at right), 1998
Blown and lamp worked glass, 38 x 12 x 12 inches
SOLD


John Buck was born in 1946 in Ames, IA. He received his BFA from the Kansas City Institute and School of Design, and went on to study at the Skowhegan School of Painting and Sculpture in Skowhegan, ME. The artist received his MFA in 1972 from the University of California, Davis, where he also met his wife, artist Deborah Butterfield. Buck and Butterfield divide their time between a ranch in Bozeman, MT and studios in Hawai'i.

He has been the recipient of several major commissions, including artworks for Swedish Medical Center in Seattle in 1998. He was the recipient of the National Artists Award in 1984 and was awarded an Individual Artist Grant from the National Endowment for the Arts in 1980. Buck's work is included in several major collections around the country, including the Fine Arts Museums of San Francisco, Art Institute of Chicago, The Brooklyn Museum, Contemporary Arts Center, Honolulu, Denver Art Museum, The Museum of Modern Art, New York, San Francisco Museum of Modern Art, and Seattle Art Museum. In Chicago, his work can be found at Zolla/Lieberman Gallery.