Extreme Landscape Painting
November 1 - December 22, 2018
Reception: Thursday, December 6, 6-8
Open pdf of available prints.

The latest press: "One of her most outré processes"
Gavin Borchert included my show in Seattle Magazine's "THE BEST BETS FOR ENTERTAINMENT THIS MONTH," in both the print and digital versions.
https://www.seattlemag.com/arts-and-culture/15-best-things-do-seattle-december-2018

"There is something penitent about this process"
Brangian Davis included "Extreme Landscape Painting" in her Crosscut article: "In Seattle galleries, art meets climate change."
https://crosscut.com/2018/11/seattle-galleries-art-meets-climate-change

"Calling to mind the way we are ground down by the process of living."
Martha Duhnam posted a review in ÆQAI, a Cincinnati-based e-journal on contemporary visual art.
http://aeqai.com/main/2018/12/margie-livingston-at-greg-kucera-gallery/

"Continues to re-invent the nature of painting"
Matthew Kangas, Visual Art Source.
http://www.visualartsource.com/index.php?page=editorial&pcID=17&aID=4981

"This isn't your grandma's landscape painting"
Jasmyne Keimig gave me a star in The Stranger.
https://www.thestranger.com/events/31241383/margie-livingston-extreme-landscape-painting

"Margie Livingston's newest work is nonpareil"
Amanda Manitach, City Arts. I'm so sorry City Arts is gone!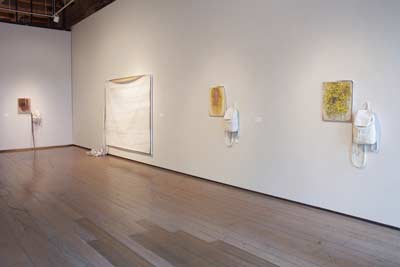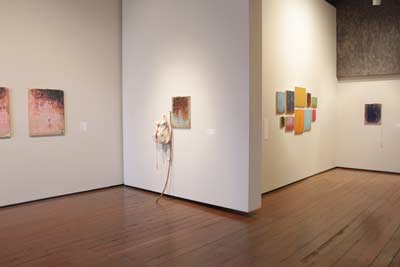 Installation views of Extreme Landscape Painting, 2018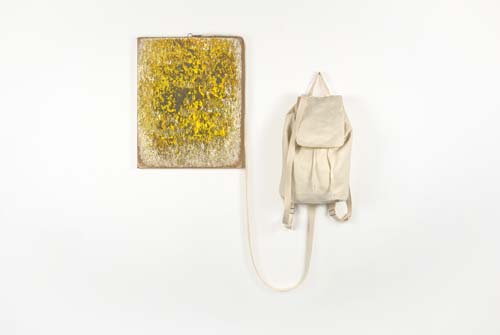 DAY HIKE: RATTLESNAKE LEDGE, 2018
Gouache and acrylic on panel with canvas, fabric, thread, and hardware
40 x 30 x 7 inches (dimensions variable)
$3,800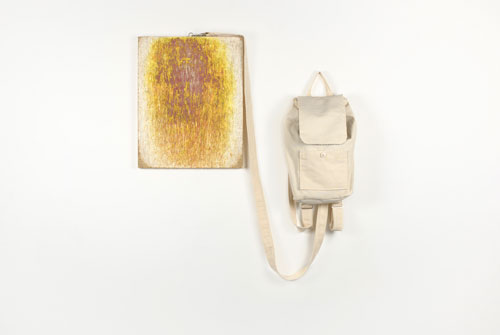 DAY HIKE: LAKE QUINAULT, 2018
Gouache and acrylic on panel with canvas, fabric, thread, buttons, and hardware
40 x 31 x 6 inches (dimensions variable)
$3,800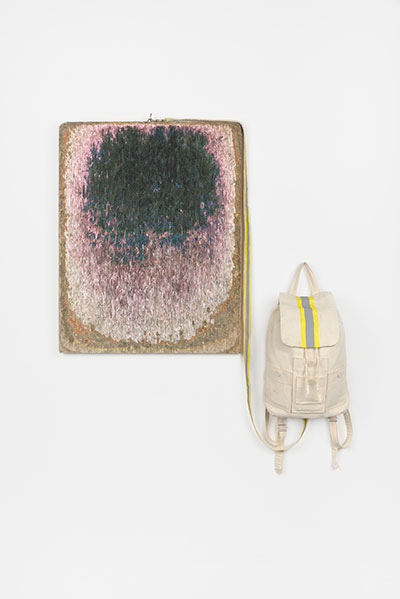 DAY HIKE: LAKE 22 (SNOHOMISH AND PUGET SOUND SALISH TERRITORIES), 2018
Gouache and acrylic on panel with canvas, fabric, thread, buttons, and hardware
Panel: 30.5 x 23.5 inches, overall dimensions variable
$4,800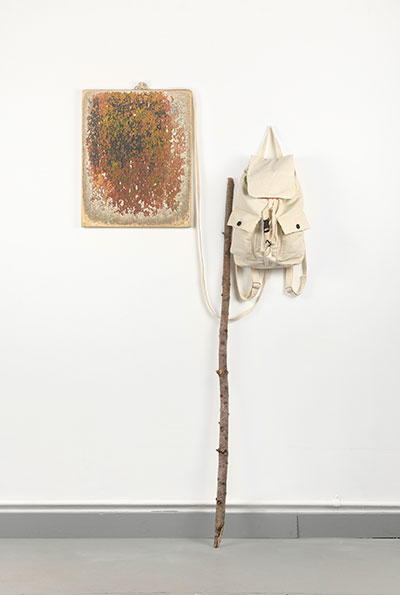 DAY HIKE: WALLACE FALLS, 2018
Gouache and acrylic on panel with canvas, fabric, thread, hardware, and stick
71 x 31 x 6 inches (dimensions variable)
$3,800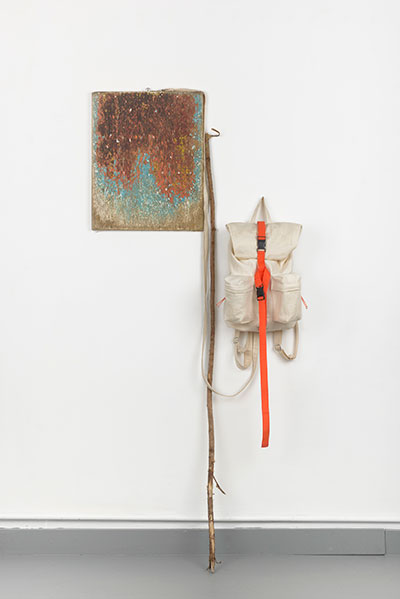 DAY HIKE: LAKE 22, 2018
Gouache and acrylic on panel with canvas, fabric, hardware, and stick
71 x 35 x 8 inches (dimensions variable)
SOLD




Photo documentation of performance
DAY HIKE: LAKE 22, 2018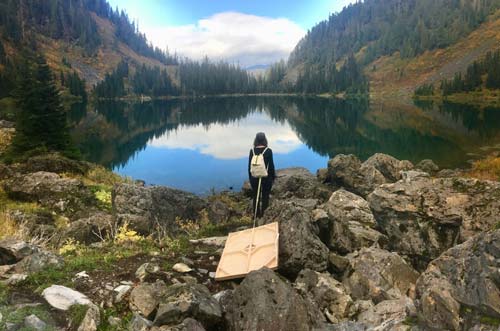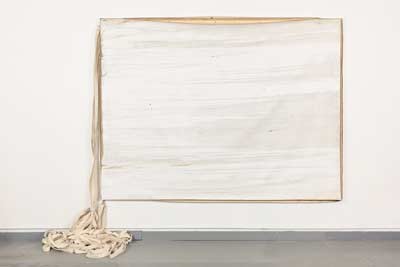 ARTEL, 2017
Dirt and acrylic gesso on canvas, wood, hardware
72 x 96 inches plus harness hanging down to floor
$10,000








CIRCUMAMBULATION installation view



CIRCUMAMBULATION, Gouache and acrylic on wood panel with hardware, variable dimensions, For suite of 10, SOLD

CIRCUMAMBULATION #1, 2018
Gouache and acrylic on wood panel with hardware
16.75 x 20 x 1 inches

In collaboration with
Samuel Kazuo Parker
Eileen Gibbons
Emily Zimmerman


CIRCUMAMBULATION #2, 2018
Gouache and acrylic on wood panel with hardware
10.75 x 8 x 1 inches

In collaboration with
Claire Cowie
Cora Glass


CIRCUMAMBULATION #3, 2018
Gouache and acrylic on wood panel with hardware
8.75 x 6 x 1 inches

In collaboration with
Forrest Perrine
Juliana de Groot


CIRCUMAMBULATION #4, 2018
Gouache and acrylic on wood panel with hardware
11.75 x 14 x 1 inches

In collaboration with
Melanie Estes


CIRCUMAMBULATION #5, 2018
Gouache and acrylic on wood panel with hardware
16.75 x 12 x 1 inches

In collaboration with
Colleen Maughan
Michael Nank
Andy Demetre


CIRCUMAMBULATION #6, 2018
Gouache, acrylic and oil on wood panel with hardware
18.75 x 14 x 1 inches

In collaboration with
Justyn Hegreberg
Philip Harrison


CIRCUMAMBULATION #7, 2018
Gouache and acrylic on wood panel with hardware
9.75 x 12 x 1 inches

In collaboration with
Kathryn Rathke
Sophie Eleanor Gibbons


CIRCUMAMBULATION #8, 2018
Gouache and acrylic on wood panel with hardware
12.75 x 9 x 1 inches


In collaboration with
Vernon Ross
Robert Lade


CIRCUMAMBULATION #9, 2018
Gouache and acrylic on wood panel with hardware
20.75 x 16 x 1 inches

In collaboration with
Tabitha Berk
Robin Green











CIRCUMAMBULATION #10, 2018
Gouache and acrylic on wood panel with hardware
18.75 x 14 x 1 inches

In collaboration with
Jim Demetre













COLOR STUDY FOR 55 LAPS, Gouache and acrylic on wood panel with hardware, all sized 6.75 x 4 x 1 inches each, $700 (except #2 which is 7.75 x 5 x 1 inches, $900)

COLOR STUDY FOR 55 LAPS #1, 2018


COLOR STUDY FOR 55 LAPS #2
7.75 x 5 x 1 inches SOLD


COLOR STUDY FOR 55 LAPS #3
SOLD

COLOR STUDY FOR 55 LAPS #4, 2018
SOLD





COLOR STUDY FOR 55 LAPS #5, 2018
SOLD




COLOR STUDY FOR 55 LAPS #6, 2018
SOLD










COLOR STUDY FOR 55 LAPS #8, 2018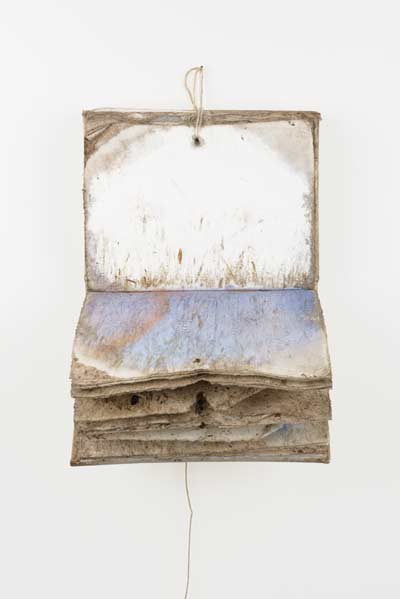 DRAGGED SKETCHBOOK WITH BLUE FROM HIKE WITH LINDA, 2017
Dirt, watercolor, string, paper, bookboard, canvas
11.5 x 7.5 x 4 inches
$2,000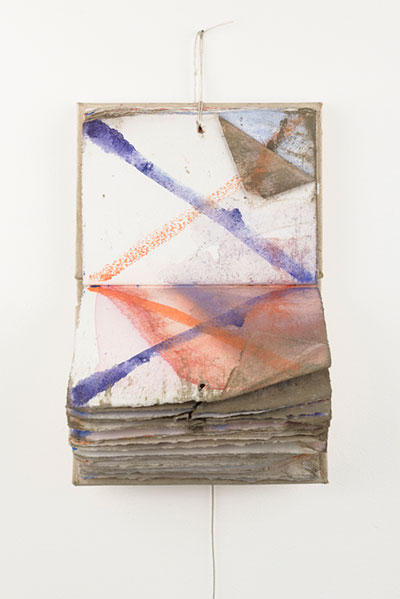 DRAGGED SKETCHBOOK WITH Xs, 2017
Dirt, watercolor, string, paper, bookboard, canvas
11.5 x 7.5 x 4 inches
$2,000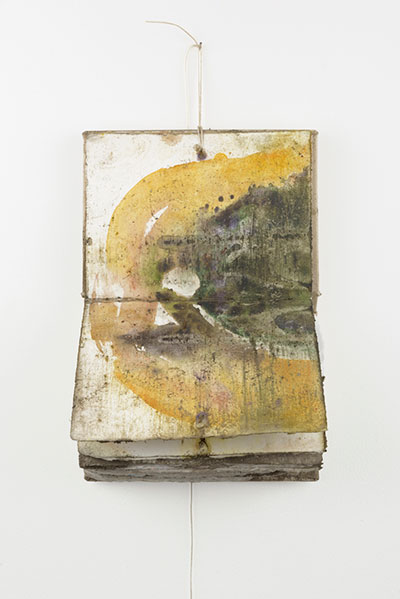 DRAGGED SKETCHBOOK AFTER HIKE WITH YELLOW, 2018
Dirt, watercolor, string, paper, bookboard, canvas
11.5 x 7.5 x 4 inches
$2,000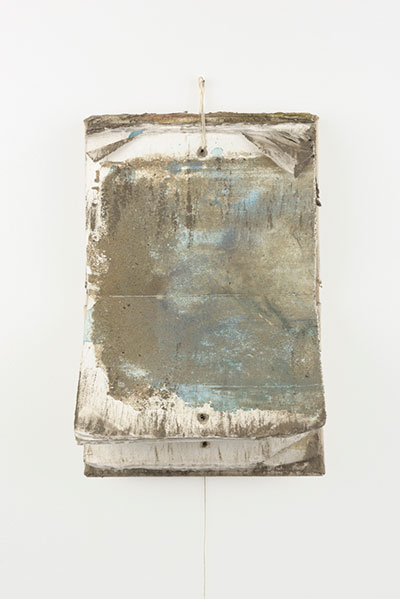 DRAGGED SKETCHBOOK WITH BLUE, 2018
Dirt, watercolor, string, paper, bookboard, canvas
11.5 x 7.5 x 4 inches
$2,000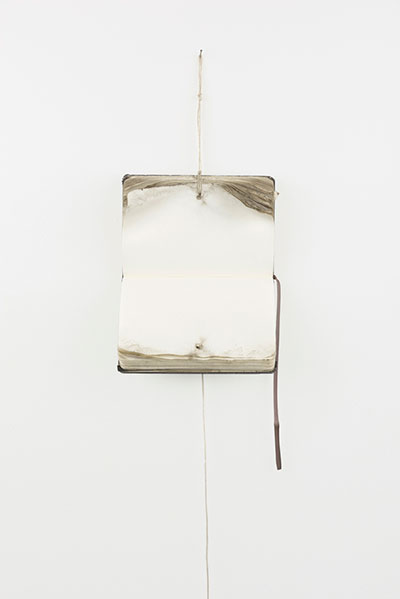 DRAGGED MOLESKIN, 2017
Dirt, watercolor, string, paper, bookboard, canvas
7.5 x 6 x 2 inches
$1,000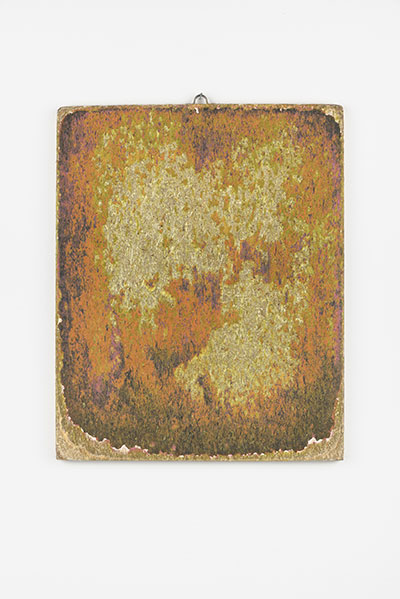 DAY HIKE: DISCOVERY PARK, 2018
Gouache and acrylic on panel with hardware
Panel: 20.5 x 16 inches, overall dimensions variable
$2,800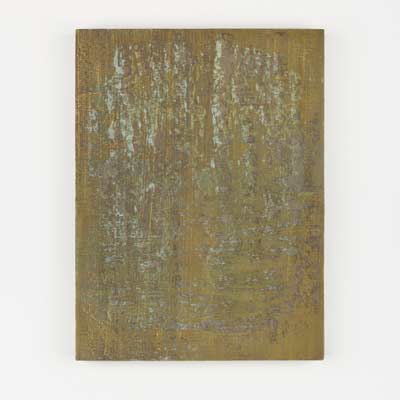 DARK OVER BLUE AND OLIVE, 2018
Oil on panel
12 x 9 x .75 inches
SOLD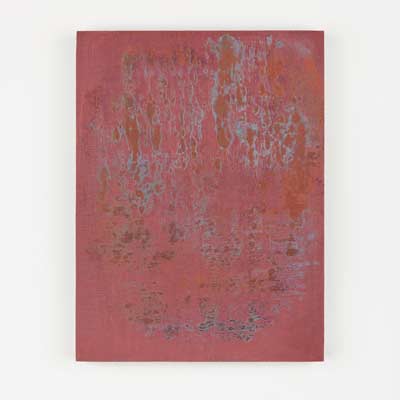 BLUE BETWEEN TWO REDS, 2018
Oil on panel
12 x 9 x .75 inches
SOLD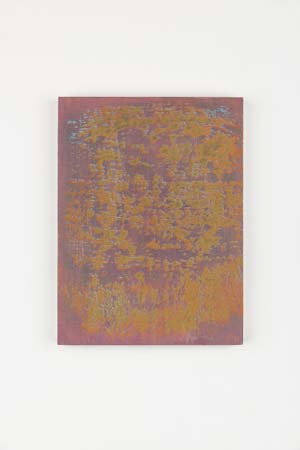 OLIVE OVER BLUE GREEN & ORANGE, 2018
Oil on panel
12 x 9 x 1 inches
SOLD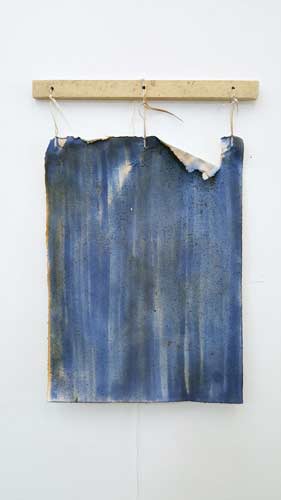 DRAGGED BLUE DRAWING WITH CROSSBAR, 2016
Ink and dirt on paper, wood, and string
15 x 11 x .5 inches , overall dimensions variable
$1,500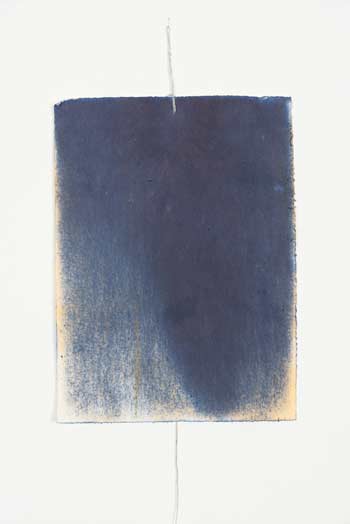 DRAGGED BLUE DRAWING, 2016
Ink and dirt on paper, stick, and string
15 x 11 x .5 inches , overall dimensions variable
$1,500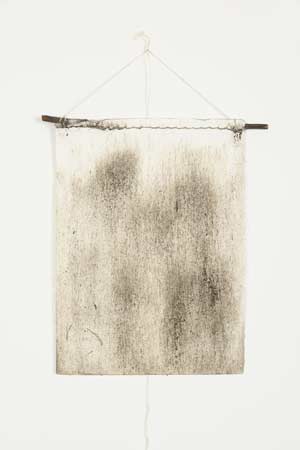 DRAGGED DRAWING WITH STICK, 2016
Dirt on paper, stick and string
15 x 11 x .5 inches , overall dimensions variable
$1,500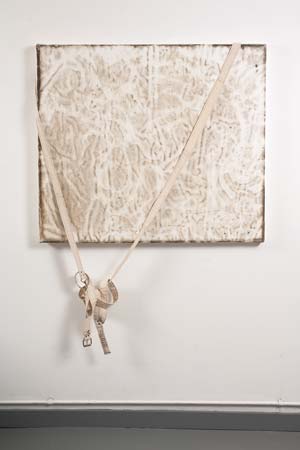 DRAGGED AROUND WITH HARNESS, 2016
Acrylic paint skin on wooden stretcher, tacks, canvas, thread, hardware and dirt
Dimensions variable, painting is 38.5 x 44.5 x 2 inches
8,000


(Documentation of the painting being dragged by the artist)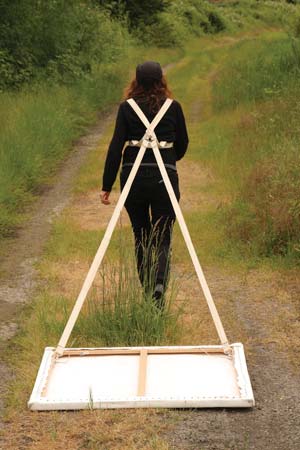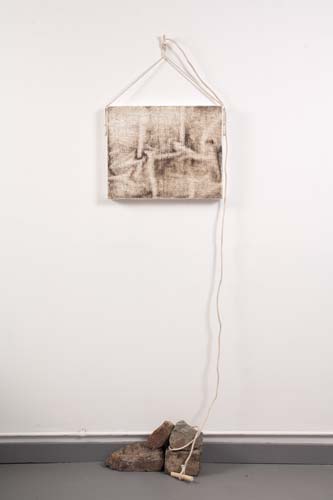 WEIGHTED DOWN, SMALL, 2016
Acrylic paint skin, wooden panel, staples, rope, dowel, dirt and rocks
Dimensions variable, painting is 16.25 x 20.5 x 2 inches
$4,000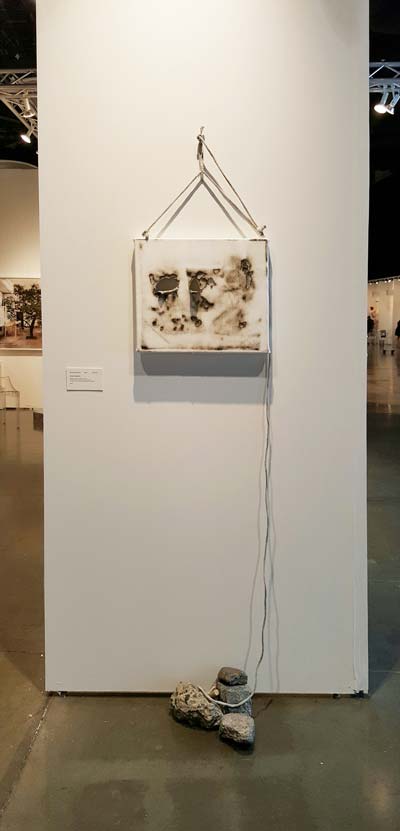 WEIGHTED DOWN, SMALL #2, 2016
Acrylic paint skin, wooden panel, staples, rope, dowel, dirt and rocks
Dimensions variable, painting is 16.25 x 20.5 x 2 inches
$4,000



24.9 MILES MORE OR LESS, Woodblock prints, $650 each.
Printed at Sidereal Press with Sheila Coppola


24.9 MILES MORE OR LESS – LESS PS I, 2018
Woodblock print on handmade paper
13.75 x 11 inches
Edition of 6


24.9 MILES MORE OR LESS – MORE PS I, 2018
Woodblock print on handmade paper
13.75 x 11 inches
Edition of 6


24.9 MILES MORE OR LESS – LESS PS II, 2018
Woodblock print on handmade paper
13.75 x 11 inches
Edition of 6


24.9 MILES MORE OR LESS – MORE PS II, 2018
Woodblock print on handmade paper
13.75 x 11 inches
Edition of 6





24.9 MILES MORE OR LESS – LESS PS III, 2018
Woodblock print on handmade paper
13.75 x 11 inches
Edition of 6





24.9 MILES MORE OR LESS – MORE PS III, 2018
Woodblock print on handmade paper
13.75 x 11 inches
Edition of 6








24.9 MILES MORE OR LESS, Woodblock reduction prints, $1,250 each.
Printed at Sidereal Press with Sheila Coppola

24.9 MILES MORE OR LESS (YELLOW AND ORANGE UNDER BLUE), 2018
Woodblock reduction print on handmade paper
21 x 17.5 inches
Edition of 10





24.9 MILES MORE OR LESS (BLUE AND GREEN OVER RED VIOLET), 2018
Woodblock reduction print on handmade paper
21.25 x 17.5 inches
Edition of 10





24.9 MILES MORE OR LESS (VIOLET AND GREEN ON CELERY), 2018
Woodblock reduction print on handmade paper
22 x 18 inches
Edition of 10