William Kentridge Collage Linocuts at Greg Kucera Gallery
November 5 - December 24, 2015

Editioned Works on Paper:
(price and availability subject to change as edition sells out)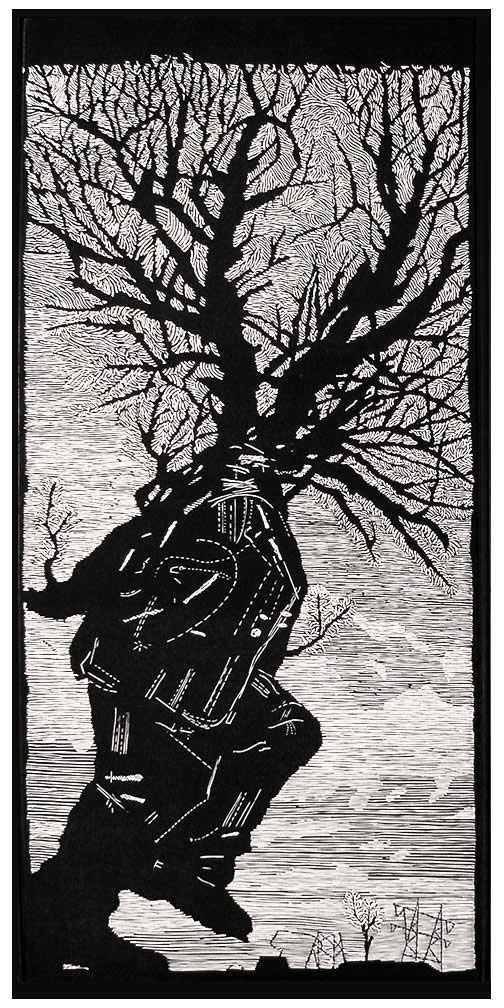 UNTITLED (Walking man turning into a tree), 2001
Linocut on Tableau rice paper
97.5 x 40 inches
Edition of 25
Price on request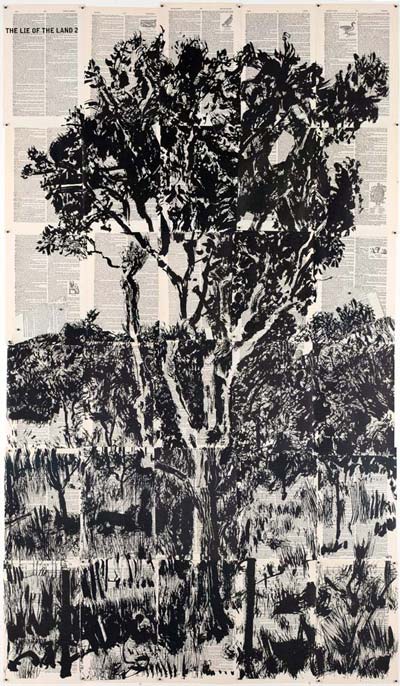 LEKKERBREEK, 2013
Linocut printed on 30 sheets of non-archival pages from Britannica World Language Dictionary, Edition of Funk and Wagnalls, 1954. Each sheet is mounted, in the corners, with archival framing tape to a backup sheet of Arches, Cover White, 300 gsm.
67 x 42.5 inches
Edition of 24
$42,000 framed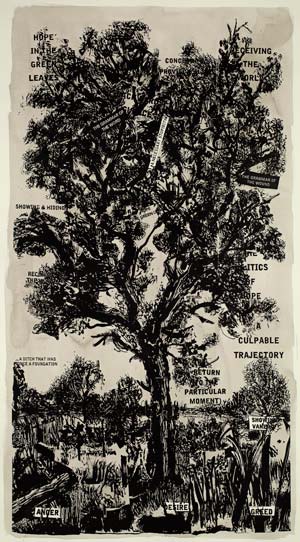 HOPE IN THE GREEN LEAVES, 2013
Linocut on Hahnemuhle Natural White 300 gsm
73 x 40.25 inches
Edition of 40
$30,000 unframed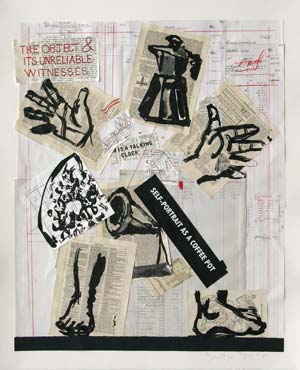 SELF-PORTRAIT AS A COFFEE POT, 2012
Multiple run hand printed lithograph and collage
38.75 x 31.5 inches
Edition of 35
$18,000 unframed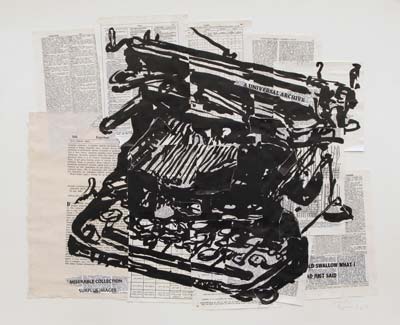 A UNIVERSAL ARCHIVE, 2012
One run hand printed lithograph and collage
28 x 33.75 inches
Edition of 35
SOLD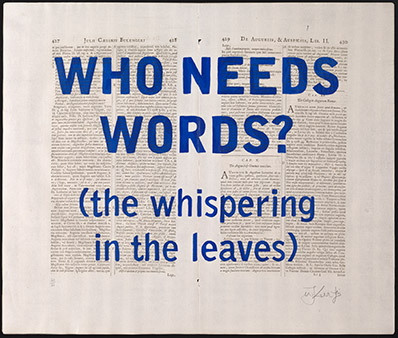 BLUE RUBRICS (WHO NEEDS WORDS), 2018
Lapis Lazuli pigment on found thesaurus pages
Edition of 45
$4,500 unframed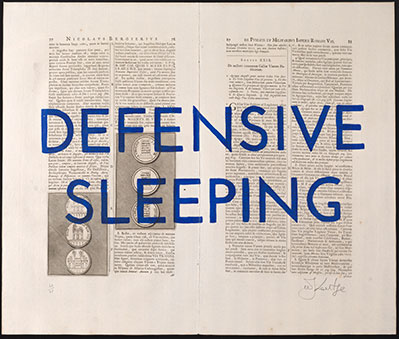 BLUE RUBRICS (DEFENSIVE SLEEPING), 2018
Lapis Lazuli pigment on found thesaurus pages
17.5 x 21 inches
Edition of 45
$4,500 unframed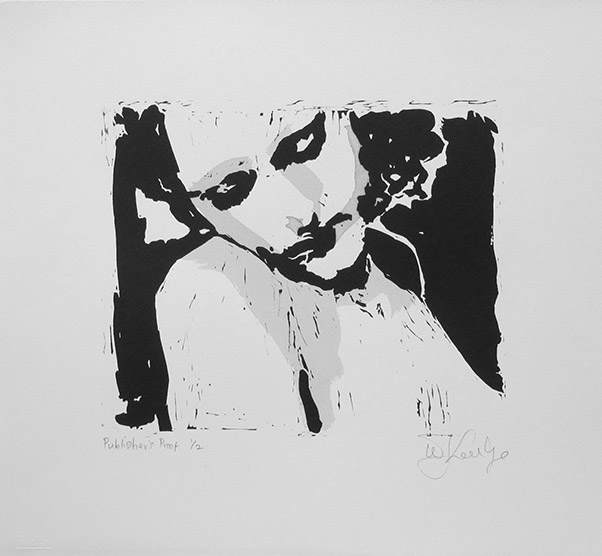 LULU (PORTRAIT OF A LADY LOOKING DOWN), 2016
Linocut with hand coloring by the artist
10.25 x 10.25 inches
Edition of 18
$6,000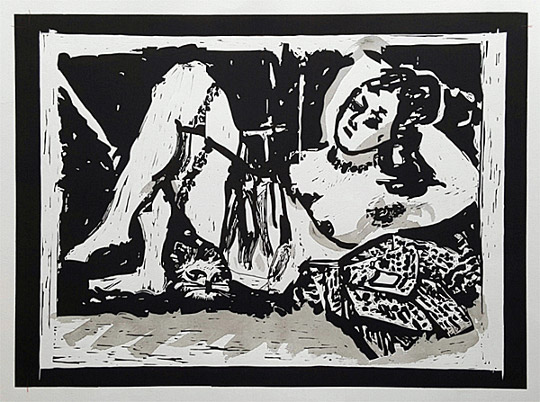 RECLINING FIGURE WITH CAT, 2016
Linocut with hand coloring by the artist
30.25 x 38.25 inches
Edition of 20
$9,000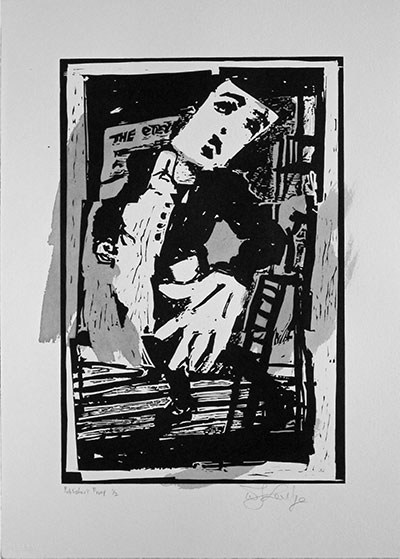 COUNTESS GESCHWITZ (DANCING PUPPET WITH MASK) FROM LULU, 2016
Linocut with hand coloring by the artist
23.25 x 17 inches
Edition of 18
$7,900 framed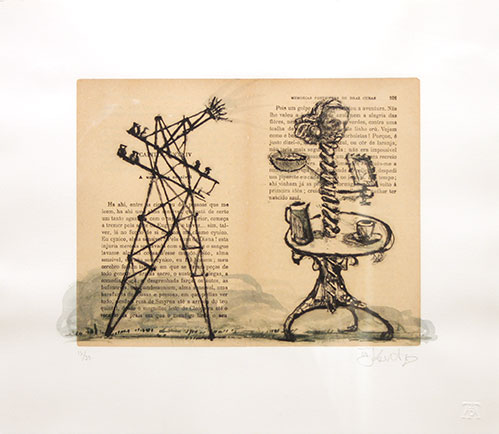 BRAZ CUBAS (sculptures), 2000
Lithograph, watercolor on text page
11.25 x 13 inches
Edition of 28
$3,500




UNIVERSAL ARCHIVE: REF. 21 VERSION E, 2012
Linocut printed on a selection of non-archival Encyclopedia Britannica pages,
each sheet torn, assembled and mounted on backing sheet, 17 x 26.5 inches
Edition of 20
$6,700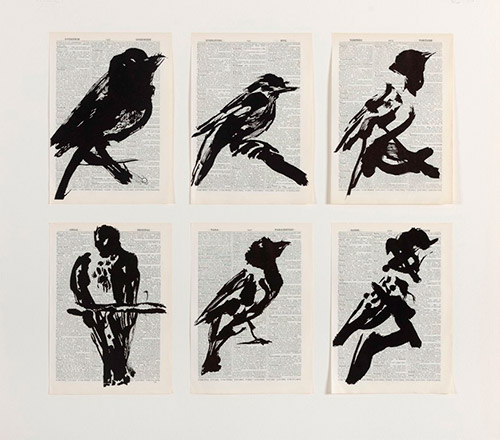 UNIVERSAL ARCHIVE (Six Birds), 2012
Linocut printed on Shorter Oxford Dictionary mounted onto Arches Cover White, 40 gsm
27.5 x 32 inches
Edition of 30
$18,000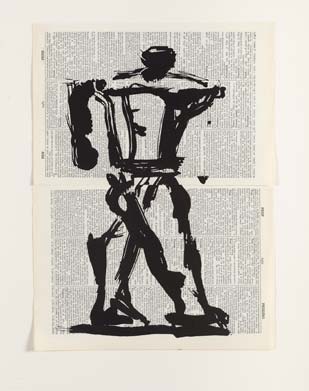 UNIVERSAL ARCHIVE: REF. 23, 2012
Linocut printed on non-archival pages from Shorter Oxford English Dictionary
18.25 x 14.25 inches
Edition of 30
$5,800 framed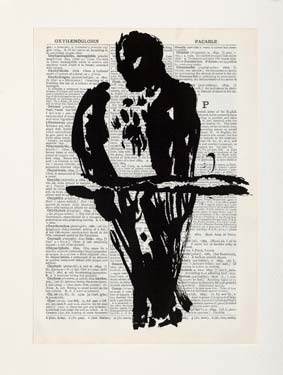 UNIVERSAL ARCHIVE: REF. 27, 2012
Linocut printed on non-archival Shorter Oxford English Dictionary pages, mounted by a single tab on backing sheet
13.75 x 10.75 inches
Edition of 20
$5,300 framed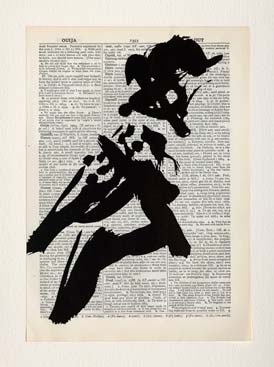 UNIVERSAL ARCHIVE: REF. 28, 2012
Linocut printed on non-archival Shorter Oxford English Dictionary pages, each sheet torn, assembled and mounted on backing sheet.
14.75 x 10.75 inches
Edition of 20
$5,300 framed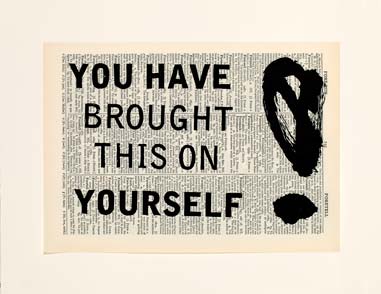 UNIVERSAL ARCHIVE: REF. 53, 2012
Linocut printed on non-archival pages from Shorter Oxford English Dictionary
10.75 x 13.75 inches
Edition of 20
$4,750 framed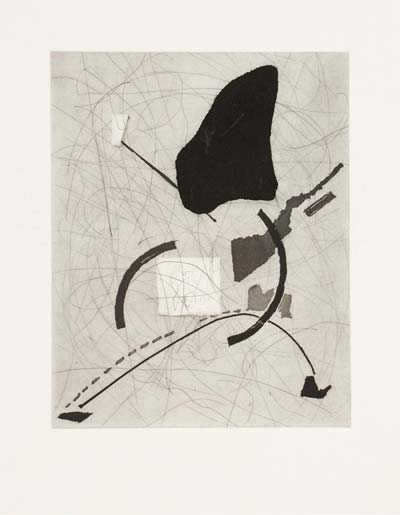 EL LISSITZKY, 2013
Burnishing, drypoint, etching, and sugarlift aquatint
15.75 x 13.75 inches
Edition of 30
$4,000 framed

"One of the fascinating things about William Kentridge's films is how they let the process show. Because he draws, shoots, erases and shoots again to create his imagery - rather than painting animation cells or digitally developing scenes - I am conscious of his means, even his touch. It was Kentridge's genius to show how the directness of drawing could survive the indirectness of a camera-based art."
- from "William Kentridge" by Janet Koplos, Art in America, December, 2002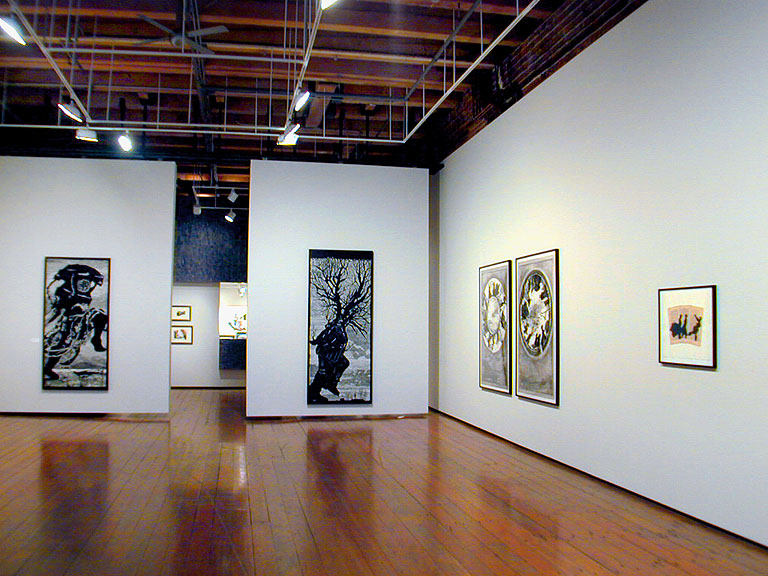 I have never tried to make illustrations of apartheid, but the drawings and films are certainly spawned by and feed off the brutalized society left in its wake. I am interested in a political art, that is to say an art of ambiguity, contradiction, uncompleted gestures, and certain endings; an art (and a politics) in which optimism is kept in check and nihilism at bay. - William Kentridge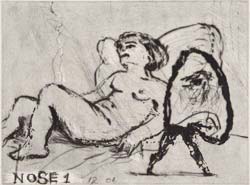 NOSE 1, 2007
Aquatint, drypoint and engraving
13.73 x 15.75 inches
Edition of 50
$5,300 framed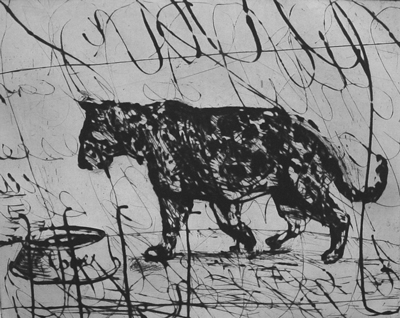 PACING PANTHER, 2003
Drypoint
15.5 x 20.75 inch
$7,250 framed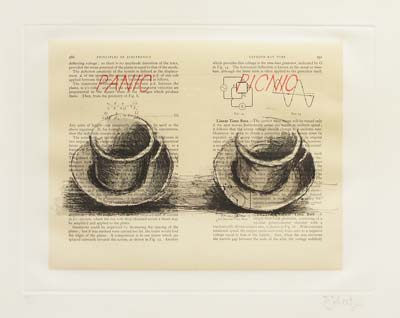 PANIC PICNIC (FROM SLEEPING ON GLASS), 1999
Soft ground, aquatint, colored pencil crayon on found book page
13.75 x 19.75 inches
Edition of 60
SOLD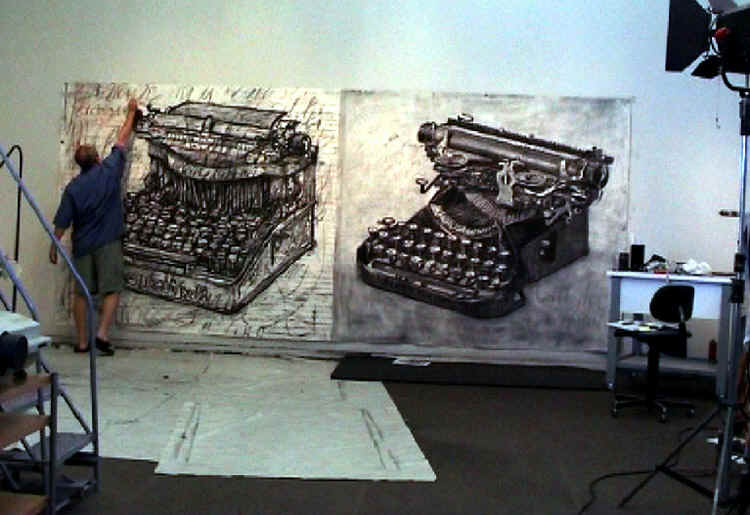 Kentridge drawing in his studio, Johannesburg (Copyright of the artist)
Prints with Collage or Hand-coloring

In April 2000, Kentridge headed to 107 Workshop in Wiltshire, England, to work on new large format etchings exploring the imagery of his current work. These editions reflect a procession of figures that the artist had created for casting in bronze. They move in a circular procession within the large etched circle - an inward direction in the first and outwards in the second.

The film Procession was shown at the Prince Klaus Fund Awards in December 1999 in the Palace of the Queen of the Netherlands, Amsterdam on a screen which was the ceiling of the room, one hundred feet high.

The artist worked on the large copper plates for each of the images, using the traditional intaglio processes of etching, aquatint and drypoint. A letterpress plate then added maps from an atlas into the large circles. These are sections of maps found by the artist in an old atlas - the Islands between Greece and Turkey in the first, and the Islands of the China Sea in the second print. The map areas were scanned and enlarged using computer technology to allow the production of heavy duty nylon polymer plates that were produced in Johannesburg and shipped to the Workshop.

The artist has added extensive brush strokes of different grey watercolors to the areas around the circle and into the margins and the prints are fully worked to the edges of the paper.

- David Krut, publisher

William Kentridge has gained international recognition for his distinctive animated short films and for the charcoal drawings he makes in producing them. Kentridge works in theater and has so for many years, initially as set designer and actor, and more recently, director. Since 1992 he has collaborated with Handspring Puppet Company creating multi-media pieces using puppets, live actors and animation. Throughout his career he has moved between film, drawing and stage yet his primary focus remains drawing, seeing his theatre and film work as an expanded form of his drawing.

Since Kentridge participated in Dokumenta X in Kassel (1997), solo shows of his work have been exhibited at the Museum of Modern Art (New York) and Museum of Contemporary Art (San Diego). A large survey exhibition in 1998-1999 toured Barcelona, Brussels, Graz, London, Munich and Marseille.

In 1999 he was awarded the Carnegie Medal. In 2001 and 2002, a survey of Kentridge's work traveled to museums in the United States and was seen in Chicago, Houston, Los Angeles, New York and Washington DC. In May 2002 Kentridge was awarded an Honorary Doctorate in Fine Art from the Maryland Institute of Contemporary Art in Baltimore.

Kentridge sees his work as rooted in Johannesburg, South Africa, where he continues to live today with his wife and three children.

A special thanks to David Krut, publisher, for his support in our exhibitions of Kentridge's works.