Upcoming exhibition:
September 7 - October 28, 2017
Sculpture
Opening reception: Thursday, September 7, 6-8
Exhibition at Bellevue Arts Museum
Fragile Fortress: The Art of Dan Webb
March 7, 2014 - June 15, 2014
See more here

Currently working on site at the Olympic Sculpture Park, Seattle Art Museum
July 9, 2015
The Tree Is Just a Context
See Sculptor Dan Webb Reduce a Doug Fir to Sawdust Before Your Very Eyes in Break It Down
by Jen Graves

May 14, 2014
Review in International Sculpture Center
Fragile Fortress: The Art of Dan Webb
by Suzanne Beal

Review in The Seattle Times of Dan Webb's exhibition at BAM:
Brilliant Dan Webb, Kathy Venter shows at BAM
by Michael Upchurch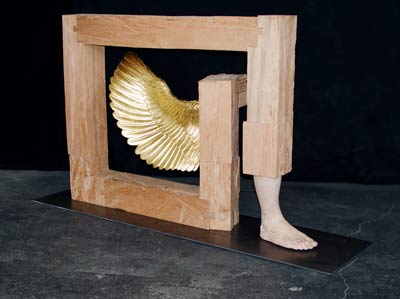 MAKE YOUR WINGS, 2016
Carved fir, carved epoxy, and 23 carat gold leaf
40 x 59 x 16 inches
$28,000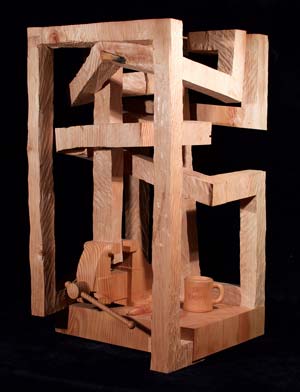 CATHEDRAL (Work Bench), 2015
Carved wood
40 x 24 x 24 inches
$20,000

Detail of: CATHEDRAL (Work Bench), 2015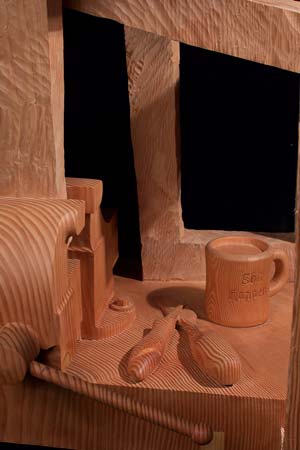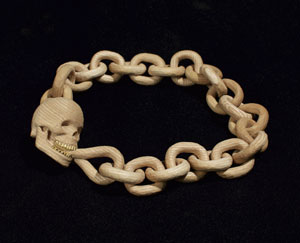 SKULLERY, 2015
Carved ash with 22 carat gold leaf
1.5 x 19 x 1 inches
$3,000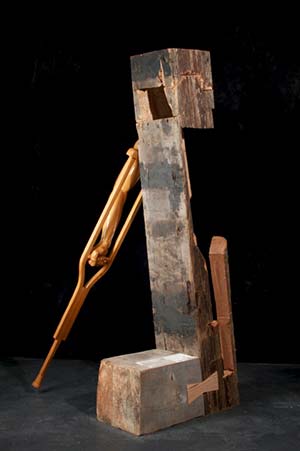 MR. BUTTERFLY, 2014
Carved cedar
70.5 x 34 x 29 inches
$23,000



THE INSIDER, 2013
Carved fir
86 x 22 x 12 inches
SOLD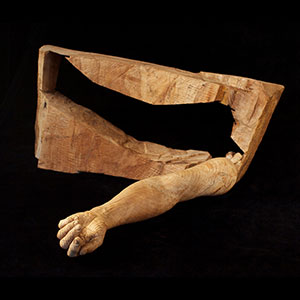 CUT, FLAMED, SPALTED, 2013
Carved maple
18 x 37 x 33 inches
SOLD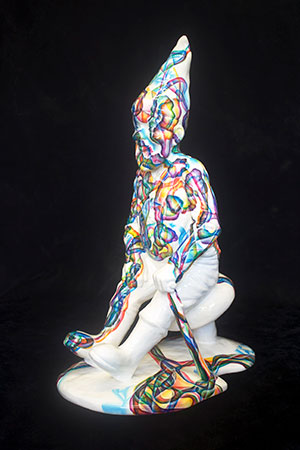 DAN WEBB
GNOME (in collaboration with Joe Park), 2013
Oil paint on cast resin
28 x 18 x 11 inches
$9,000



TETHER, 2013
Carved redwood
13 x 13.5 x 9.5 inches
SOLD


Destroyer
August 23 - September 29

Dan Webb: Destroyer catalog available (in hard cover and soft cover) with essay by the former Director of the Seattle Art Museum, Derrick Cartwright

Finalists for 2012 Artist Innovator Award Announced
Dan Webb is among the finalists.
The winner will be announced October 3rd.
Congratulations: Debra Di Blasi, Mandy Greer, Dayna Hanson, John Olson, Paul Rucker, Rodrigo Valenzuela, Brent Watanabe, and Dan Webb!

Recently in Seattle Magazine
August 2012
Dan Webb's Chiseled Features
A Seattle sculptor cuts to the core of what people desire in spectacular wood carvings. By: Brangien Davis
Read review
A Seattle sculptor cuts to the core of what people desire in spectacular wood carvings. By: Brangien Davis
Read review

The Seattle Times
At Kucera: Photographer Daniel Carrillo, sculptor Dan Webb play with their media by Michael Upchurch
Read review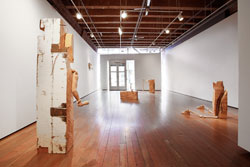 Dan Webb, 2012 - Destroyer - Installation Views Photo credit: Mark Woods
Dan Webb's statement for Destroyer
I've often noticed during the course of making a carving that the pieces of wood I cut off and throw away are often every bit as good as the parts I save. The distance between the 'waste' and the 'art' is often the thickness of a saw blade. This observation has led me to make a body of work where rather than separating the scrap from the sculpture, as I usually do, I have instead kept them joined. The juxtaposition of conscious choice next to unconscious consequence has become the conceptual starting point for the work.

By plunge cutting sections out of the blocks with a chainsaw, and then carving a series of chain links, the limbs are articulated out in one piece. I wanted there to be a sense of freedom or even abandon in the limbs, even as they remained chained to their heavily rooted cores. The freedom they have engineered is real enough, as are the limits that they are literally attached to.

There is always the feeling when I carve of being caught in a landslide, as the dust and shavings fall. Learning to ride a wave of potential disaster not only successfully, but gracefully, requires figuring out how to choose the least worst path along the way. For this reason, carving seems to illustrate very clearly both entropy, where complex systems break down, and serendipity, where good fortune is culled out of an uncontrollable set of circumstances.

In a similar fashion, who we start out being isn't exactly who we are in the end. But who we end up being depends on what we have to work with at the beginning. We are our own work in progress. This work documents the hopefulness, inventiveness, and the violence, of that process.