MICHAEL KNUTSON
Layered Coils
August 25 - October 1, 2011
Opening reception: Thursday, September 1, 6:00-8:00
Artist talk on Saturday, September 3, at noon

An opening reception for the artist will be from 6:00 - 8:00 p.m., September 1, 2011. Please join us Saturday, September 3, at noon for our "Saturday After" talk, Michael Knutson gives an informal walking tour of his work.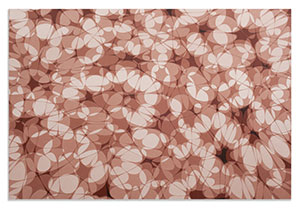 Greg Kucera Gallery is pleased to announce the third Seattle solo exhibition of Portland, OR painter, Michael Knutson. At first glance, Knutson's paintings appear to be computer generated or at least based on complex mathematics. In reality the structures are quite simple and painted by hand. The oil on canvas paintings are built on a field of overlapping layers of spiraling stars and ovoids. The resulting tangle of hues pulse and undulate, creating illusions of transparency and translucency, although this is achieved through physical mixture of thickly painted opaque pigments rather than washes or glazes of color. Just as the logical construction of a kaleidoscopic image can result in a complex design of color and shape, the artist's intelligent and ordered approach to his paintings can create a mosaic seemingly out of control.

"BLUEPRINT" #1, 2008 Watercolor on Arches Cover 22 x 30 inches

The exhibition will be hung sparely, consisting of large oil on canvas paintings, smaller studies, and works on paper. The works on paper include grisaille works of both his abstract compositions and his landscapes of the Northwest painted in many layers of white watercolor on black paper.

See more Michael Knutson's artwork


---
LORETTA PETTWAY
Etchings and Quilts
August 25 - October 1, 2011

Greg Kucera Gallery is pleased to announce an exhibition of quilts and related etchings by quilt-making artist Loretta Pettway. This is the first solo exhibition for one of the quilt-makers of Gee's Bend, AL. Gee's Bend is a community of about 700, among whom are the descendants of 3 or 4 generations of female quilt makers. The African American quilters coming from rural hamlets such as Gee's Bend rely on recognizable traditions of patterning but create their own unique riffs as well.


LAZY GAL, 2006
Softground spitbite aquatint and hardground 39.5 x 33 inches
Edition of 50
At 11-years-old, Loretta Pettway began her first quilt. She was told by her grandmother that she needed to start making quilts so that when she had children of her own she would be able to keep them warm. The artist has not always enjoyed the sewing involved in quilting. She has had a difficult life with illness, depression, and an abusive husband, but quilting for her has been a means of providing for herself and her family. Her quilts are known for their reuse of everyday clothing, particularly men's work clothes.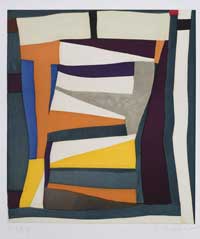 OLD BEAUTY, 2006 Softground spitbite aquatint etching 28 x 24.75 inches Edition of 50

I made all my quilts out of old shirts and dress tails and britches legs... Some people would give me old clothes, and some of them my children couldn't wear, and I would tear them up and make quilts. I didn't think I was too good at cutting out. If I could have got with friends to get me on the right track, maybe. But I didn't have friends, so I had to piece up things the way I could see to do.

I used to work all day and when night come I was sick all night. I couldn't sleep and I didn't have no appetite to eat, but I can thank the Lord now and say that he has reached way down and picked me up, made my life better. I have food, money, a roof over my head, my health and strength... - Loretta Pettway in "Gee's Bend: The Women and Their Quilts"

Collaborating with master printers, Loretta Pettway and several other quilters have made etchings in collaboration with Paulson Press in Berkeley, CA. The etchings are the result of an innovative technique devised to make a transfer from an actual small scaled, sampler quilt to an etching plate coated with a thin layer of wax and then treated with acid to create the printable image.

These African-American quilts relate to the ongoing tradition of American patchwork quilts in ways similar to how American jazz and rural music forms relate to European classical music. The notes are the same but the rules are altered or loosened. A comparison to music is apt because the quilt makers often refer to church music as a major source of their inspiration, "quilting and singing, singing and quilting."