BEN WATERMAN
Midnight Lullaby
February 23 - March 31
Opening reception: March 1, 6:00 - 8:00
"Saturday After" artist talk: March 3 at noon



Greg Kucera Gallery is pleased to present its first one-person exhibition by Seattle artist, Ben Waterman. Working with paint and clay as well as various other media, Waterman makes marks that slowly come into focus to create structures and images. Less a straight line between concept and finished piece, his process is one of inquiry and discovery.

"I am interested in the relationship of objects: one to one, or several to several, or several to one. Working with the underlying energy of these relations, paint builds upon these frameworks and contributes to their complexity. Pencil lines, raw clay, incised marks, slices; these are several examples of what I consider structure, usually established first in my process. The manner that paint fills these defined spaces, is what I consider building emotion or infusing structure with feeling." - Ben Waterman
---
TIM RODA
Photographs
February 23 - March 31
Opening reception: March 1, 6:00 - 8:00
"Saturday After" artist talk: March 3 at noon

Greg Kucera Gallery is pleased to announce its fourth exhibition of photographs by Tim Roda. Roda stages elaborate tableaux from an idiosyncratic collection of props built from wood, clay, paper and everyday items. Inserting himself, his wife and young sons into these scenes, the resulting images have a diaristic, sometime menacing tone filled with reverberations of his childhood memories and family traditions. Highly stylized and incorporating elements of installation and performance, Roda's complex compositions of light and shadow, religious symbols and strange costumes convey stories that are ambiguous yet somehow familiar, conflating the past and the present as well as the private with the public.

The photographs are printed by the artist employing uneven margins, seemingly erratic fixer stains and irregular tonal qualities to create objects that suggest the unreliability and eccentricities of memory, photography and theatricality.

BIOGRAPHY
Tim Roda has a BFA from Pennsylvania State University (2002) and an MFA from the University of Washington (2004), both in ceramics. His work is part of different public and private collections like Essl Museum, Klosterneuburg, Austria; Gaia Collection, Turin, Italy; The Museum of Contemporary Art, Houston; The Seattle Art Museum; Portland Art Museum; and Museum of Contemporary Photography, Chicago. Roda lives and works in New York.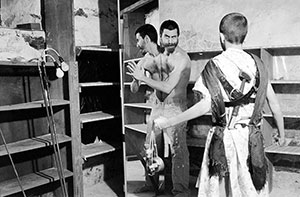 DAVID AND GOLIATH, 2011
Black & white photograph on fiber matte paper
8.5 x 12.5 inches
Edition of 8