ALICE WHEELER
Women are Beautiful
July 2 - August 15
Opening reception: July 2, 6:00 - 8:00 pm
Artist talk on Thursday, July 2, at 5:30






Greg Kucera Gallery is pleased to announce our fourth one person exhibition of photographs by Seattle artist, Alice Wheeler. The title, Women Are Beautiful, is both a reference to Garry Winogrand's series of the same name and a statement embracing a broad range of female types and feminine identities. The artist uses her documentarian style of photography to capture images of the women she meets, going about their business at festivals, parties or just hanging out. She is interested in how women today pick their own styles and create personae that subvert how the world has traditionally viewed them, presenting these women and young girls in the ways they wish to be seen.

My generation was taught about the male gaze, how images of women were created for the enjoyment of men. Garry Winogrand's images of women from the 1960s and 70s present them enjoying the freedom of their newfound public sexuality. Some of the women he photographed seemed unaware of his presence, or appear to be hostile to him. He seems like he's playing the role of a predator, one who is aware of the concept of the male gaze and is exploring it in his own way.

My work is about women's identity. It's about public sexuality and the concept of women controlling their own lives. Women today are more aware of how they appear in media images, and how they can control and shape their public identity.

- Alice Wheeler

For more than two decades, Wheeler's photographs have helped bring crucial sub-cultural activity to the forefront of contemporary consciousness. As a young, female photographer seeking a place in the predominately male world of photographers and musicians, Wheeler began to document the Punk, Grunge and Riot Grrrl rock scenes of Seattle in the 1980s. Her photographs of Kurt Cobain and early performances of Nirvana were some of the first images to capture the spirit of the movement.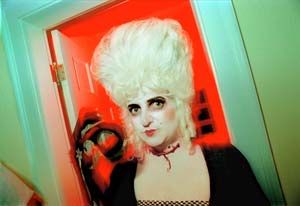 Wheeler was born in 1961 in Kansas City, MO. and was raised in Ralston, Nebraska, a suburb of Omaha. Wheeler came to the Northwest (via California) as a young adult. She gravitated to Seattle in 1981 and Olympia in 1985 for higher education as a painter and then, almost by chance, as a photographer. Wheeler left Evergreen State College with a BA degree in 1988. Her work is in the public collections of The Henry Gallery at the University of Washington, Seattle Art Museum, Tacoma Art Museum and The Experience Music Project. Wheeler's photographs have been published in news magazines such as Newsweek, Time, and Life as well as music rags such as Rolling Stone or Spin and alternative lifestyle journals such as Out.


See more Alice Wheeler's artwork


---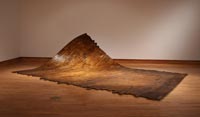 BRENT SOMMERHAUSER
the wind would find it out
July 2 - August 15
Opening reception: July 2, 6:00 - 8:00 pm


Also in July, as a part of the Seattle Art Dealers Association's INTRODUCTIONS series, Greg Kucera Gallery introduces an exhibition of work by Las Vegas artist, Brent Sommerhauser. Featuring a variation of his 2008 sculpture CURL, the exhibition explores the physicality of Sommerhauser's materials and its manipulation by unseen actions.

There are thin, quiet places where invisible forces and visible material collide.
The surface of an empty page approached by a pencil and a thought, or a little wind meeting the world; nudging, persuading, diverting.

I believe there is a potency there at that barrier. Where, saddled with fuzzy lucidity, you might still lasso a daydream or tug at moments each afloat in their own way. There and not there, everythings and nothings. Both, at once.

A "tangle of matter and ghost," as Leonard Cohen mentioned a time or two.

I combine unspoken narrative and practical objects to merge two types of memory - the subtle mental process and that familiar record left upon physical material. As if preserving a glimpse of a situation as a prop to experience. In coercing material to bend to both memory and structure, the imagined is made tangible while romancing the real."
—Brent Sommerhauser

Brent Sommerhauser has exhibited nationally and internationally and is a member of the artist collective, Telegraph. His work is in many public and private collections including the H & R Block World Headquarters in Kansas City, Missouri. Since becoming a resident of Nevada, his work has been recognized by the Nevada Arts Council with two Artist Fellowship honorable mention awards and a Jackpot Grant. His recent solo exhibition, Structuring the Invisible, received a Cirque du Soleil Community Support Grant for the Visual and Performing Arts. Sommerhauser holds a BS in Psychology and a BFA from Emporia State University and received his MFA from The Ohio State University. He has taught art at The Glass Furnace (Istanbul, Turkey), Hastings College, The Kansas City Art Institute, The Ohio State University, Pilchuck Glass School, the University of Nevada, Las Vegas and chaired the glass program at Detroit's College for Creative Studies.

See more Brent Sommerhauser's work


---


Upcoming Exhibitions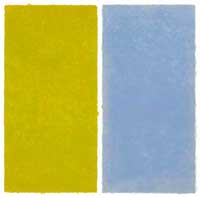 Anne Appleby
Recent Large Prints
August 20 - September 26
Opening reception:
August 20, 6:00 - 8:00 pm
Mark Calderon
Sculpture
August 20 - September 26
Opening reception:
August 20, 6:00 - 8:00 pm