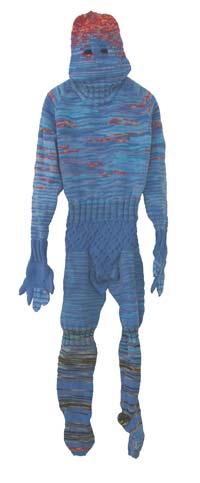 Mark Newport
New Work
January 7 - February 13

Hand-knit, adult-sized superhero suits will be featured in Mark Newport's fifth one-person exhibition with Greg Kucera Gallery. When the artist first began creating his hand-knit suits they were based on the iconic costume designs of heroes such as Spiderman, Batman, Daredevil, Ironman and Aquaman. Hanging limply from the wall, the suits, once powerful symbols of unimaginable feats, were now deflated examples of unfulfilled aspirations. Recently Newport has knit costumes for heroes of his own creation.

For this exhibition, variegated yarn is used for a collection of new characters. Variegated yarn has a sequence of three to four colors repeated continuously for the length of the yarn. The color combinations, as well as the names of many of the yarns, suggest the elements: fire, water, earth and air.

above: MARK NEWPORT
W MAN, 2007
Hand knit acrylic and buttons
80 x 23 x 6 inches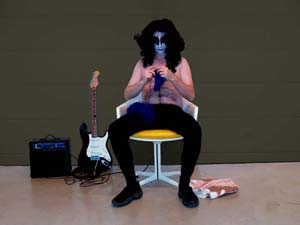 Since the elements connect to the power of nature and date back to early cultural ideals about the heroic I wanted to invent heroes that could draw on those traditions. Using the elements as a foundation for heroes links these characters to primary sensual experiences we all have with elemental matter and it links the heroes to power that we as humans are all dependent on. —Mark Newport
BIOGRAPHY
Mark Newport was born in 1964 in Amsterdam, New York. Newport received his BFA from the Kansas City Art Institute in 1986, and obtained his MFA from the School of the Art Institute of Chicago in 1991. He was recently included in "Staged Stories" at the Renwick Museum of American Art at the Smithsonian Institute in Washington, DC; "Superheroes and Secret Identities," at the Sun Valley Center for the Arts in Sun Valley, Idaho.; and "Un-Knitting" at The Stanlee and Gerald Rubin Fine Arts Center, University of Texas in El Paso. He lives in Michigan and teaches at Cranbrook Academy of Art.
---

John Buck
New Sculpture
January 7 - February 13


The Gallery is pleased to present our fifth one-person exhibition of carved wood sculpture by John Buck. Our show will include several carved wood wall panels with whittled elements as well as free-standing carved wood sculptures. Since the early 1970s, John Buck has been making narrative sculptures and carved wood wall panels that employ his signature motifs of disparate objects and figures precariously in balance with each other. Among the various carved items are fish, chains, hair styles, symmetrical floral patterns, birds, human portraits and abstract objects.
Buck uses jelutong wood as his primary material. It is a soft white wood culled from Malaysian farming operations. Too soft to have any value as a building material, it is perfectly suited to the furniture maker and wood sculptor. The process of its own making becomes very apparent in the finished piece. Every hack mark and chisel cut remains visible. These are not slick, polished pieces. Instead they follow in the tradition of folk art, handmade crafts and votive figures.

Throughout the compositions the handmade quality of the wooden objects and images within the construction gives it a visual continuity that has warmth to it unlike other materials. The rigid nature of the wood panel also allows me to cut holes in the surface with saws to create shadow boxes and niches that, once painted, create an ambiguous space into which other objects can be placed that can be sometimes graphic and sometimes contemplative. . —John Buck


BIOGRAPHY
John Buck was born in 1946 in Ames, IA. He received his BFA from the Kansas City Institute and School of Design, and went on to study at the Skowhegan School of Painting and Sculpture in Skowhegan, ME. He received his MFA in 1972 from the University of California, Davis. Buck was the recipient of several major commissions, including artworks for Swedish Medical Center in Seattle and Lewis and Clark College in Oregon. He was recipient of a National Artists Award in 1984 and was awarded an Individual Artist Grant from the National Endowment for the Arts in 1980. Buck's work is included in several major collections around the country, including the Fine Arts Museums of San Francisco; Art Institute of Chicago; The Brooklyn Museum; Contemporary Arts Center, Honolulu; Denver Art Museum; The Museum of Modern Art, New York; San Francisco Museum of Modern Art; and Seattle Art Museum. He currently has a large-scale survey of his work at Bellevue Art Museum called "John Buck: Iconography, Work from the Collections of Jordan D. Schnitzer and His Family Foundation" through February 28, 2010.
---
Also in January and February:

SOL HASHEMI & JASON HIRATA
To be like that which you have
January 7 - February 13, 2010

Sol Hashemi and Jason Hirata will create an ongoing installation of light based sculptures on the gallery's sculpture deck. Changing over time during January and February, the parameters of the show provide an impetus for the creation of new work.
---
Upcoming Exhibitions: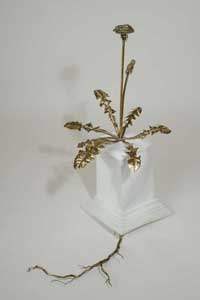 Dan Webb
Stone and Flowers
February 18 - March 27, 2010
Opening reception:
Thursday, February 18, 2010 6:00 - 8:00 pm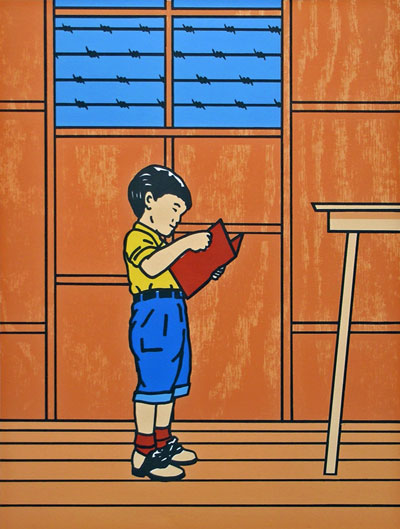 Roger Shimomura
Recent Work
February 18 - March 27, 2010
Opening reception:
Thursday, February 18, 2010 6:00 - 8:00 pm