TIM BAVINGTON
New Paintings
August 19 - October 2
Opening reception: August 19, 6:00 - 8:00
Artist talk on Saturday, August 21, at noon


Greg Kucera Gallery is pleased to announce our second one-person exhibition of work by Las Vegas painter, Tim Bavington. This show will feature both the stripe paintings he is known for as well as paintings from his recent "Covers" series.

Bavington's sprayed stripe paintings are typically composed after specific sequences of music. Titling these paintings after rock songs, famous and obscure alike, the artist transposes sheet music into paint by assigning each note a particular color. Each painting's palette is produced by combinations of the 12 hue color wheel and the 12 tone scale. The paint is applied with airbrush as vertical bands of color. The bandwidth of the painting's stripes, in turn, is determined by the length of each note within the sequence. From a distance the pattern appears hard-edged, perhaps digitally created, but closer inspection reveals softer, blurred edges, similar to one note from a guitar solo bleeding into the next.
In the "Covers" Series, Bavington gets an opportunity to play the fan to both his rock music and abstract painting influences. In these pieces, the artist approaches the two ways the word "cover" applies to music. Bavington creates blurry visions of album covers for music by some of his Rock & Roll heroes from the last few decades. At the same time, the paintings act as cover versions of work by some of his heroes and influences in Color Field painting. Like the best cover songs, Bavington's paintings pays tribute to the work that inspires them while also reassembling the elements to create something new and unexpected.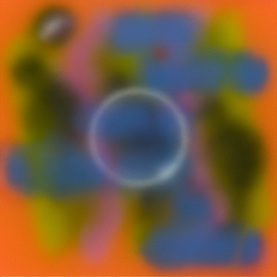 Bavington's abstract style is informed by such diverse experiences as his employment as a freelance illustrator for The Simpsons cartoon series, his study of Bridget Riley's optical paintings of the 1960s and the art of California conceptualist Ed Ruscha, as well as the sun-drenched desert and nighttime neon of the Las Vegas landscape. He was a student of art critic and professor David Hickey.
BIOGRAPHY
Tim Bavington was born and raised in London, England. He received his BFA from the Art Centre in Pasadena, CA and his MFA at the University of Nevada, NV. He currently lives and works in Las Vegas. His work is included in numerous public collections, included among them: Fredrick R. Weisman Collection, CA; Albright-Knox Art Gallery, Buffalo, NY; CAA (Creative Artists Agency), Beverly Hills, CA; Joslyn Art Museum, Omaha, NE; Museum of Contemporary Art, San Diego, CA; Portland Art Museum, Portland, OR; United Talent Agency, Beverly Hills, CA; Vivendi Universal, Los Angeles, CA; Palm Springs Art Museum, CA; Denver Art Museum, Denver, CO; and, The Museum of Modern Art New York, NY.
See more Tim Bavington's artwork


---
LYNNE YAMAMOTO
Genteel
August 19 - October 2
Opening reception: August 19, 6:00 - 8:00 pm
Artist talk on Saturday, August 21, at noon

Greg Kucera Gallery is also pleased to announce our second solo show of work by Lynne Yamamoto. As in past exhibitions the artist uses a variety of materials to explore historical and personal meaning in objects and places. Marble is carved into a representation of her grandfather's work shed. Life-sized versions of a Spam tin and Cup Noodles are fashioned from vitreous china. Portraits of insects that have been unintentionally introduced to Hawaii through the intervention of man are embroidered on to individual doilies.
In my current work, I am engaged in the material transformation of eloquent objects that express temporal and geographical trajectories, particularly in relation to the post-WWII period in the former Pacific Theater. The lingering effects of this war and its aftermath, can be excavated in material and food cultures.

In Genteel, I elevate the status of humble things and sully precious surfaces, at the same time rendering the objects into ambivalent memorials. While this is the motivating gesture for my work process, the stakes increase through the circles of meaning emanating from the work. Thus despite the seeming humility of these objects, the implications they embody are vast, weighty.                                  -Lynne Yamamoto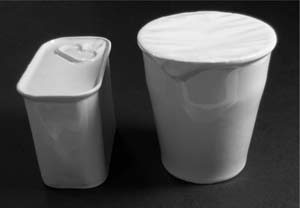 BIOGRAPHY
Lynne Yamamoto was born in Honolulu in 1961. She received her BA from Evergreen State College, Olympia, and her MA from New York University. She has had solo exhibitions at Drury Gallery, Marlboro College, Vermont, 2006; P.P.O.W., NY, 2000, 2001, and 2004; The Mattress Factory, Pittsburgh, 2003; Rhode Island School of Design, 2000; Whitney Museum of American Art at Phillip Morris, NY, 1999; and P.S. 1 Contemporary Art Center, NY, 1997. Her work is included in the collections of the Museum of Art, Rhode Island School of Design; Metropolitan Museum of Art, NY; Museum of Modern Art, NY; Whitney Museum of American Art; Museum of Contemporary Art, LA; and the Microsoft Corporation.
See more Lynne Yamamoto's work
---
Upcoming Exhibitions

PABLO PICASSO
Select Prints
October 7 - November 13, 2010
Opening reception: Thursday,
October 7, 6:00 - 8:00