30th Anniversary Exhibition
October 3 - November 16, 2013


Bronze Sculptures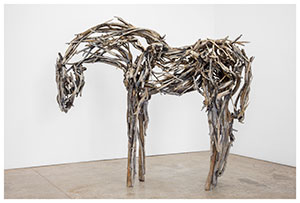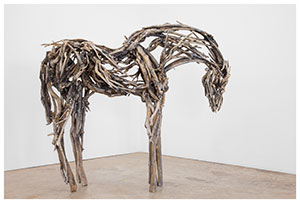 WILLOW, 2013
Unique cast bronze with patina
93 x 98.5 x 36 inches
POR

Willow
Creating a fluid movement throughout, sticks and branches from a willow tree are arranged like repeated sketching strokes drawn in space. The undulating curve of the back and rump extends into Willow's graceful neck and bowed head.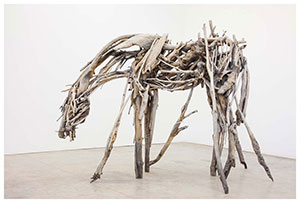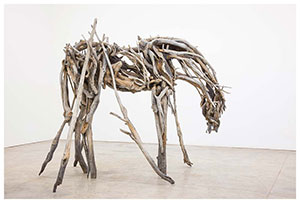 HALF MOON, 2013
Unique cast bronze with patina
87.5 x 113 x 73 inches
SOLD


Half Moon
Half Moon alludes to Butterfield's earlier work wherein slender tree trunks leaned against the View an earlier example of this body of work.

View an earlier example of this body of work.
The branches in these earlier works become both structural and skeletal, the mud packed in between them to suggest the horse figure. Now, the artist makes reference back to these earlier works but the bronze standing horse in Half Moon is already stable and can stand on its own. The leaning branches here are, in poetic terms, the artist's linking of the source of the material to the finished sculpture in the suggestion of a horse emerging from the woods or emerging out of wood.


Horse #8 (Lean To), 1978
Mud, sticks, steel
144 x 108 inches
Collection of Davis Museum and Cultural Center Wellesley College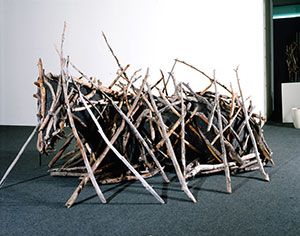 Horse #5, 1978
Mud, sticks, steel
36 x 112 inches
Collection of San Francisco Museum of Modern Art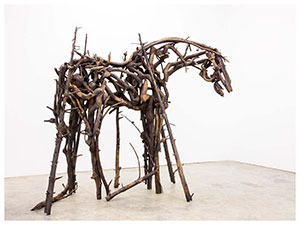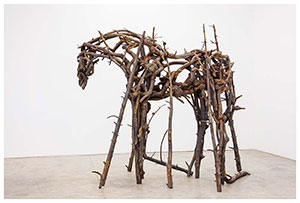 RED FOREST, 2013
Unique cast bronze with patina
93 x 101 x 44 inches
POR



Red Forest
With a dark, reddish patina, Red Forest, creates a complex silhouette of dark shapes and lines. The large globes of pine boles contrast with the diagonal and vertical lodgepole pine trunks that rest against it and anchor it to the floor.
View an earlier example of this body of work.
In these standing works from the 1970s, Butterfield used a similar leaning of elements against the horse figure.
In the earlier works, the horses were made of mud and sticks and the branches or tree trunks were still wood. In current works, the entire sculpture is made of wood first and then cast in bronze providing lasting stability to the work.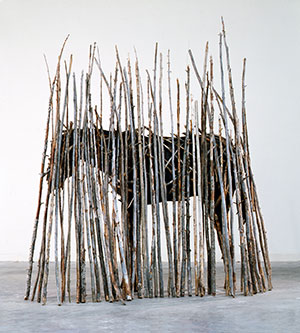 Horse #6, 1978
Mud, sticks, steel
144 x 108 x 84 inches
Collection of Oakland Museum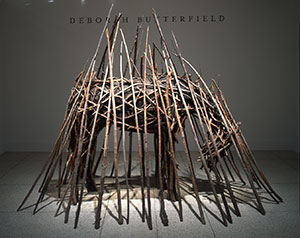 Horse #7 (Bonfire), 1978
Mud, sticks, steel
144 x 108 x 65 inches
Collection of di Rosa Preserve Napa, California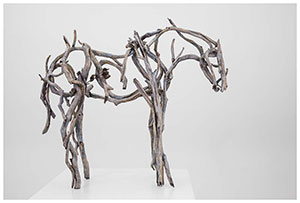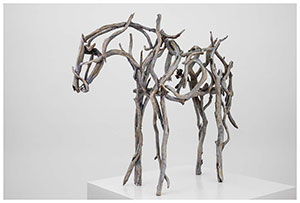 HO'OPONA (Faithful), 2013
Unique cast bronze with patina
35 x 41 x 11 inches
SOLD



Ho'opona
Openly constructed, with much more negative space than positive form, the drawing line of this horse is more suggested than defined. The sun-bleached ohia wood from Hawaiian trees carries all the curves of tropical plant growth, lacing around and intertwining within this horse.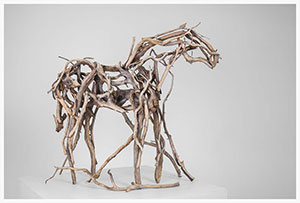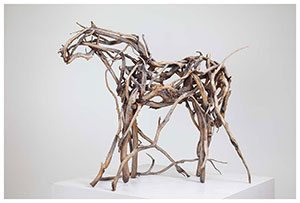 KULAMEA (Mother Pele), 2013
Unique cast bronze with patina
39 x 45 x 24 inches
SOLD


Kulamea
Casting the delicate ohia branches and welding them to the larger form, Butterfield allows this work to contain extra pieces that now define more than a horse. The figure, emerging from its source as a pile of sticks, is named after the Hawaiian goddess of volcanoes.
View an earlier example of this body of work.
Even in Butterfield's early small work, the use of extra branches that don't so much describe the horse as embellish it we a part of her evolution as a sculptor. In the early work in mud and sticks, the branches suggest an almost baroque quality to the arching body of this horse. In the recent bronze, the extra branches ground the horse and suggest the environment of tangled wood from which the horse is made.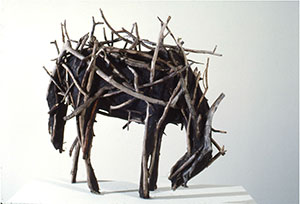 Horse #1, 1978
Mud, sticks, steel
31 x 37 inches
Collection of Hansen Fuller Gallery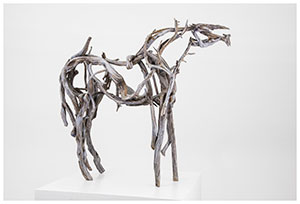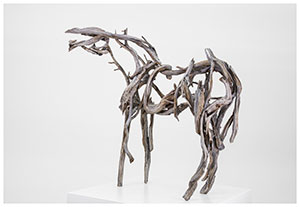 KOAI'A, 2013
Unique cast bronze with patina
38 x 41 x 15 inches
POR



Koai'a (variety of koa tree)
With its upturned neck and head, this sculpture differs from the others in our exhibition. Its reaching gesture, so familiar in horse behavior, is captured by Butterfield with the most minimal of means. The sun-bleached wood is a form of koa common to mountainous areas of Hawaii, often used for traditional spears, paddles and furniture.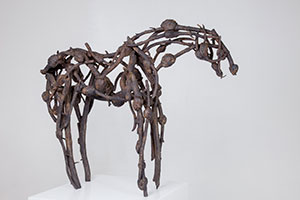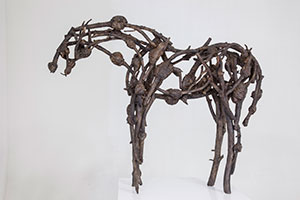 MUGO, 2013
Unique cast bronze with patina
44 x 53 x 18 inches
SOLD



Mugo
The globular shapes of boles grown on mugo pine branches accent this surprising work from Butterfield. As with her other sculptures that have featured pinecones or seed pods, the artist enjoys the reference to unique qualities of her materials. At about 4 x 5 feet, this middle-sized work falls in between Butterfield's life-sized and smaller works referencing Chinese equine statuary from the Han or Tang Dynasties.
Found Steel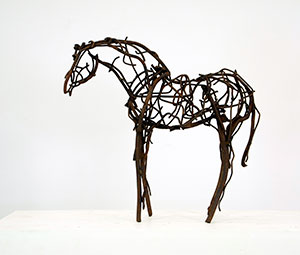 BOLT, 2013
Welded found steel
23 x 24 x 10 inches
SOLD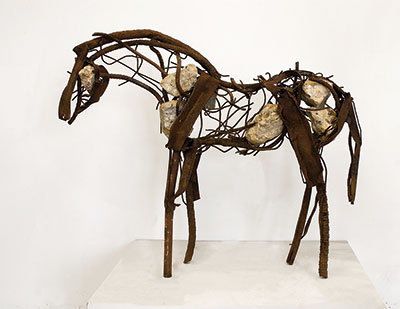 ROCKFORD, 2013
Welded found steel with concrete
41.5 x 49 x 14.5 inches
POR


Rockford
For many years, Butterfield has acquired scrap metal by the ton from a salvage yard in Rockford, Illinois. When this pile of rebar arrived at her studio, with its large chunks of concrete still attached, the artist recognized its promising opportunity. Butterfield welded the forcibly bent rebar to cage the concrete within the sculpture.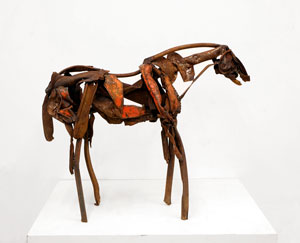 RUBY, 2012
Welded found steel
33.5 x 43.5 x 13 inches
SOLD



Other work available, not in current show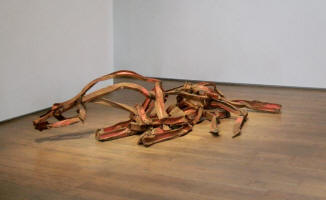 REDHEAD, 2005
Welded found steel
30 x 124 x 67 inches
Available - price on request

Additional view of REDHEAD, 2005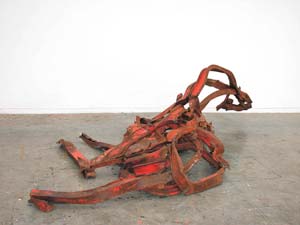 My work is not so overtly about movement. My horses' gestures are really quite quiet, because real horses move so much better than I could pretend to make things move. For the pieces I make, the gesture is really more within the body, it's like an internalized gesture, which is more about the content, the state of mind or of being at a given instant. And so it's more like a painting...the gesture and the movement is all pretty much contained within the body. - Deborah Butterfield