We will present a one-person show of Deborah Butterfield's welded steel sculpture at Miami Project December 2-7, 2014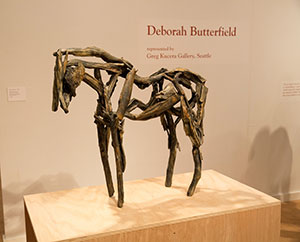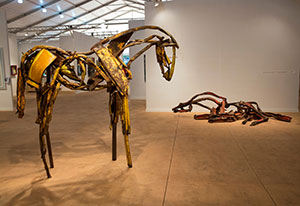 Miami Project Installation 2014


Found Steel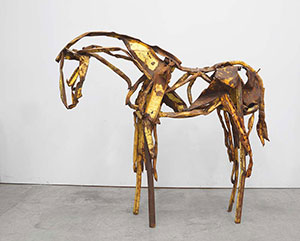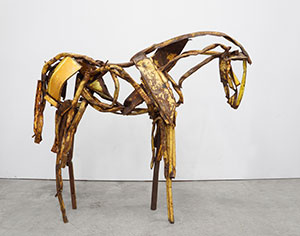 YELLOW, 2014
Found Steel, welded
85 x 100 x 29 inches
Price on request


More about YELLOW
Deborah has just completed a large scale horse from pieces of found metal, all of them with rusty, replete with various shades of yellows and gold paint. At seven feet tall and over 8 feet in length, "Yellow" has a commanding presence.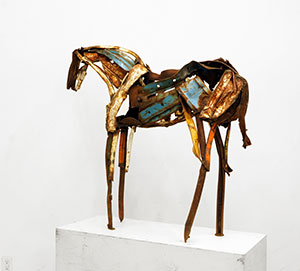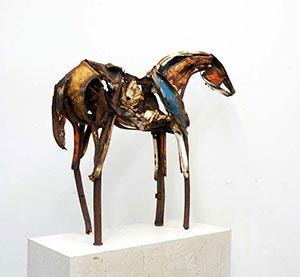 BLUE LILY, 2014
Found steel, welded
44 x 52 x 15 inches
Price on request
More about BLUE LILY
A smaller horse, "BLUE LILY" in various shades of red, blue, yellow, white (and her ever-present rust) utilizes scavenged part from bicycles, farm machines and various other once-practical equipment. Larger than 3 x 4 feet in size, it sits on a pedestal as do all of her smaller works. Their inspiration can be found in the colorfully glazed Chinese ceramic horse sculptures from the Han and Tang Dynasties.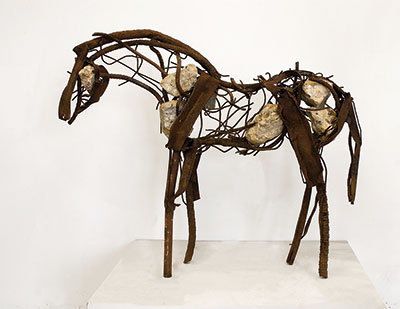 ROCKFORD, 2013
Welded found steel with concrete
41.5 x 49 x 14.5 inches
Price on request


More about ROCKFORD
For many years, Butterfield has acquired scrap metal by the ton from a salvage yard in Rockford, Illinois. When this pile of rebar arrived at her studio, with its large chunks of concrete still attached, the artist recognized its promising opportunity. Butterfield welded the forcibly bent rebar to cage the concrete within the sculpture.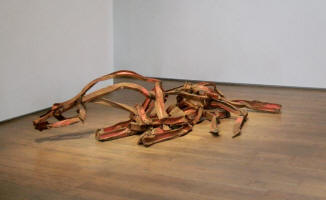 REDHEAD, 2005
Welded found steel
30 x 124 x 67 inches
Available - price on request

Additional view of REDHEAD, 2005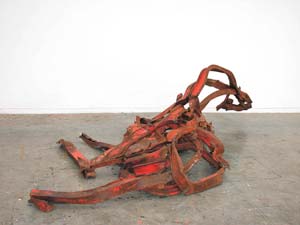 More about RED HEAD
The other large work, "Redhead," is a majestic reclining horse. Built and welded from very large scale pieces of angle iron, Redhead sprawls out over 6 by 10 feet of floor space..
Bronze Sculptures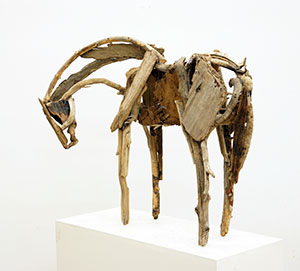 LITTLE SORREL, 2014
Cast bronze
38 x 48 x 17 inches
SOLD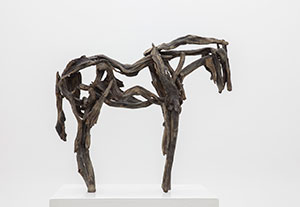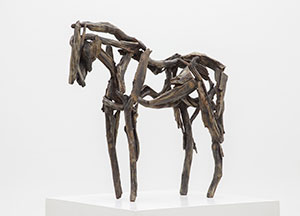 KINO PALUA , 2014
Unique cast bronze with patina
32.5 x 38 x 11 inches
Price on request


More about KINO PALUA
"Kino Palua" is a Hawai'ian phrase, meaning "Dual Natured" referring to the variation between smooth and rough surfaces in this work. The wood was collected along mountain sides in Hawai'i. The bronze is patinated in rich earthy colors accentuating the beautifully curving parts in its graceful form.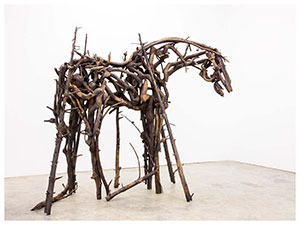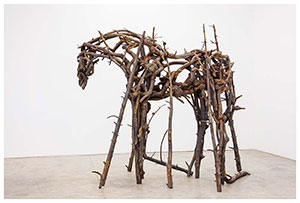 RED FOREST, 2013
Unique cast bronze with patina
93 x 101 x 44 inches
Price on request
On view at Hallie Ford Museum of Art, Salem, Oregon for "A Contemporary Bestiary" through December 21, 2014




RED FOREST
With a dark, reddish patina, Red Forest, creates a complex silhouette of dark shapes and lines. The large globes of pine boles contrast with the diagonal and vertical lodgepole pine trunks that rest against it and anchor it to the floor.
View an earlier example of this body of work.
In these standing works from the 1970s, Butterfield used a similar leaning of elements against the horse figure.
In the earlier works, the horses were made of mud and sticks and the branches or tree trunks were still wood. In current works, the entire sculpture is made of wood first and then cast in bronze providing lasting stability to the work.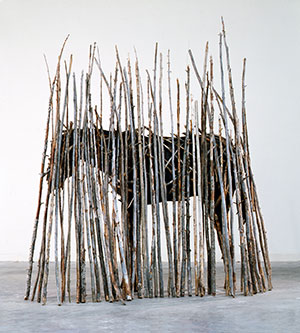 Horse #6, 1978
Mud, sticks, steel
144 x 108 x 84 inches
Collection of Oakland Museum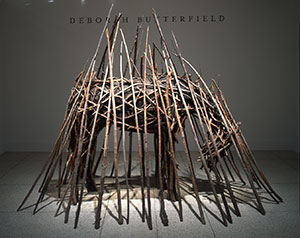 Horse #7 (Bonfire), 1978
Mud, sticks, steel
144 x 108 x 65 inches
Collection of di Rosa Preserve Napa, California