In these examples of Japanese shunga we see a great variety of lovemaking techniques, situations, positions and possibilities. Whether heterosexual or homosexual, the diversity of sexual behaviors expressed within this artform offer a glimpse of the sexual freedoms available in previous eras and cultures.

Some of these scenes are infused with passion in a way unimaginable in Western art. The concentration on this pleasurable physical exercise is so intense that faces and limbs become contorted in ecstasy. Very often it seems that every object present in these scenes bristles with this sexual excitement. The bonsai trees take on the suggestion of the male's stout penis, the silk robes repeat the curves and undulation of the female's vagina.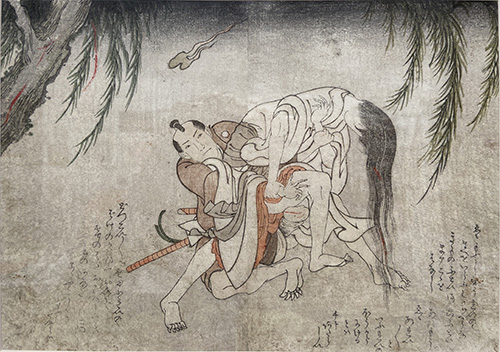 CHARACTER FROM THE MAN WITH FEMALE GHOST (Katsushika Hokusai), c. 1800
Woodblock print
7 x 9.75 inches
$600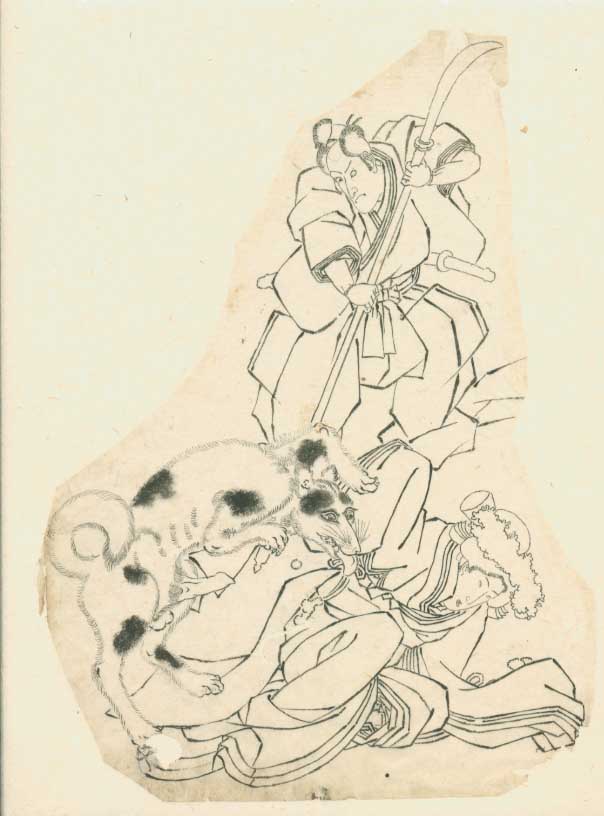 CHARACTER FROM THE NOVEL 'EIGHT DOG HEROES' IS LICKING A WOMAN - (A 'MITATE' / PARODY - UTAGAWA KUNSADA (1786-1865), 1837
Ink on paper
10.75 x 7.75 inches
$900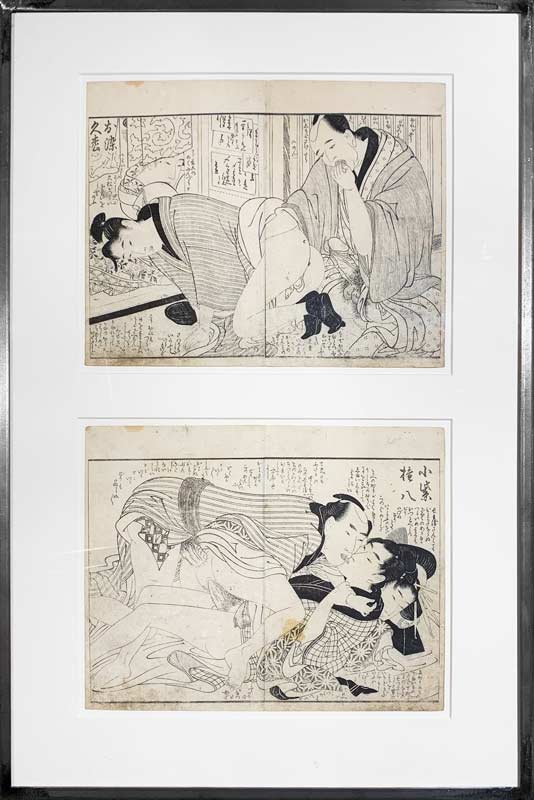 MICHIYUKI KOI NO FUTUSAO BY UTAMARO, KITIGWAWA (1753-1806), ca 1802 woodcut
First Edition
8 x 10 each
$5,000

THREE SAILORS MEN, SHIPWRECKED ON ISLAND OF WOMEN , c. 1850s
Portion of scroll, ink on silk
12 x 36 inches $
2,000


UNIFORMED MAN WITH FEMALE NURSE BITING HANDKERCHIEF, BOTH IN WESTERN CLOTHES, c. 1890s
Woodblock print
3.75 x 4.75 inches
$500

WOMAN WITH LARGE, HAIRY UNCUT MAN, 1830s
Woodblock print
9.75 x 15 inches
$1,200

WOMAN WITH LARGE, HAIRY UNCUT MAN, 1830s Woodblock print
9.75 x 15 inches
$800
The exaggeration of size in the depiction of both the female and male genitalia has always attracted a great deal of curiosity among Westerners. Primarily, these features were shown much larger than life because, given the small scale of most shunga material, these details would barely be noticed and they were, after all, the focus of this tradition of educational and inspirational material. It should be noted that even the quantity of the sperm ejaculated is exaggerated to the point of overflow. It is a testament to the skill of these artists that they were able to grossly enlarge some parts of the body while leaving others in a natural scale without disrupting the readability of these scenes. One other explanation for the focus on larger than life genitalia is that all of the early Japanese religions had some element of phallic worship. Perhaps phallocentric traditions carried over into later artforms.

Another prevalent image involves the amorous couple making love with an intruder, an onlooker, or even an unaware third person present. Sometimes one partner is asleep or dreaming and supposedly unaware of their lover's presence. While this convention is also common in Western erotic art, there are numerous characteristics of shunga that are not common in European eroticism


Among the many conventions of this tradition are scenes where dildos and sexual surrogates are employed. Often a woman will be depicted masturbating with a symbol of her absent lover, perhaps in the form of a rock, a sword scabbard or a theatrical mask. Scenes involving two women with a dildo are highly treasured among collectors.
Erotic art has been produced in Japan, China, India and most Asian cultures for centuries. The tradition of the shunga painting began in the 7th or 8th century and the ukiyo-e woodblock print in the late 17th century. They reached their creative heights in the 18th century and then began to deteriorate in the late 19th century as more and more Western influence became apparent in Japanese government, law and ritual. By the beginning of the 20th century much of the production of shunga material was driven underground, while what was still produced was increasingly intended for a growing European audience. As Western printing techniques and materials (such as aniline dyes) were introduced to Japan in the 1850s, much of the delicacy of color and line was abandoned in favor of the comparatively bright colored and heavy lined art of the West. Another Western innovation worth noting was the increase in the size of the image that came with the introduction of the oban sheet size of 10 x 15 inches.
Private collectors in the West have become very enthusiastic about shunga. A rare and important shunga image can fetch healthy prices within the market for Japanese art. Despite the great number of shunga pieces printed and painted over the last thousand years a great many of them have been destroyed by overzealous censors, indignant Christian missionaries, and, of course, the ferocity of natural causes such as the Great Fire of Edo in 1657.

All of this material was made of paper either in scroll format or folding book format—often cut apart by dealers and collectors for ease in viewing and selling. Most of the single images in this show were cut from such scrolls and books. The idea of a "picture" is found in Western art, but not in most Asian cultures, one notable exception being the Indian miniature paintings.

Finally, it should be mentioned that while almost every major Japanese master created erotic prints and paintings, most of the erotica from China (and much of it from Japan) is considered anonymous. This has led to a much greater scholarship within the field of erotic art of Japan than perhaps in any other culture.

This exhibition of Japanese erotica (shunga), and related material, will feature a wide variety of sexual imagery, from heterosexual to homosexual, from kinky to vanilla, from humorous to romantic, and from conventional sex to quite unusual lovemaking. Among the many aspects we have collected are images of bondage, fellatio, cunnilingus, masturbation, and phallic worship. Some of the more unusual works depict rape scenes, animals having sex with people, and humans making love with the ghosts of their lovers. There are also some very curious medical "x-ray" images, depictions of sex toys, as well as some pubic hair patterns, and other anatomical illustrations. We hope that you will enjoy this uninhibited look at a cultural phenomenon that no longer exists.

-Greg Kucera, February 2004

These Zodiac works are very likely by Kunisada, c. 1840s: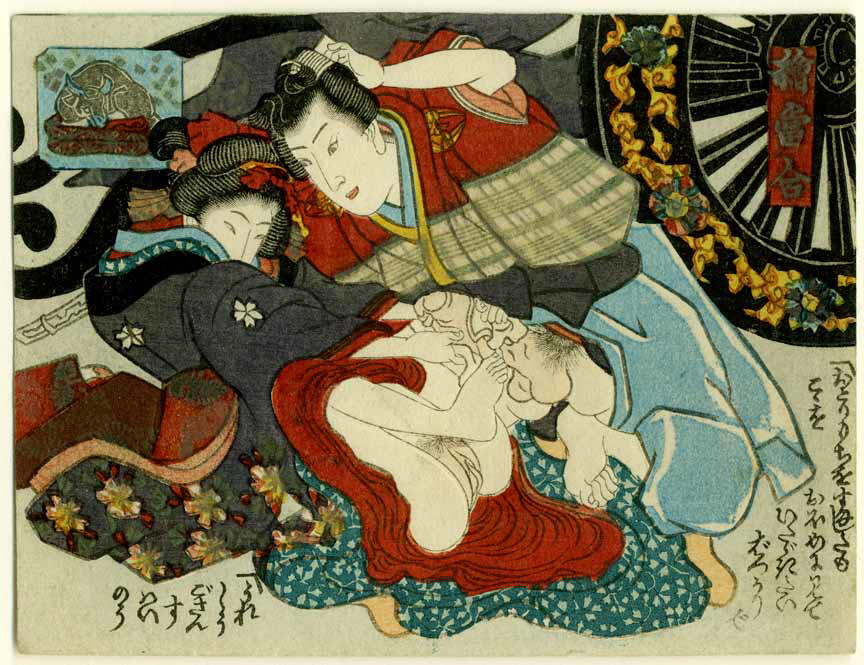 ZODIAC OX - Couple next to wheel
(For people born 1985, 1973, 1961, 1949, 1937, 1925, 1913) 3.75 x 5 inches
$700 framed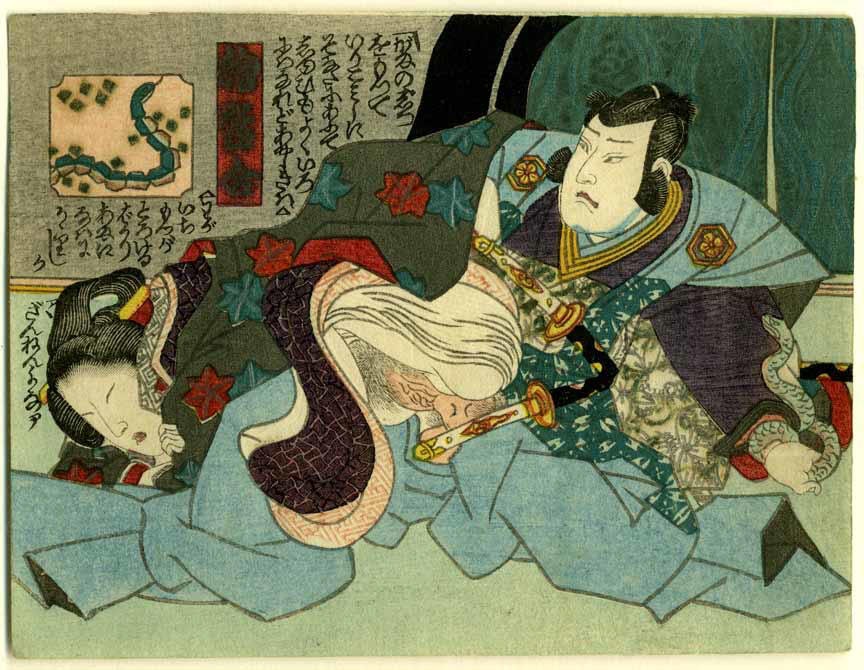 Zodiac: Snake (hebi) – Woman with man holding snake
(For people born 1989, 1977, 1965, 1953, 1941, 1929, 1917)
3.75 x 5 inches
$500 framed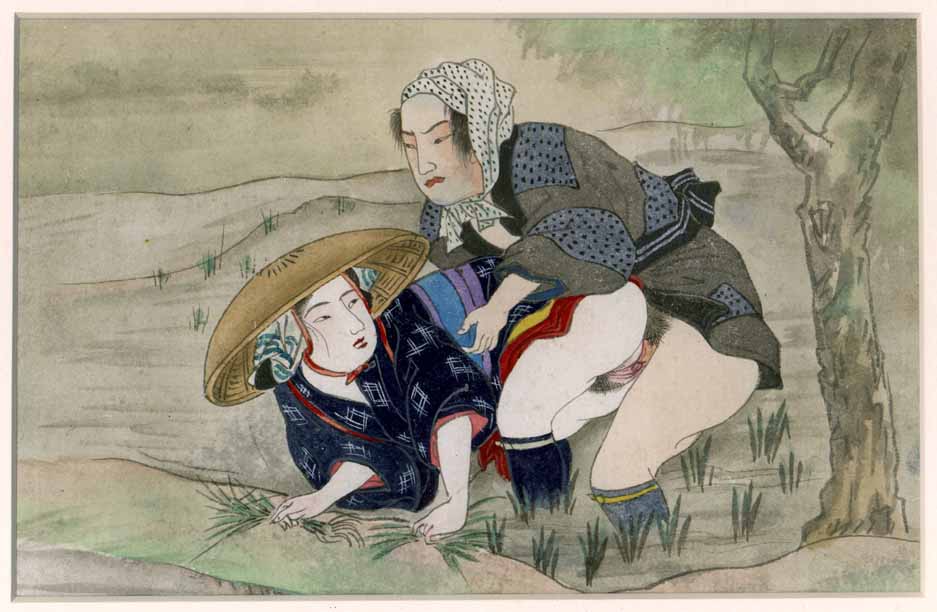 Man behind woman in rice paddies, Meiji Period, c. 1890s
4.75 x 7 inches
$800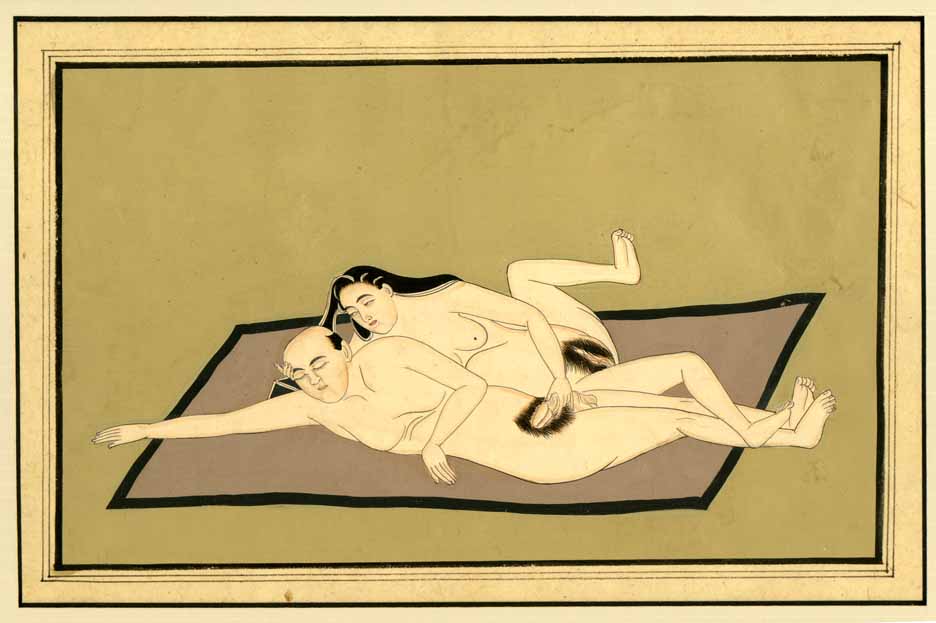 Woman with impotent man, early 20th century, in a primitive Japanese style
Gouache on paper, 6 x 9 inches
$800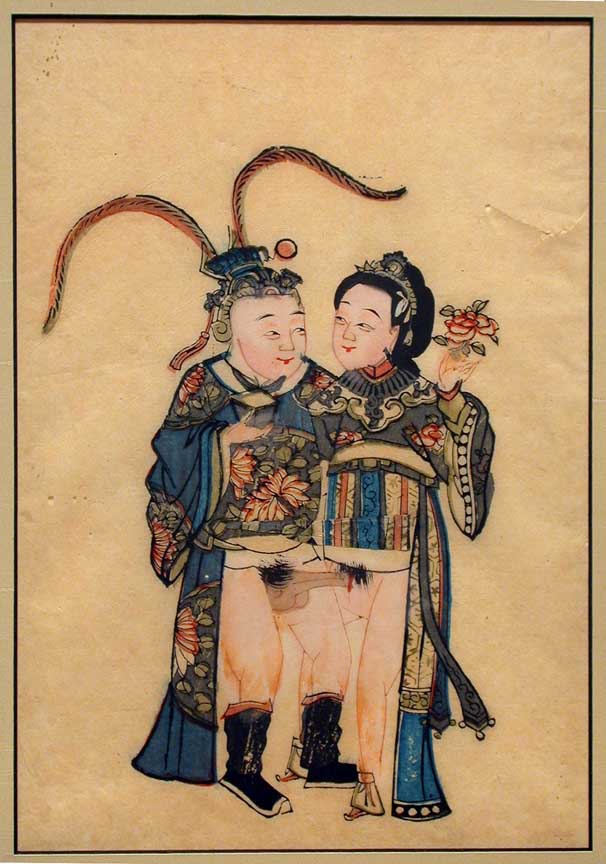 Man and woman making love in ceremonial robes, genitals exposed under a flap of paper (now missing)
Chinese, 19th century (Qing dynasty) 10.75 x 7 inches
$600