This series illustrates incidents of racial insensitivity I have experienced during my life. Accompanying each painting is a written description of the incident that inspired the piece. Also included in this series are events that have affected the Asian American community on a regional and national basis over the past 60 years - essentially my lifetime. - Roger Shimomura
Shimomura was the recipient of a 2003 "Painters and Sculptors Grant Program Award" from the Joan Mitchell Foundation for work from this series of paintings.

Exhibition Catalog Available
Click to read a review of this exhibition: Review





FOX AND BANZAI, 2003
Acrylic on canvas, 20 x 24 inches
$7,200.
Accompanying text:
In 2003, FOX network introduced Banzai, a British game show spoof that features a heavily accented Japanese narrator, Caucasian actresses in geisha costumes, and actors who would strike exaggerated martial arts poses. A spokesman for the Japanese American Citizen's League claimed that the program caricatured Japanese in the worst possible way, through buffoonery and tasteless stereotyping.

Scott Grogin, Vice President of Corporate Communications for FOX, reported that the show received high ratings from a targeted test audience of young male viewers. He justified it saying, "We feel that Banzai is a very funny, edgy game show, an equal opportunity offender, simply a parody, fun and not offensive."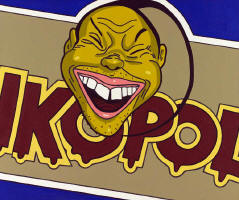 GHETTOPOLY, 2003
Acrylic on canvas, 20 x 24 inches
$7,200.
Accompanying text:
Twenty-eight year old David Chang, the Taiwanese American creator of Ghettopoly, a board game modeled after Monopoly, encountered complaints from both African American and Asian American communities, who called the game racist and demeaning. The game presented African Americans as thieves, pimps, drug dealers and murderers in situations that stereotype the communities in which they live. The N.A.A.C.P. threatened to boycott stores selling Ghettopoly.

Neither Mr. Chang, nor Urban Outfitters, one store that stocked Ghettopoly, were available for comment. Mr. Chang, however, was chastised by a Philadelphia radio station that proposed naming a game "Chinkopoly."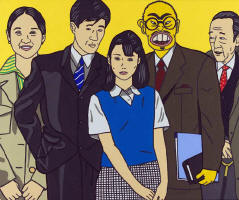 HOUSING DISCRIMINATION, 2003
Acrylic on canvas, 20 x 24 inches
$7,200.
Accompanying text:
A study released July 1, 2003 by the Department of Housing and Urban Development shows that among Asians and Pacific Islanders attempting to buy or rent a home, one out of every five experience some discrimination - a rate similar to that of African Americans and Hispanics. The study was conducted in Anaheim/Santa Ana, Chicago, Honolulu, Los Angeles, Minneapolis, New York, Oakland, San Diego, San Francisco, San Jose, and Washington, DC.

This is the first time HUD has measured the extent of housing discrimination against Asians and Pacific Islanders.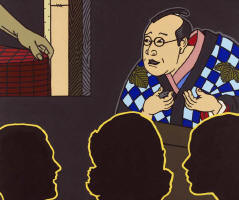 I KNOW A JAPANESE, 2003
Acrylic on canvas, 20 x 24 inches
$7,200.
Accompanying text:
In 1974, at the opening reception of his solo show at Washburn University in Topeka, Roger gave a slide lecture on his work. A woman sitting in the front row during the lecture asked several questions about his paintings, and then approached Roger after the lecture. She asked him what part of Japan he had said he was from, because she once knew someone who was from that country.
Accompanying text:
Roger was at a local bar one evening when a Jewish girl asked him if he knew what a J.A.P. was. Roger, somewhat stunned, answered, "Of course I do." The young lady, comprehending Roger's answer responded, "No, no. That's not what I mean. A J.A.P. is a Jewish American Princess."

Two weeks later Roger saw an Oprah show featuring a number of young J.A.P.s on stage and an audience of other women who considered themselves J.A.P.s at one time. Not once during the show was there a disclaimer as to why that acronym buzzed with such familiarity.

Soon thereafter, a Jewish woman conducted a seminar at the University of Kansas to discourage usage of the term J.A.P. because she felt it demeaning for Jewish women to be characterized as having shallow values. Once again, this speaker never referred to the offensive word the acronym formed.

Within two weeks Roger, angered and frustrated, wrote a performance piece that revolved around the acronym K.I.K.E. which he claimed stood for kinky, immature, kimono empress. Roger claimed that this was a term popularized within the Japanese American community to describe Japanese women who are shallow.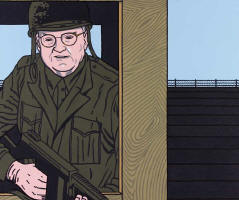 JUSTIFIED INTERNMENT, 2003
Acrylic on canvas, 20 x 24 inches
SOLD
Accompanying text:
On February 5, 2003, Representative Howard Coble, Chairman of the Judiciary Subcommittee on Crime, Terrorism and Homeland Security, participated on a radio call-in program about national security. When a caller suggested Arabs in the United States should be confined, Coble disagreed. However, Coble did say he agreed with President Franklin D. Roosevelt who established the internment camps for Japanese Americans during World War II.

Following the furor raised by the Asian community and others, the Republican Representative from North Carolina attempted to clarify his remarks by saying that the internment camps were as much for the Japanese Americans' own safety as for national security.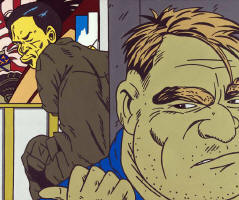 NO SPEAKEE ENGLISH, 2003
Acrylic on canvas, 20 x 24 inches
SOLD
Accompanying text:
In the early 1970s Roger and his colleague Mike Ott had adjoining studios in a building provided by the University of Kansas. Because of a faulty heating system, the interior room temperature during the winter months averaged about 90 degrees, making it unbearably hot. Despite daily calls to the maintenance office, the oppressive heat continued. The only way to combat this problem was to keep the windows open slightly, allowing the cold air from outside to cool the studio. One night, when Mike was out of town, the pilot light went out in Mike's furnace, causing the temperature to drop. The water pipes froze and eventually burst, flooding his studio. When Roger went to his studio the next morning, he noticed the flooding and called Buildings & Grounds to report the incident.

Three hours later a repairman showed up at Roger's studio and asked to see the damage. Roger showed him the flood in Mike's studio, whereupon the repairman told Roger the pipes froze because the windows were left open. Roger said that he understood this but explained they were left open due of the unbearable heat caused by a dysfunctional thermostat. The repairman, in a raised voice, repeated his reasons why the pipes froze, whereupon Roger repeated his reasons why the windows were left open. The repairman, now highly agitated, asked Roger who he was. Roger explained he was a faculty member in the Art Department and that the room next door was the studio the University provided him with to do his artwork. The repairman asked to see Roger's studio, looked in all of the rooms, then stormed out.

The next morning, Roger was notified through the Chancellor's Office of an official report, filed by a worker from Buildings & Grounds, stating there was a Vietnamese student living illegally in a university building. The report went on to say this student was sleeping with his windows open at night, causing the pipes to freeze and burst. The worker's report concluded by saying that despite his attempts to explain why the pipes burst, he did not think the student understood him because it appeared the student couldn't comprehend English.
Accompanying text:
In the spring of 1970, after moving to Lawrence, Kansas, Roger went to Wilson's Department store to buy his wife a coat for her birthday. Wilson's would not take Visa or MasterCard at the time and required that charges be made to a Wilson's credit card only. The salesperson told Roger that he could fill out an application and obtain immediate approval to charge the coat.

As directed, Roger went to the second floor credit counter and requested an application. The woman behind the counter said it was against Wilson's policy to issue credit cards to Indians. When Roger said he was not an Indian, the woman told him she did not believe him. Roger then asked to speak to the manager.

When the manager arrived, the woman behind the counter told him she had dutifully informed Roger that it was store policy not to grant credit cards to Indians. The manager examined Roger carefully and then said, "She's right, sir. We don't give credit cards to Indians." Roger repeated to the manager that he was not an Indian, whereupon the manager said, "You got any proof that you ain't, mister?"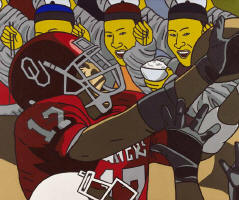 OKLAHOMA SOONERS, 2003
Acrylic on canvas, 20 x 24 inches
SOLD
Accompanying text:
One day in 1977, while reading the sports pages in the Kansas City Star, Roger came across an article that described the supporters of Oklahoma football as Chinamen. In the article, the head football coach referred to an upcoming game by saying, "We'll just give the Chinamen their rice." Not surprisingly, the Oklahoma fans were not happy with just winning games, but wanted to win by big margins. For a Sooner fan, the clichéd question, "How much rice can a Chinaman eat?" meant "How much of a margin of victory can an Oklahoma fan expect?"

Upon reading this, Roger wrote a letter to The University of Oklahoma President, protesting the use of the term Chinamen claiming that it was racist and tantamount to calling African Americans colored people. The letter went on to demand that the football coach apologize for his use of this term and promise not to use it again.

Three weeks after sending the letter, Roger received a personal call from the head coach. The coach told Roger he didn't know the term was racist and that Roger should not be so sensitive. "We don't have any of those kind of people around here anyway," he wrote and went on to disclaim any authorship of the cliché in question, blaming it all on Bud Wilkinson, the former University of Oklahoma coaching legend. Since the football team was not doing well that year, the coach launched into a short history of the wishbone offense and explained that this offensive strategy was causing him so much frustration that it made him say things unwittingly.

When Roger requested that the coach send him a letter stating his promise not to use the Chinamen expression again, the coach responded that he did not feel a letter was warranted because the phone call should suffice. Roger insisted and said he would protest directly to the University of Oklahoma President if the coach did not comply. The coach responded, "Hell, I'm calling from his office right now and he's listening to me talk on the phone. Okay, okay, I'll send a letter."

Approximately two weeks later, Roger received a letter from the coach. The letter - typed on stationery covered with football helmets, scores of past bowl game victories and the names of University of Oklahoma All-American football players and Heisman Trophy winners - essentially stated that he did not know the term Chinamen was racist.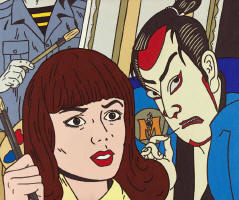 ORIENTAL TYPE, 2003
Acrylic on canvas, 20 x 24 inches
$7,200.
Accompanying text:
During the spring of 1969, Roger was selected as one of two finalists for a faculty position at a university in the state of Kentucky. Roger was socially acquainted with one of the selection committee members. After completing the first day's interviews with students, faculty and administrators, Roger was informed that the Department Chair had discovered Roger was an "Oriental" person. Roger's friend on the committee was instructed to inform Roger that there were no "Oriental types" in Kentucky, and that he would be extremely unhappy and lonely living there. The Chair then announced she had decided to terminate this search.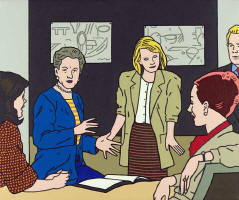 PASSÉ, 2003
Acrylic on canvas, 20 x 24 inches
$7,200.
Accompanying text:
In 2002, Roger was asked to submit a proposal for a percent for arts project on a university campus in the state of Washington. The submitted drawing proposed a mural which would explore the complex question as to whether America would be better off continuing to be thought of as a "melting pot," or whether it might be more relevant today for America to be more like a "tossed salad." A month later Roger was told that he was not awarded the commission due in part to an art historian on the panel who said that the subject was "soooo passé."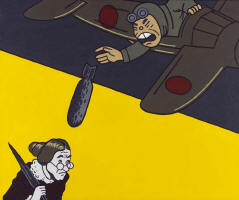 REMEMBER PEARL HARBOR, 2003
Acrylic on canvas, 20 x 24 inches
$7,200.
Accompanying text:
One night in Seattle during the mid-1960s, after meeting some college friends for dinner, Roger noticed an elderly woman carrying an umbrella over her shoulder. As he got into his car, she stopped in the middle of the street and yelled, "You Japs ought to go back to where you came from!" Roger got out of his car and asked her to repeat what she had said. She stepped toward him and threatened to hit him with her umbrella. As Roger turned to get back into his car, she threw her umbrella at him, screaming something about Pearl Harbor. Roger watched the woman from inside his car as she recovered her umbrella, swearing something unintelligible about the Japanese and the war.

TWO CHARACTERS, 2003
Acrylic on canvas, 20 x 24 inches
$7,200.
Accompanying text:
In the 1980s, Native American artist Edgar Heap-of-Birds was awarded a guest artist residency at the University of Kansas. Roger accompanied Edgar to obtain the signature of a university administrator in order for Edgar to receive payment for his services.

Upon entering the central administration building, Roger handed the papers to a receptionist who took them into the administrator's office. Prior to signing, the administrator peered out at Roger and Edgar, and said derisively, in a voice loud enough for all to hear, "I want you to check the IDs of those two characters out there." He then laughed out loud, shaking his head as he stared at them.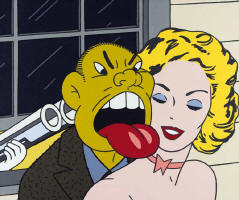 WEST SEATTLE SHOTGUN, 2003
Acrylic on canvas, 20 x 24 inches
SOLD
Accompanying text:
In 1958, Roger dated a Swedish American girl named Jan Johnson. Jan lived in West Seattle, an area known to be hostile to people of color.

One evening, while Roger was driving Jan home, she told him to drop her off one block from her house. When Roger asked why, she told him that when she informed her parents that she was going out to dinner with Roger Shimomura, her father said he did not want her dating "Oriental people." If she did, and he caught her, he said he would shoot "the Jap" with his gun like he had done in World War II. While she argued with her parents, her father got out his shotgun, loaded it, and placed it next to the front door.

As Jan got out of Roger's car a block from her home, her last words were, "You think I'm kidding?"
ABERCROMBIE & FITCH, 2003
Acrylic on canvas, 20 x 24 inches
SOLD
Accompanying text:
In April, 2002, retail clothing store Abercrombie & Fitch, introduced a new line of T-shirts depicting smiling men with slanted eyes wearing conical hats. The T-shirts carried slogans such as "Buddha Bash" and "Wok-n-Bowl". Asian American groups responded quickly, complaining that these images and phrases were blatant examples of racial stereotyping. Protests began at Abercrombie & Fitch stores nationwide.

After instructing all stores to remove the T-shirts, a spokesman for Abercrombie & Fitch said that the company felt that the shirts would be especially loved by the Asian American community and would be seen as cheeky, irreverent and funny. He said that he was surprised by the hostile reception the merchandise received.
BACK TO THE WEST COAST, 2003
Acrylic on canvas, 20 x 24 inches
SOLD

Accompanying text:
While coordinator of the Freshman Foundation Program at the University of Kansas in the fall of 1972, Roger called a meeting of the teaching assistants in the Basic Design Program. He invited one of the professors in the Design Department to talk about what he expected his future majors to learn in the Foundation Program. Roger invited this particular professor since he had been quite vocal at faculty meetings regarding the way basic design was being taught.

When Roger expressed his reasons for supporting the basic design curriculum, the professor lashed out by saying, "This here is proof that students at Kansas should be taught by faculty that are from this region. Shimomura's ideas should be practiced on the West Coast where other Oriental people like him live."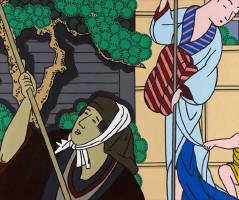 CANON BEACH, OREGON (Variation 2), 2003
Acrylic on canvas, 20 x 24 inches
SOLD
Accompanying text:
A year after returning to Seattle from Camp Minidoka, Roger's family decided to go on a vacation to Canon Beach, Oregon. They made their reservations well in advance, but upon arrival, were told that the resort had a policy of not renting to Japanese people. Roger remembers his Mom and Dad discussing what to do, while standing alongside their l946 Chevrolet. After Roger's father went back inside, he returned 15 minutes later saying that the owner had changed his mind as long as the family was willing to use the cabin furthest down the road.

When they arrived at the cabin, they were disheartened to find it a terrible mess, having been empty for years. The family drove to the nearest grocery store and purchased a broom, a mop, three cans of Dutch Cleanser and other cleaning materials. After an entire day of scrubbing, the cabin was spotless. Roger and his father even weeded the outside of the cabin so they could see out the windows.

Following two days of vacationing, the Shimomuras tidied up after themselves and returned to Seattle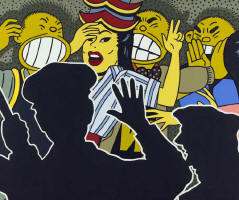 DO YOU SPEAK ENGLISH? 2003
Acrylic on canvas, 20 x 24 inches
SOLD
Accompanying text:
During the summer of 2001, a group of Asian American youths, on a field trip to an art studio in downtown Seattle, were crossing a marked crosswalk that had no pedestrian signal. A Seattle police officer began yelling at them from his patrol car, "Don't you know how to cross the street? Do you speak English?" Caucasian pedestrians were crossing in the same manner without receiving any reprimand from the police. Even after the students were lined up against the wall and spoke English to the police, the officers kept asking, "Do you speak English? Are you foreigners?" The students were all verbally harassed as the officers patted them down.

Soon thereafter, three additional police cars arrived on the scene. In anger, one of the officers yelled to one of the members of the group who was attempting to mediate, "I've been to your country before when I was in the Army!"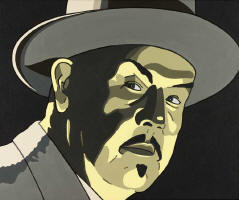 FOX AND CHARLIE CHAN, 2003
Acrylic on canvas, 20 x 24 inches
SOLD
Accompanying text:
FOX network recently rescinded its decision to air The Charlie Chan Mystery Tour due to protests from the Asian American community. The old Charlie Chan movies featured ethnic stereotypes and "yellow-faced" white actors, considered offensive and to many Asian Americans. The Organization of Chinese Americans stated, "Charlie Chan is a painful reminder of Hollywood's racist refusal to hire minorities to play roles that were designed for them, and a further reminder of the miscegenation laws that prevented interracial interaction even on screen."


Click on any image to enlarge: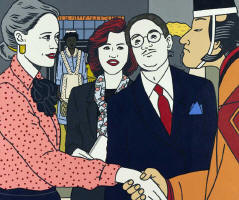 FLORENCE, SOUTH CAROLINA, 2003
Acrylic on canvas, 20 x 24 inches
SOLD
Accompanying text:
In l969, after graduating from Syracuse University, Roger and his first wife visited their good friend Alvin, in Florence, South Carolina. Alvin's mother threw a dinner party for her friends and relatives, all long-time residents of Florence. The purpose of the party was for everyone to meet Alvin's "friends from Japan" despite Roger and his wife's repeated insistence that they were Americans who happened to be of Japanese descent.

During pre-dinner cocktails, Roger was introduced to Fran, one of Alvin's favorite aunts. Fran was a school teacher and college graduate, often referred to as the "intellectual" of the family. As introductory pleasantries were exchanged, Fran asked Roger his name. Roger said his first name and then, in very crisp English, Fran repeated her question to Roger. After Roger repeated his first name, Fran commented very slowly, so a not to be misunderstood, "Well, I guess my name sounds as weird to you as yours does to me."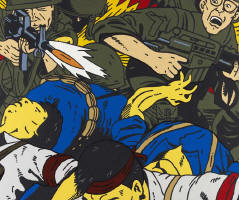 THE GOOK, 2003
Acrylic on canvas, 20 x 24 inches
SOLD
Accompanying text:
One Saturday afternoon in the summer of 1976, Roger visited Seattle's tourist-filled Pike Place Market. While walking along the crowded stalls, Roger noticed that walking in front of him was a tattooed Caucasian male with long hair, wearing a leather headband, cutoff jeans and no shirt. The man appeared to be in a highly agitated state and was walking in an exaggerated fashion while swearing profusely.

As Roger began to pass him, the man yelled at Roger, "Hey Gook, I killed your fuckin' brother in 'Nam. I killed your mother and father, too!" Then for at least 30 more feet the man walked beside Roger, screaming about having "killed hundreds of VCs and Chinks just like you!"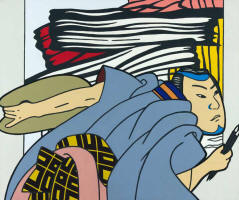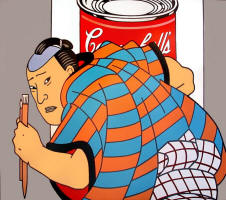 THE HISTORY OF ART, 2003
Left to right: Version 1 and Version 2
Acrylic on canvas, 20 x 24 inches
SOLD
Accompanying text:
Several years ago, Roger had a conversation with an art history colleague who was writing a textbook on the history of art. She informed Roger that she had included his name and painting in the chapter on contemporary American art. She also said she could not promise that his name would survive the editing process due to a difference of opinion with her editor, who felt that Roger would be better defined as a contemporary Japanese painter than a contemporary American painter.

IRAN HOSTAGE CRISIS, 2003
Acrylic on canvas, 20 x 24 inches
SOLD
Accompanying text:
During the Iran Hostage Crises of 1987, Roger was jogging on a county road approximately a mile from his house when a pickup truck carrying two men approached. When the truck got within 50 feet, it suddenly veered toward him, causing Roger to jump into the gully beside the road. As Roger leapt from the road, the driver of the truck leaned out the window and flipped Roger his middle finger, yelling as he sped off, "That's for your ayatollah, you Chinaman!"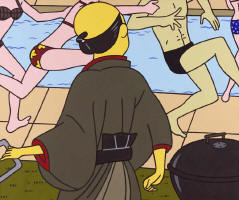 JAPANESE GARDENER, 2003
Acrylic on canvas, 20 x 24 inches
SOLD
Accompanying text:
During the summer before Roger's senior year in high school, he had a job as a gardener. Many of the yards that he helped maintain were located in a white neighborhood in Seattle known as Broadmoor. The only people of color who were allowed to pass through the guarded gates of Broadmoor were domestic help and gardeners, most of whom were Japanese.

Every two weeks, Roger and his maintenance crew would have to mow the yard belonging to the family of one of his classmates, Marcia. A cheerleader and student leader, Marcia frequently had her Caucasian friends over for parties around her swimming pool. Whenever he had to cut the grass during one her parties, the boys would embarrass Roger by teasing or whistling at him.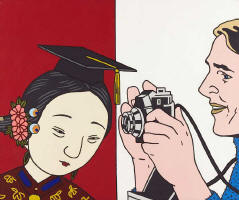 LILY WANG, 2003
Acrylic on canvas, 20 x 24 inches
SOLD
Accompanying text:
Lily Wang, a 31 year old Chinese American computer science graduate student at North Carolina State University, was murdered on October 12, 2002 by Richard Borrelli Anderson, a white classmate who is reported to have become infatuated with her. Wang was already married (to another Chinese American), but this fact did nothing to deter Anderson's unwelcome advances, which appear to have been racially motivated. According to press reports, Anderson had confided to a friend that he liked Asian women because "they study hard, they're very nice, and soft speaking."

According to police reports, Wang did nothing to cause Anderson to select her as a target other than being an Asian American woman who happened to be the innocent object of the killer's infatuation and violent nature.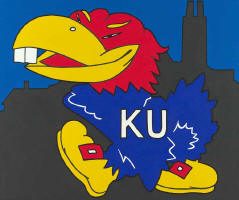 NO THANKS, 2003
Acrylic on canvas, 20 x 24 inches
SOLD
Accompanying text:
In March, 1942, as incarceration of over 120,000 Japanese Americans into concentration camps began, the Chancellor at the University of Kansas expressed his support for acceptance of college-aged Japanese Americans into the University. In early April, 1942, the Kansas Board of Regents vetoed the Chancellor's decision, ruling that the University would not accept any Japanese American students.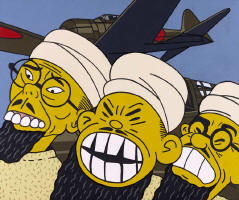 NOT PEARL HARBOR, 2003
Acrylic on canvas, 20 x 24 inches
SOLD
Accompanying text:
Since the horrible tragedy of September 11, 2001 numerous comparisons have been made to the 1941 attack on Pearl Harbor. For many reasons this comparison has made millions of Japanese Americans anxious – reminding them of the injustice of their wrongful internment during WWII. Today, many members of the Islamic religion, Arab Americans, Middle Eastern Americans, and anyone who looks like "them," encounter similar intimidation, violence, and racial profiling.

This painting depicts the faces of WWII Japanese enemy stereotypes, now bearded and turbaned as the stereotypical terrorists. In the background, in place of the 9/11 planes on their kamikaze-style mission, Japanese Zero planes head toward their targets.

RETURN OF MR. WONG, 2003
Acrylic on canvas, 20 x 24 inches
SOLD
In 1999, a new cartoon called Mr. Wong appeared on the Internet. It featured a yellow-skinned, bucked-tooth, slant-eyed Asian male who wore a slave collar that was controlled by a white woman. Despite numerous objections voiced by the Asian American community, creators and producers of the show initially refused to remove it from public viewing.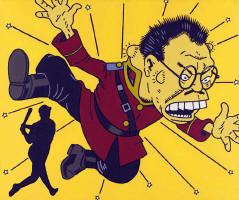 VINCENT CHIN MURDER, 2003
Acrylic on canvas, 20 x 24 inches
SOLD
Accompanying text:
In 1982, while attending his bachelor party at a suburban Detroit strip club, Chinese American Vincent Chin was lured into an altercation with Ron Ebens and his stepson, Michael Nitz, two white auto workers who blamed him for the ailing U.S. auto industry and the consequential loss of jobs. "It's because of you little motherfuckers that we're out of work," witnesses recalled hearing. The violence escalated and the two auto workers bashed Vincent Chin's head with a baseball bat, killing him.

Ebens and Nitz pled guilty and received a sentence of three years' probation and a $3,000 fine. Judge Charles Kaufman reasoned that Ebens and Nitz did not have criminal records and were not likely to violate the terms of their parole. Later, the judgment was appealed, but the respective juries acquitted each of them. Neither served any jail time for his crime.

Vincent Chin's mother, totally disheartened, left the U.S. and returned to her native village in China.


Order the Catalog
Greg Kucera Gallery has published an 80 page color catalog for this exhibition that includes all 30 paintings, the corresponding text and an essay by Lucy R. Lippard.
If you are interested in purchasing this catalog, please click on this link:
Stereotypes and Admonitions Catalog