Prices are subject to change as editions sell out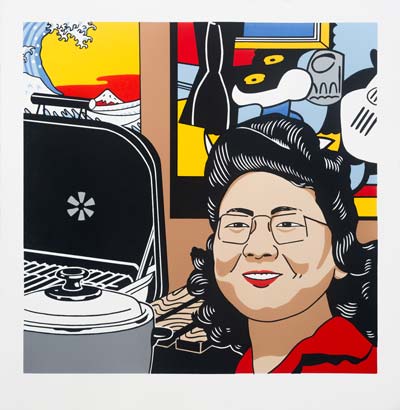 AMERICAN MUSE, 2017
Lithograph
28 x 27 inches
Edition of 36
$2,000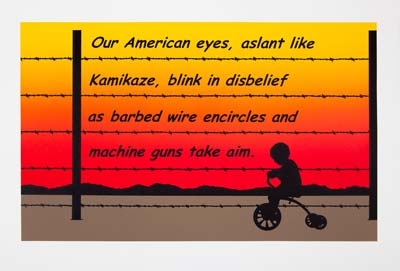 THE CAMPS from NISEI TRILOGY , 2015
Lithograph
18.5 x 27 inches
Edition of 50
$1,500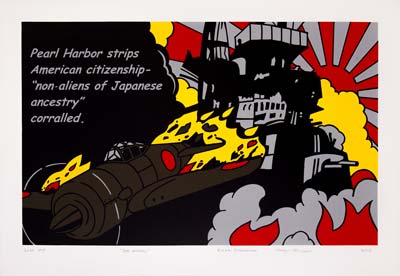 THE ATTACK from NISEI TRILOGY, 2015
Lithograph
18.5 x 27 inches
Edition of 50
$1,500





RETURN HOME from NISEI TRILOGY, 2015
Lithograph
18.5 x 27 inches
Edition of 50
$1,500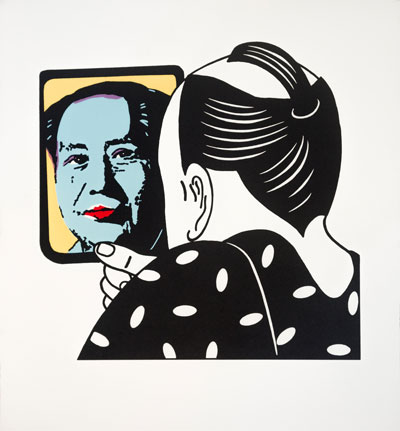 MAO, 2016
Lithograph
14 x 13 inches
Edition of 60
$900




MICKEY, 2016
Lithograph
14 x 13 inches
Edition of 60
$900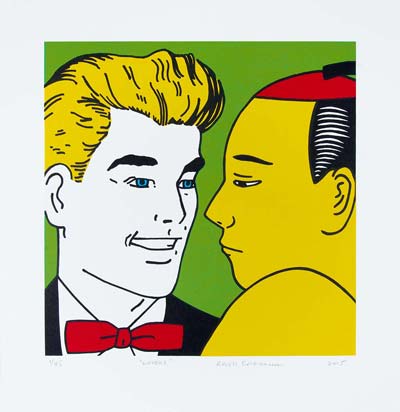 LOVERS, 2015
Lithography
14 x 13.5 inches
Edition of 45
$900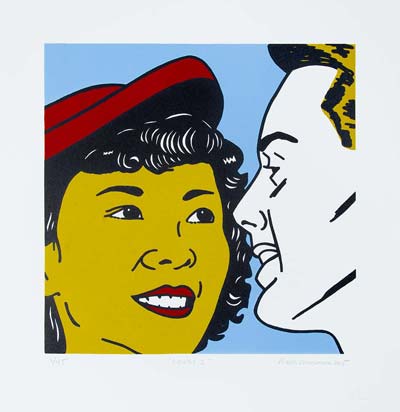 LOVERS 2, 2015
Lithography
14 x 13.5 inches
Edition of 45
$900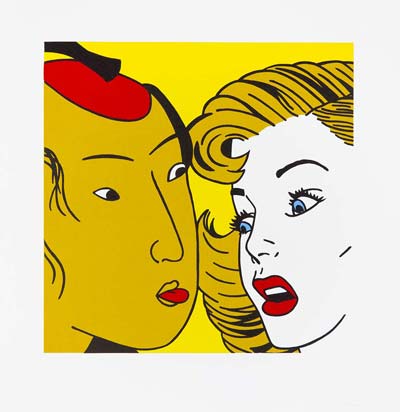 LOVERS 3, 2015
Lithography
14 x 13.5 inches
Edition of 45
$900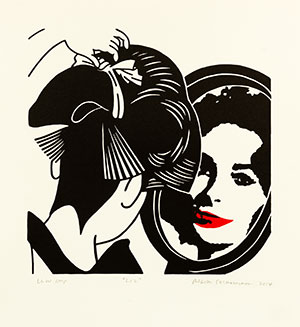 LIZ, 2014
Lithograph
14 x 13 inches
Edition of 70
$1,000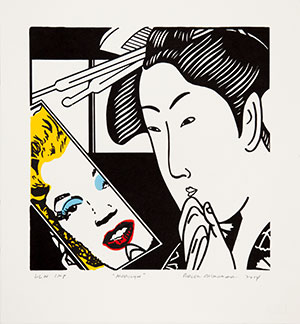 MARILYN, 2014
Lithograph
14 x 13 inches
Edition of 74
$900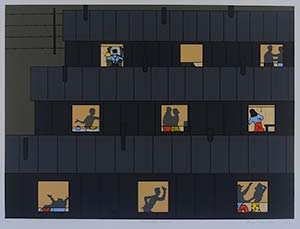 NIGHT WATCH MINIDOKA, 2013
Lithograph
28 x 38 inches
Edition of 51
$2,400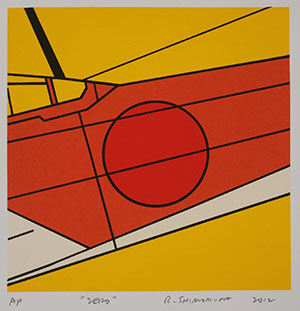 ZERO, 2012
Lithograph from a suite of 4, YELLOW SUITE
9.5 x 10 inches
Edition of 30
$500 unframed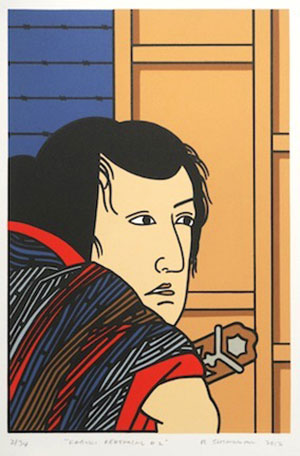 KABUKI REHEARSAL #2, 2012
Lithograph
15.5 x 11 inches
Edition of 34
$900






AMERICAN BUDDAHEAD, 2012
Lithograph
29.5 x 10 inches
Edition of 30
$1,400






SUPER BUDDAHEAD, 2012
Lithograph
29.5 x 10 inches
Edition of 40
$1,400


About "AMERICAN GUARDIAN"
The inspiration for this lithograph comes from 17th C., (Muromachi period) Byobu painting. The image itself depicts a Japanese American incarceration camp from the vantage point of one of the guard towers that surrounded the camp. The sentry closely observes a child riding a tricycle, making reference to myself at the time of my incarceration when I was 4 years old.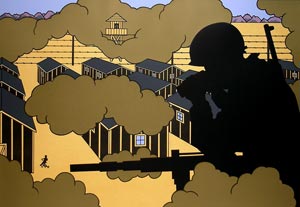 AMERICAN GUARDIAN, 2007
7-color lithograph
27 x 39 inches
Edition of 50
POR




MISTAKEN IDENTITIES, 2005
A suite of six lithographs
14.5 x 12.5 inches (paper), 10.5 x 9 inches (image area)
Edition of 45
$1,200 individually
Price subject to change as the edition sells out.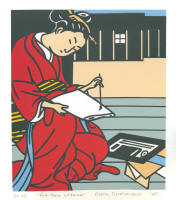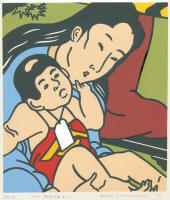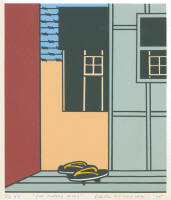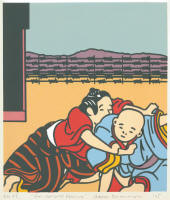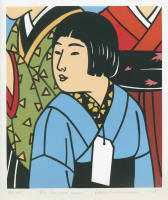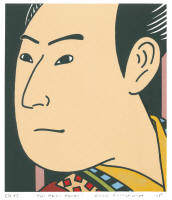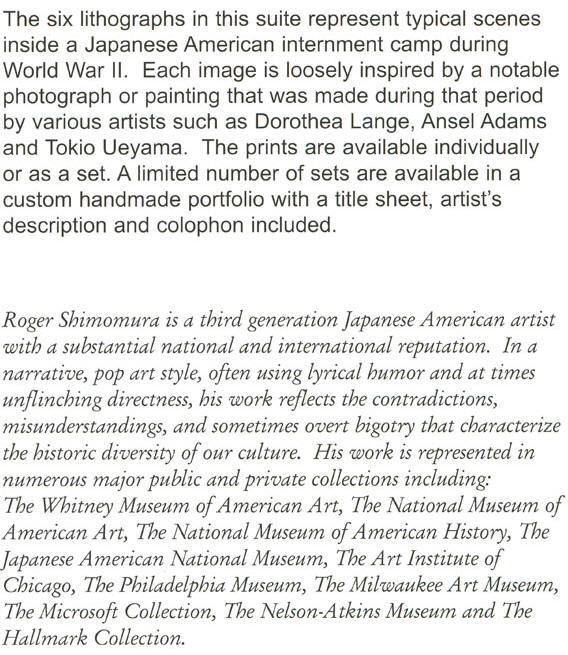 ---
OTHER RELEASES: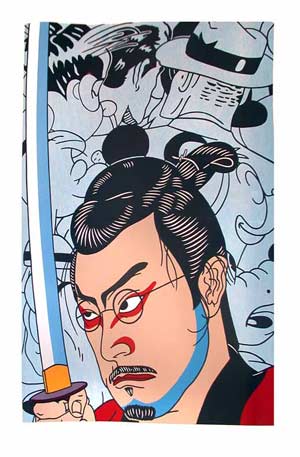 KANSAS SAMURAI, 2004
Color lithograph 45 x 31 inches
Edition of 46
Published by Lawrence Lithography
$10,000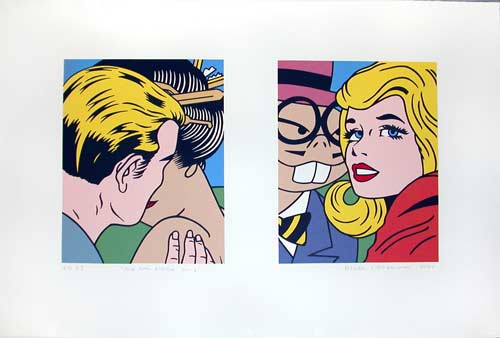 MIX & MATCH, No. 1, 2001
Color lithograph 20.5 x 28.5 inches Edition of 46
Published by Lawrence Lithography
$2,000 framed

The artist writes:
"This series of prints explores America's inability to distinguish between Japanese and Japanese American people. This is what brought about the internment camps of World War II. In the twelve images, different Japanese American people stand behind the barbed wire of the internment camps, while traditional Japanese figures such as costumed actors stand in front of the wire barrier."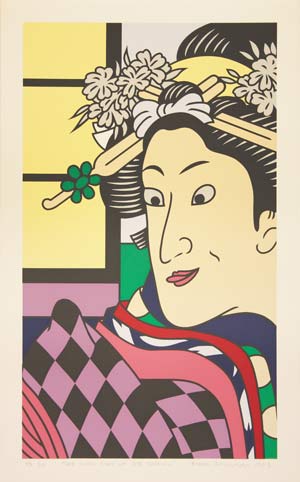 SIXTH SIGN ON THE TOKAIDO, 1983
Silkscreen on paper
21 x 13 inches
Edition of 30
$600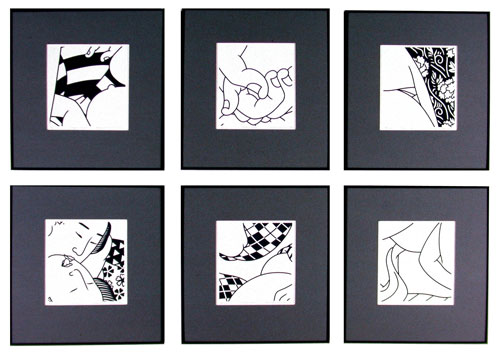 SIX VIEWS (Full set of 6), 1983
Silkscreen
9 x 8.5 inches
Edition of 30
$1,000
Third View, Fifth View and Sixth View also available individually for $150 each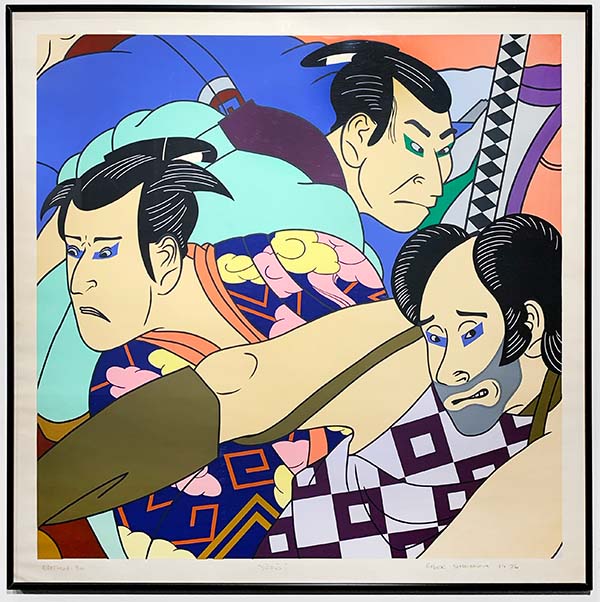 SODO, 1976
Screenprint
30 x 30 inches
$1,500


"To most non-Asians in this country, the differences between the Japanese, Chinese and other Asian people are either indistinguishable or immaterial. During WW II this insensitivity was expressed by their failure to recognize the differences between the Japanese people and Americans of Japanese descent. Today, history is being forced to admit the gravity of this error in judgment..."

— Roger Shimomura, March 1992