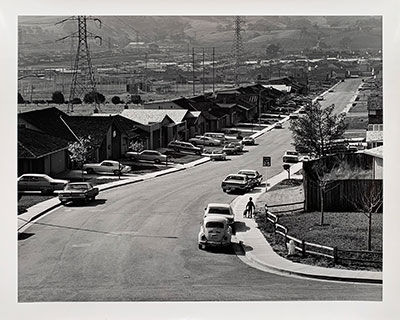 UNTITLED (street with boy and dog), 1999
Photograph
$3,200

Photographs from Suburbia, Working and Our Kind of People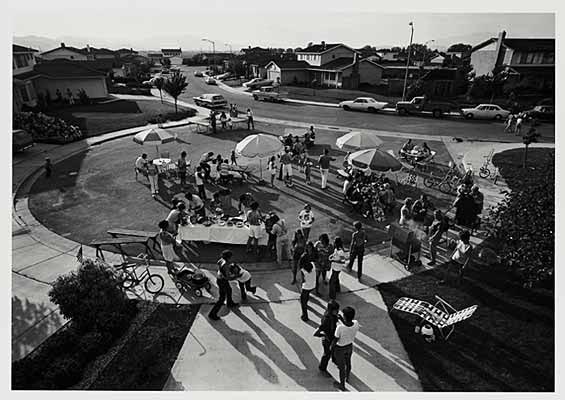 This is our second annual Fourth of July block party. This year thirty-three families came for beer, barbequed chicken, corn on the cob, potato salad, green salad, macaroni salad and watermelon. After eating and drinking we staged our parade and fireworks.

"This book (Suburbia) is about my friends and the world I live in. In the Fall of 1968, I began working as a photographer for the Livermore (California) INDEPENDENT. My daily routine took me into the homes of hundreds of families and into contact with the social life of three suburban communities.
The people I met enjoy the life-style of the suburbs. They have realized the American Dream. They are proud to be home owners and to have achieved material success.

To me, nothing seemed familiar, yet, everything was very, very familiar. At first I suffered from culture shock. I wanted to photograph everything, thousands of photographs. Then slowly I began to put my thoughts and feelings together and to document Americans in Suburbia. It took two years.
The photos in this book express the lives of the people I know. The comments on each photograph are what the people feel about themselves."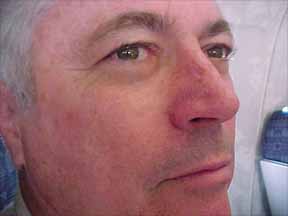 - Bill Owens, from Suburbia, Summer 1972

---
Color Photographs in Editions of 10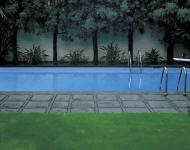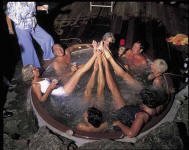 "Hockney Painted This Pool" and "We Don't Have to Conform"
Bill Owens came to prominence in the early 1970s. After graduating from California State University at Chico (1963), he began to pursue photography while serving in the Peace Corps (1964-66). Later, when working as a newspaper photographer for the Independent News in Livermore, California (1968-78), a small city 33 miles east of San Francisco, Owens was assigned the daily beat of the suburban activities of his friends and neighbors.

Owens' first book Suburbia (Straight Arrow Books, 1972) was a fascinating catalog of many of the individuals that the artist met while his camera was trained on the various yard sales, PTA meetings, church socials, and other social phenomena of his neighborhood. In Suburbia, the artist paired photographs of these plain folks with short, descriptive statements in their own words or paraphrased from interviews. The photographs have a compelling presence by themselves, but the combination of word and image runs the gamut from amusing humor to touching pathos.

---
Black and White Photographs in Editions of 15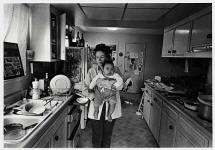 In another image (above), a housewife and young mother stands in a messy kitchen with curlers in her hair and a baby in her arms. Her quote reads:
How can I worry about the damned dishes when there are children dying in Vietnam?
After considerable and immediate success from Suburbia, the second book, Our Kind of People (Straight Arrow Books, 1974) used many of the images that Owens had collected covering fraternal organizations such as the Elks, Eagles and Rotary Club, as well as youth activities (Cub Scouts and Indian Guides), church groups and other, often quite eccentric, groups. The "Avon Bottle Collector's Club" and "The Order of the Louse" are just a few of the more curious groups profiled.

Working (I do it for the money) was published in 1976 (Simon and Schuster) as the third in the series. Here, Owens combined working portraits and touching comments from workers at a variety of occupations ranging from teachers to car salesmen (illustrated below), executives to factory workers, and prostitutes to preachers. As with Studs Terkel's book by a similar title, the comments of the workers are moving, revealing their frustrations with their jobs just as easily as their delight or satisfaction.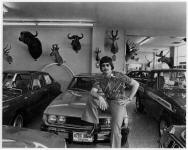 I've always been sales-oriented. If I can sell myself, I can sell the product.
I take pride in my customers and have sold nine cars to one family.
Everyone you meet is different.


With these books and numerous exhibitions behind him, Owens seemed destined for success. Although Owens sold relatively few photographs during this period, the books were all hugely successful for such documentary work. Diane Arbus died in 1971, and even she had not sold great quantities of her work during her lifetime. This was the beginning of a huge new wave of interest in photography, in both book and art print forms. Still, for Owens, it was not a living.

Although his career continued into the 1980s and 1990s with shows all over the U.S. and Europe, Owens himself withdrew from the public eye. His two children were born in 1968 and 1972 and he went through a difficult divorce from his first wife in the mid-1970s. He was feeling the pains of a career well begun but somewhat stalled at the starting gates. He continued to do freelance and contract work, even working on Newsweek's special bicentennial issue in 1976.

Bill Owens founded Buffalo Bill's Brewery in 1983, in Hayward, CA, which is where he now lives. For a while he even published two beer brewing magazines. Owens continues to take photographs. He exhibits with Howard Greenberg Gallery in New York and Robert Koch Gallery in San Francisco.

His work is included in the collections of MoMA, New York; San Francisco MoMA; Los Angeles County Museum of Art; National Museum of American Art, Washington D.C.; Bibliotheque Nationale de Paris; and MoMA, Stockholm, in addition to many others.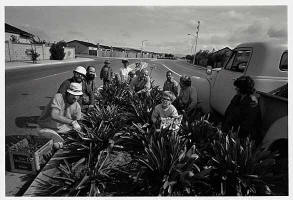 The best way to help your city government and have fun
is to come out on a Saturday morning and pull weeds in a median strip.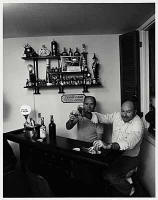 My hobby is drinking. On the weekends I enjoy
getting together with my friends and boozing.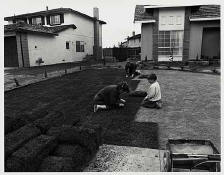 I bought the lawn in six-foot rolls. It's easy to handle.
I prepared the ground and my wife and son helped roll out the grass.
In one day you have a front yard.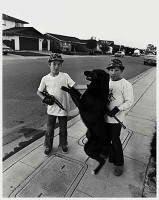 We like to play war.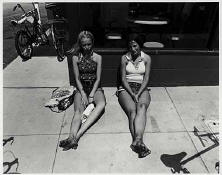 There's nothing to do in suburbia.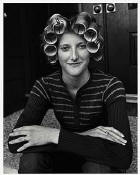 I put my hair up once or twice a week.
It's the only way I can get curls in it. When it's combed out,
I'm willing to be seen in public.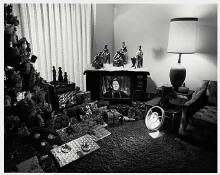 Ronald Reagan on TV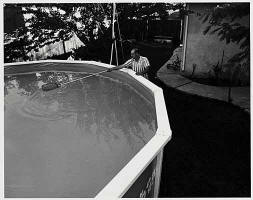 I bought the Doughboy pool for David and the
kids and now no one wants to take the responsibility for cleaning it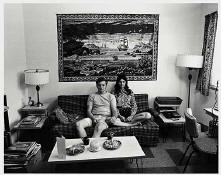 We've been married two months and everything we own is in this room.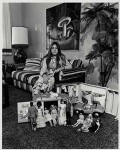 This is Valerie's world in miniature. She makes it what she wants it to be...without war, racial hate or misunderstanding. Ken and Barbie are man and woman rather than Mom and Dad. They enjoy living and having a camper truck is the good life. Today Valeries has the chicken pox and can't go out to play




I wanted Christina to learn some responsibility
for cleaning her room, but it didn't work.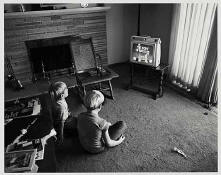 I don't like the space walk. It's Saturday morning
and I want to see cartoons.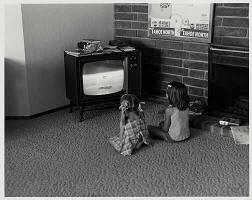 We'd rather play games than watch TV.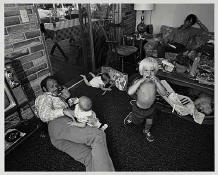 Every year I go to my mother-in-law's for Thanksgiving and every year
I swear I'll never do it again. But I always do, do it again.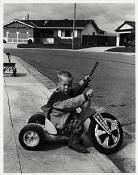 I don't feel that Richie playing with guns will have a negative effect on his personality. (He already wants to be a policeman). His childhood gun-playing won't make him into a cop-shooter. By playing with guns he learns to socialize with other children. I find the neighbors who are offended by Richie's gun, either the father hunts or their kids are the first to take Richie's gun and go off and play with it.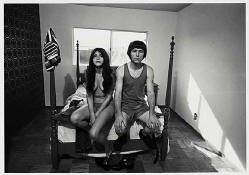 We feel most people have the wrong attitude towards sex,
that it's nasty and to be done only in the dark.
With us sex takes care of itself.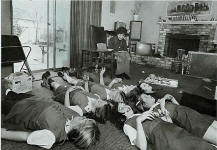 I enjoy the suburbs. They provide Girl scouts, PTA,
Little League, and soccer for my kids.
The thing I miss most is a Black cultural identity for my family.
White middle-class suburbia can't supply that.
Here the biggest cultural happening has been
the opening of two department stores.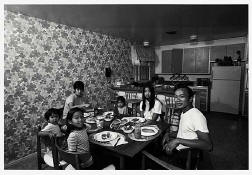 Because we live in the suburbs we don't eat too much Chinese food.
It's not available in the supermarkets so on Saturday we eat hot dogs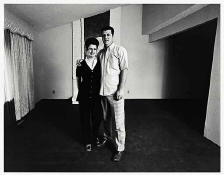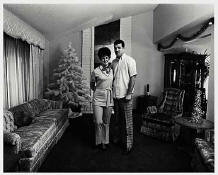 We lived in our house for a year without any living room furniture.
We wanted to furnish the room with things we loved,
not early attic or leftovers. Now we have everything
but the pictures and the lamps.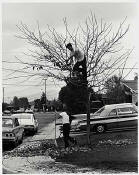 My dad thinks it's a good idea to take all the leaves off the tree
and rake up the yard. I think he's crazy.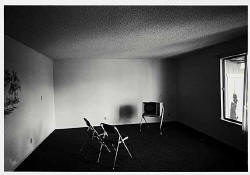 Sunday afternoon we get it together.
I cook the steaks and my wife makes the salad.




I get a lot of compliments on the front room wall.
I like Italian Syrocco floral designs over the mantle.
It goes well with the Palos Verde rock fireplace.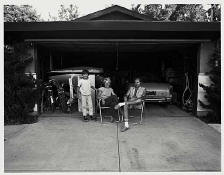 Our house is built with the living room in the back, so in the evenings
we sit out front of the garage and watch the traffic go by.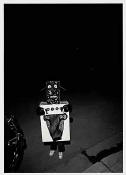 Last year I got 4 pounds of candy: 72 jelly beans. 67 Candy Corns. 26 Tootsie Rolls. 18 Tootsie Pops. 21 licorice sticks. 15 jaw breakers. 14 bubble gums. 11 packs of gum. 10 Baby Ruth bars. 11 Hershey bars. 4 Peter Paul Mounds bars. 3 Sugar Daddies. 3 pop corn balls. 3 Milky Way bars. 2 bags of cookies. 2 salt water taffy and a candy apple. It took me three days and I ate everything.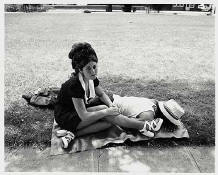 I really love him.

A personal note from Greg Kucera, Director:

I first saw Bill Owens' pictures in 1974, as a high-school student doing research for a photography paper on Diane Arbus. Living in that unremarkable bit of urban sprawl called Federal Way, the images from Owens' first book Suburbia had a startling personal resonance for me. They bluntly legitimized the particular environment in which I had grown up, yet made clear to me how peculiar some of its realities could look.



Further, his images made me realize that the particular immediacy of photography was no less artful when trained on everyday activities from neighborhoods just like mine than it was when illustrating customs or territories less familiar to me then. I moved to Seattle upon graduation from high school.

His successive books were also compelling to me as documents of the insular world I had left behind. It is a great pleasure for me to present this work. Twenty-five years later, it still seems as fresh and revealing as when I first saw it.

- Greg Kucera
---
How the Suburbia series was made

"All the photographs in this book were taken with large format hand-held cameras; a Pentax 6x7, 2 1/4 x 2 3/4, with three focal length lenses- 55mm, 105mm and 200mm, and a Brooks Veriwide 2 1/4 x 3 1/4 which was used for most of the indoor shots. It is a super wide-angle camera.

All indoor photos were taken with a fill-in flash. Sometimes I used a regular flash unit and bounced the light off the ceiling for soft-light effect. The strobe used was a Speed Graflex bare tube. The bare tube gives a very soft, natural light effect.

The film was Tri-X, 220, rated at ASA 800. It was developed in Edwal FG-7 for around ten minutes.

- Bill Owens