February 6 -29, continues through March 28!

Jacob Lawrence Paintings, Drawings, and Prints

Due to popular demand!
Our exhibition of works by Jacob Lawrence is extended through the end of March, closing March 28.

Brendan Kiley's review in The Seattle Times of our extensive Jacob Lawrence show was published online on February 20.
Since that time we have had the best attendance for any show we have ever mounted, sometimes 30-40 people in the gallery at one time. Because of requests from our art appreciating audience, we have decided to extend the Lawrence show in an abbreviated form. Instead of filling all three of our main galleries, it will now be reinstalled in only two galleries. Please join us for this rare opportunity to see a broad selection of Jacob Lawrence's unique drawings and paintings as well as a survey of his printmaking editions.

The Seattle Times
50 works by beloved Seattle artist Jacob Lawrence on view in expansive exhibit at Greg Kucera Gallery
by Brendan Kiley
February 20, 2020

The Stranger
Currently Hanging: Jacob Lawrence's "Revolt on the Amistad" at Greg Kucera Gallery
by Jasmyne Keimig
February 25, 2020

Greg Kucera Gallery press release of the exhibition: Open pdf.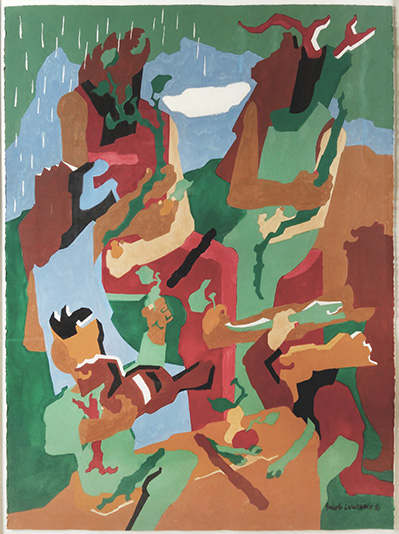 CELEBRATION OF HERITAGE, 1991
Gouache on paper
29.75 x 22.25 inches
Price on request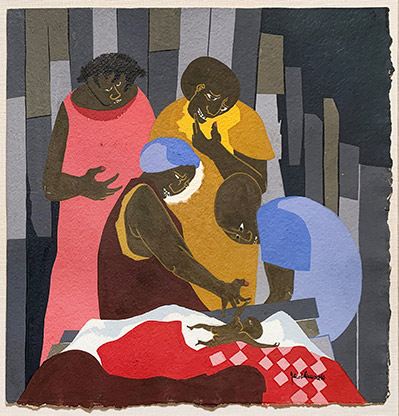 FAMILY, 1966
Tempera and gouache on paper
11.75 x 11.5 inches
SOLD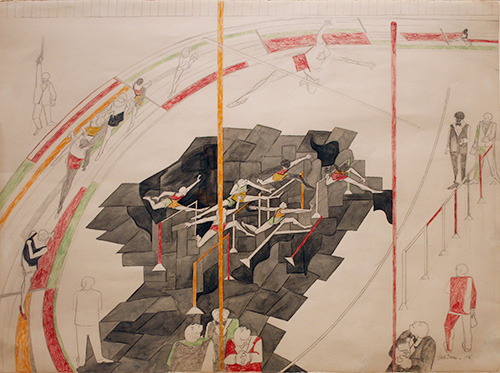 TRACK MEET, 1975-1996
Pencil, crayon and inkwash on paper
22.25 x 30 inches
Private Collection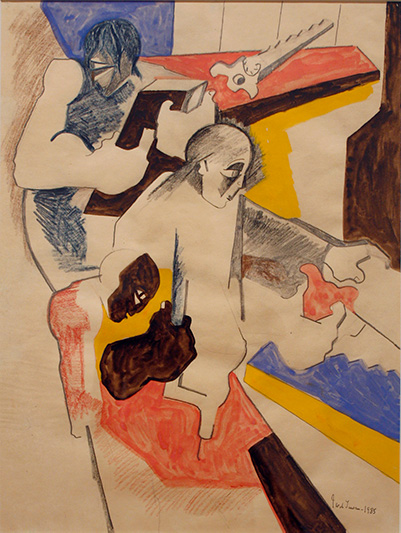 STUDY FOR PAINTING - THE BUILDERS, 1985
Gouache, crayon and pencil on paper
24 x 18 inches
SOLD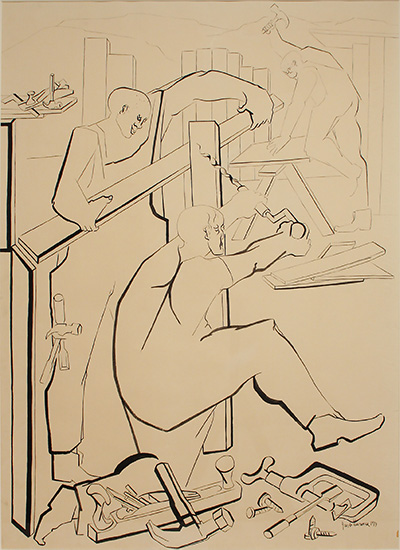 UNTITLED (Men Working), 1973
Brush and ink on paper
30 x 22 inches
SOLD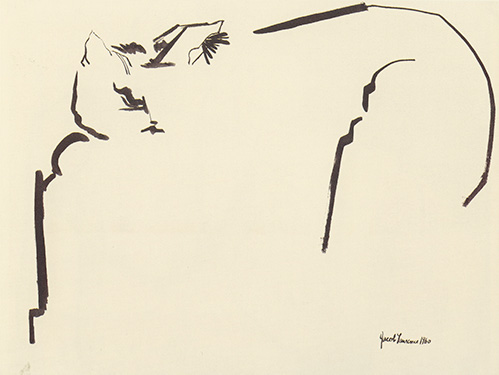 CAT (LE CHAT GRIS), 1960
Ink on paper
17.75 x 23 inches
Price on request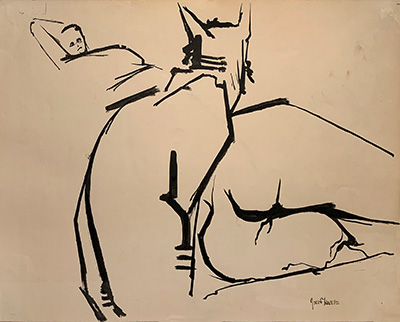 CAT WITH GWEN, 1960
Brush and ink on paper
17.75 x 34 inches
Price on request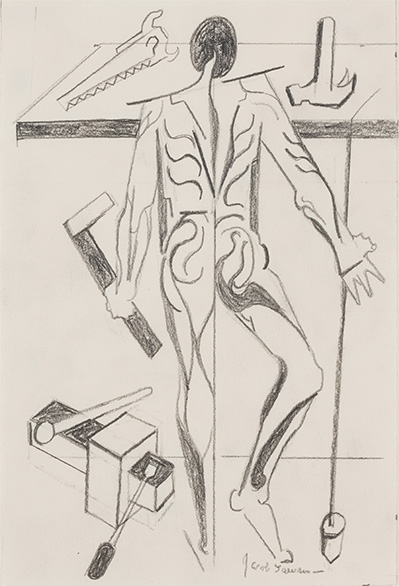 FIGURE STUDY AFTER VESALIUS (BACK WITH PLUMB-BOB), 1979, 1996
Graphite on paper
9.5 x 6.5 inches
Price on request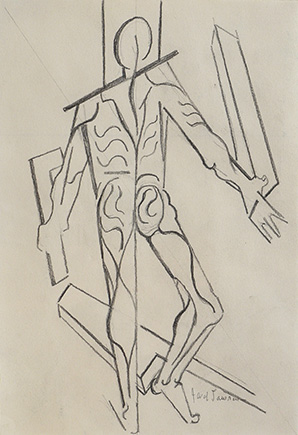 FIGURE STUDY AFTER VESALIUS (BACK WITH RIGHT ANGLE), 1996
Graphite on paper
9.5 x 6.5 inches
Price on request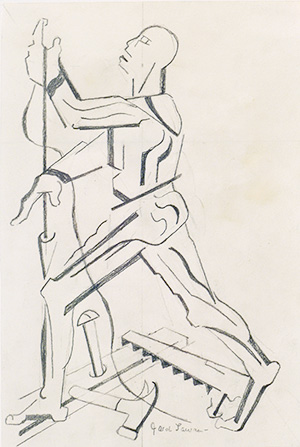 FIGURE STUDY AFTER VESALIUS (PROFILE WITH PLUMB-BOB), 1996
Graphite on paper
9.5 x 6.5 inches
Price on request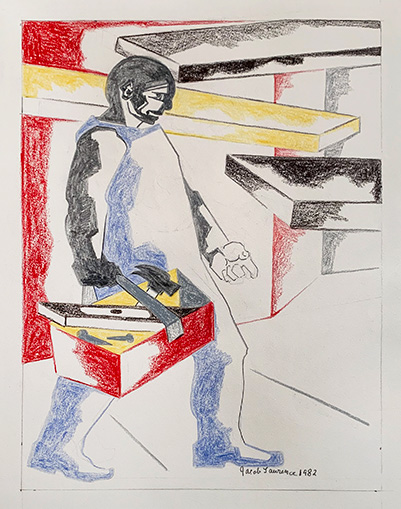 BUILDERS, 1982
Colored pencil on paper
12 x 9 inches
SOLD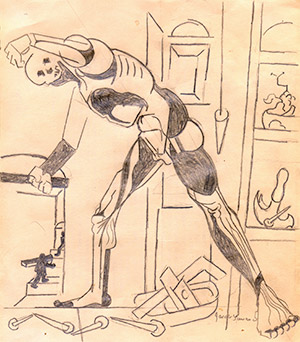 FIGURE STUDY AFTER VESALIUS
(leaning with plumb bob, CR V-35), 1979, 1996
Graphite on paper
8.5 x 7.5 inches
SOLD



Additional impressions available please inquire

FIVE BUILDERS WITH TOOL BOX, 1996
Etching with aquatint on paper
26.75 x 31.75 inches
Edition of 65
SOLD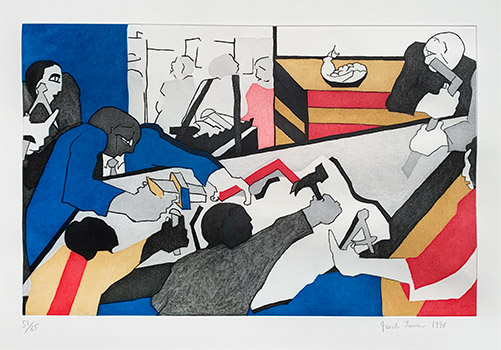 TEN BUILDERS, 1996
Etching with aquatint on paper
26.75 x 31.75 inches
Edition of 65
$9,500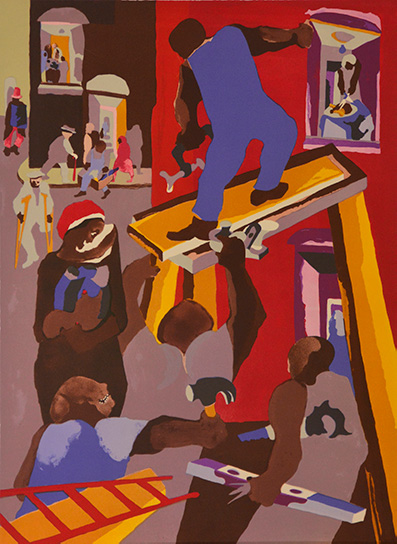 MAN ON SCAFFOLD, 1985
Lithograph on Arches
30 x 22.5 inches
Edition of 60
Collection of Roger Bass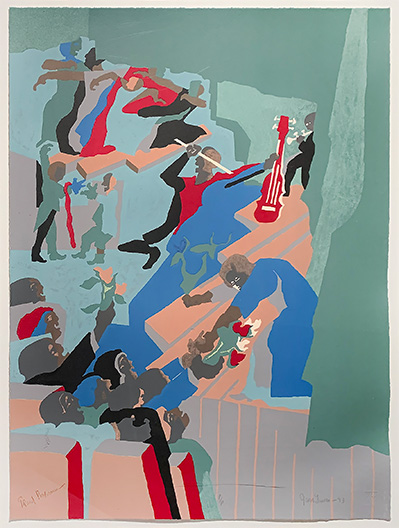 GRAND PERFORMANCE, 1993
Lithograph on Rives BFK
26.5 x 20.25 inches
Private Collection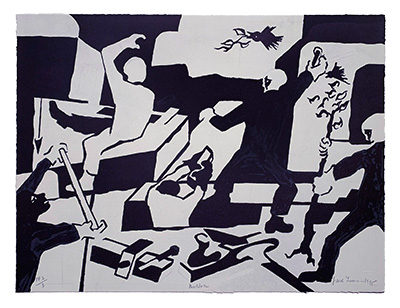 BUILDERS, 1995
Lithograph on Rives BFK Gray
18 x 24 inches
Edition of 100
$4,500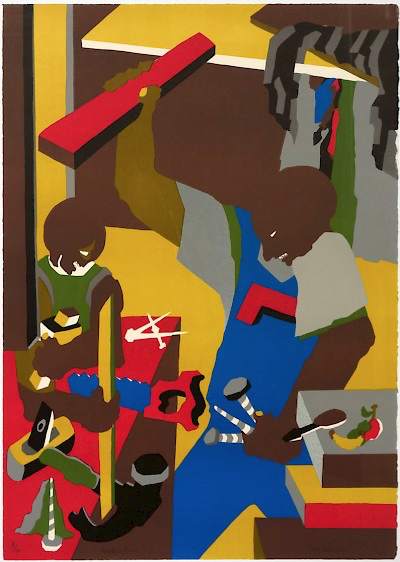 BUILDERS THREE, 1991
Lithograph
30 x 21.75 inches
$8,000



CARPENTERS, 1977
Lithograph
21.75 x 25.75 inches
Edition of 300
Price on request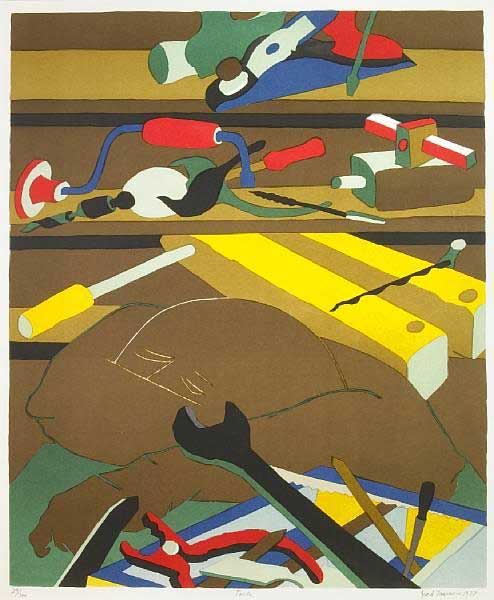 TOOLS, 1977
Lithograph
22 x 18.25 inches
Edition of 300
Price on request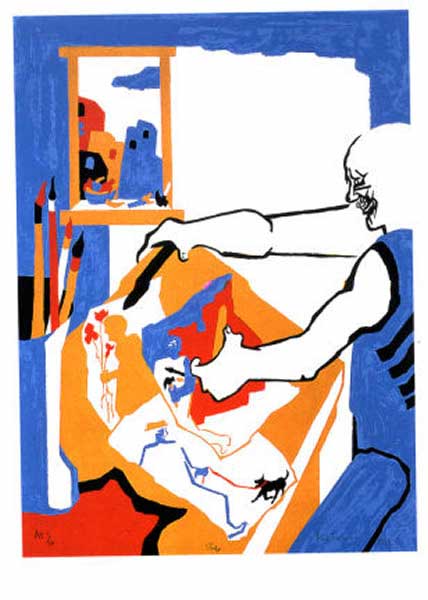 ARTIST IN STUDIO (blue background), 1994
Lithograph
26.25 x 19.75 inches
Edition of 50
Price on request






CONFRONTATION AT THE BRIDGE, 1975
Silkscreen
19.5 x 26 inches
Edition of 175
SOLD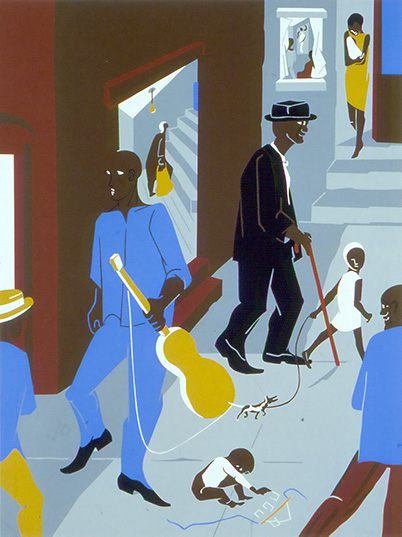 OTHER ROOMS, 1975
Silkscreen
24.5 x 18.5 inches
Private collection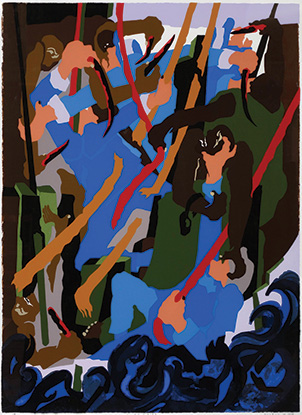 REVOLT ON THE AMISTAD, 1989
Silkscreen
40 x 32 inches
Edition of 120
SOLD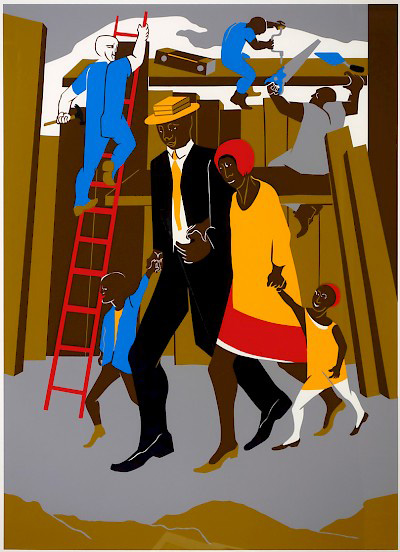 THE BUILDERS, THE FAMILY, 1974
Silkscreen
34 x 25.75 inches
Edition of 300
$14,500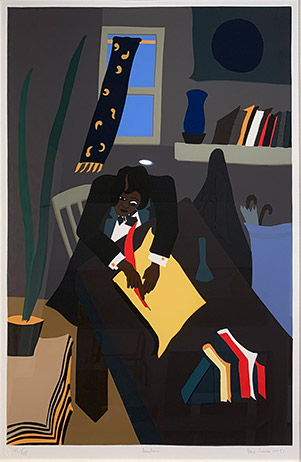 Jacob Lawrence
DOUGLAS, 1999
Silkscreen on paper
35 x 26 inches
Edition of 125
SOLD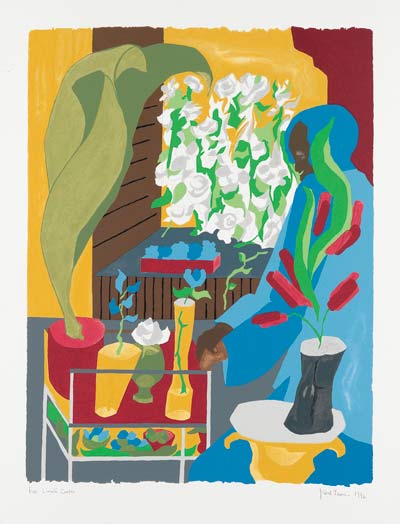 SUPERMARKET - FLORA, 1996
Color screenprint on Rives BFK paper
30 x 22 inches
AP, Edition of 108
SOLD




The LIFE OF TOUSSAINT L'OUVERTURE
Serigraphs
SOLD (additional impressions available please inquire)

DECEPTION, 1997, 22 x 32 inches, Edition of 125,SOLD





DONDON, 1992, 22 x 32 inches, Edition of 124, SOLD





FLOTILLA, 1996, 22 x 32 inches, Edition of 120, SOLD








ST. MARC, 1994, 32 x 22 inches, Edition of 120, SOLD





THE BIRTH, 1986, 32 x 22 inches, Edition of 100, SOLD



THE BURNING, 1997, 22 x 32 inches, Edition of 125, SOLD





THE CAPTURE, 1987, 32 x 22 inches, Edition of 120, SOLD





THE MARCH, 1995, 22 x 32 inches, Edition of 120, SOLD





THE OPENER, 1997, 22 x 32 inches, Edition of 125, SOLD





TO PRESERVE THEIR FREEDOM, 1988, 22 x 32 inches, Edition of 99 SOLD











The Legend of John Brown
Serigraph on domestic etching paper through hand-cut film stencils, 26 x 20 inches, edition of 60 SOLD (additional impressions available please inquire)

1. JOHN BROWN, A MAN WHO HAD A FANATICAL BELIEF THAT HE WAS CHOSEN BY GOD TO OVERTHROW BLACK SLAVERY IN AMERICA. (1 from the series of 22, THE LEGEND OF JOHN BROWN), 1977





3. FOR 12 YEARS, JOHN BROWN ENGAGED IN LAND SPECULATIONS AND WOOL MERCHANDISING; ALL THIS TO MAKE SOME MONEY FOR HIS GREATER WORK WHICH WAS THE ABOLISHMENT OF SLAVERY. (3 from the series of 22, THE LEGEND OF JOHN BROWN), 1977





4. HIS ADVENTURES FAILING HIM, HE ACCEPTED POVERTY. (4 from the series of 22, THE LEGEND OF JOHN BROWN)








5. JOHN BROWN, WHILE TENDING HIS FLOCK IN OHIO, FIRST COMMUNICATED WITH HIS SONS AND DAUGHTERS HIS PLANS OF ATTACKING SLAVERY BY FORCE. (5 from the series of 22, THE LEGEND OF JOHN BROWN), 1977





6. JOHN BROWN FORMED AN ORGANIZATION AMONG THE COLORED PEOPLE OF THE ADIRONDACK WOODS TO RESIST THE CAPTURE OF ANY FUGITIVE SLAVE. (6 from the series of 22, THE LEGEND OF JOHN BROWN), 1977



8. JOHN BROWN'S FIRST THOUGHT OF THE PLACE WHERE HE WOULD MAKE HIS ATTACK CAME TO HIM WHILE SURVEYING LAND FOR OBERLIN COLLEGE IN WEST VIRGINIA. (8 from the series of 22, THE LEGEND OF JOHN BROWN), 1977





9. KANSAS CITY WAS NOW THE SKIRMISH GROUND OF THE CIVIL WAR. (9 from the series of 22, THE LEGEND OF JOHN BROWN), 1977





10. THOSE PRO-SLAVERY WERE MURDERED BY THOSE ANTI-SLAVERY. (10 from the series of 22, THE LEGEND OF JOHN BROWN), 1977





12. JOHN BROWN'S VICTORY AT BLACK JACK DROVE THOSE PRO-SLAVERY TO NEW FURY, AND THOSE WHO WERE ANTI-SLAVERY TO NEW EFFORTS. (12 from the series of 22, THE LEGEND OF JOHN BROWN), 1977





13. JOHN BROWN, AFTER LONG MEDITATION, PLANNED TO FORTIFY HIMSELF SOMEWHERE IN THE MOUNTAINS OF VIRGINIA OR TENNESSEE AND THERE MAKE RAIDS ON THE SURROUNDING PLANTATIONS, FREEING SLAVES. (13 from the series of 22, THE LEGEND OF JOHN BROWN), 1977





14. JOHN BROWN COLLECTED MONEY FROM SYMPATHIZERS AND FRIENDS TO CARRY OUT HIS PLANS. (14 from the series of 22, THE LEGEND OF JOHN BROWN), 1977





16. IN SPITE OF A PRICE ON HIS HEAD, JOHN BROWN, IN 1859 LIBERATED 12 NEGROES FROM MISSOURI PLANTATIONS (16 from the series of 22, THE LEGEND OF JOHN BROWN), 1977