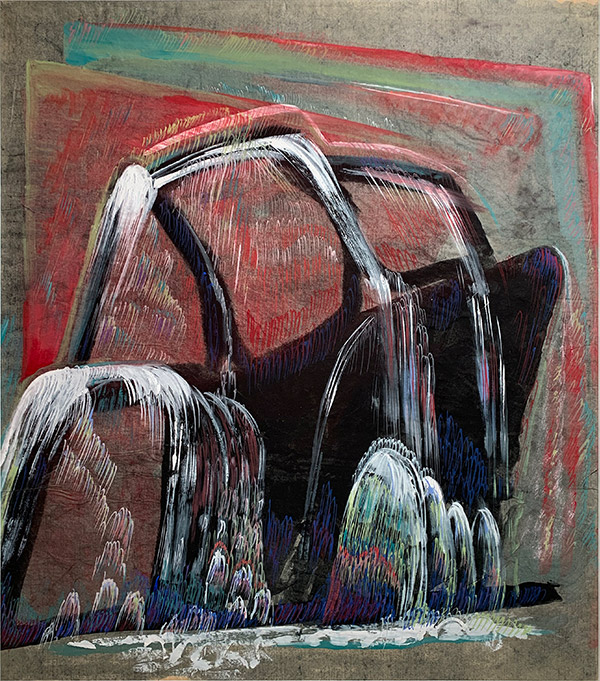 Morris Graves
WATERFALL, 1943
Tempera on paper
40 x 35 inches
Price on request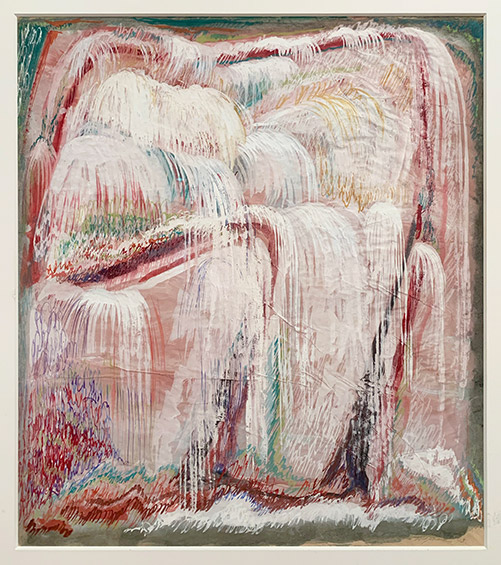 Morris Graves
WATERFALL, 1943
Tempera on paper
40 x 35 inches
Price on request




Morris Graves
UNTITLED (CRANE BODY/CHALICE), date unknown
Pencil on rice paper
19.5 x 13.5 inches
$3,000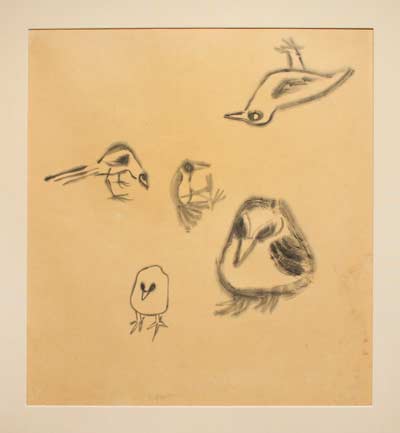 FIVE BIRDS, 1943
Sumi ink on paper
25 x 22 inches
$32,500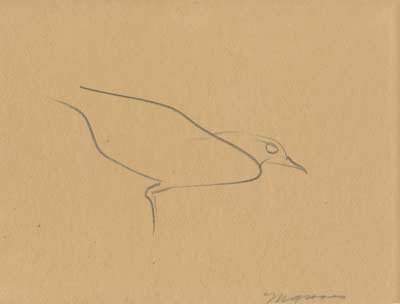 UNTITLED (bird), unknown
Graphite on paper
8.5 x 11.5 inches
SOLD






WINTER BOUQUET, 1977
Lithograph
26 x 19 inches
Edition of 75
SOLD



This collection of nine separate small sketches and shading marks - each signed and dated - wittily conveys Graves' disdain for the cultish regard held for artists. He did what he could to distance himself from the self-aggrandizement practiced by so many of his less modest peers. In the bottom margin of a 1942 painting of a pathetic bird crucified to a rock, Graves wrote a note to Dorothy Miller, curator of Modern Art at the Museum of Modern Art, saying, "I do not expect a reply on the above remark on fame. Perhaps it's a crying fault to take oneself so gravely." He struggled with his growing stature as an influential and important artist. The irony of signing this drawing so many times is that he effectively trivializes his signature while poking fun at the idea of an artist's self-absorbed importance.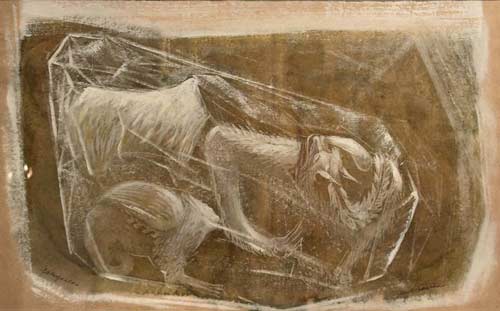 GARGOYLES, 1948
("Gargoiles" in the artist's hand)
Tempera on paper, 12.75 x 18 inches
$35,000
This fantastic creature with its wizened head turned warily over its shoulder, seems imprisoned in a skeining of painted white lines similar in many ways to Mark Tobey's "White Writing." Notice that the anatomy of the animal is as unlikely as its identity is unknown. Perhaps this unfortunate beast is locked inside a crystalline shell or ensnared in an immobilizing web, restricting its freedom and causing its distress. The theme of fear at confinement is often found in Graves' work of this period, perhaps as a result of his incarceration for eleven months as he refused induction to the armed forces during 1942.

Morris Graves (American, 1910-2001) is one of America's most esteemed artists. A native of the Pacific Northwest, he is best known for his paintings which reflect his journeys into the realms of spiritual and transcendental consciousness and for those symbolic representations of his mystical beliefs.. His first word was "See." He lived life privately, sharing his visions. From his Pacific Northwest childhood, early travels to the Orient, homes in the Pacific Northwest and Ireland and finally among the hills of Northern California, Morris Graves pursued a dedication to expressing his aesthetic vision in his paintings, his homes, and his gardens.
- Text from the Estate of Morris Graves