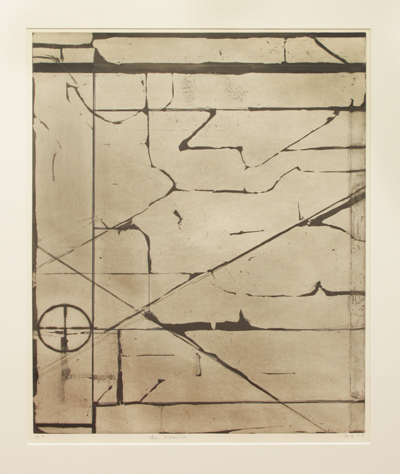 AQUATINT WITH DRYPOINT HALO, 1978
Aquatint and drypoint
35 x 26 inches
Edition AP
Crown Point Press
SOLD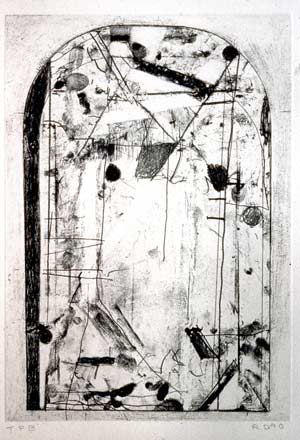 DOMINO I, 1990
Etching and drypoint, 20.75 x 16 inches
Edition of 35
$6,000 framed


Richard Diebenkorn is one of those rare artists who doggedly pursued his own interest in artistic style and subject matter regardless of what the market dictated or fashion expected of him as an artist. At various times in his career he worked with either landscape or figuration. Sometimes he did both simultaneously with very subtle differences. In two of his prints, X (1986) which is obviously figurative and Double X, which is obviously landscape, he makes the ambiguous shift back and forth with great ease. The crossed legs of a model seated in a chair become intersecting roads in a landscape. Shoulders become mountains and facial features meld into ambiguous aspects of terrain.
As is customary with Diebenkorn, these prints reflect a great deal of experimentation in both imagery and technical prowess. He was an artist who does the bulk of his risk-taking in his works on paper. Painterly progress is much slower to define in his canvases and more inclined to a kind of classic painting despite the major shifts in his career from abstract painting to figurative painting and back again. The serenity observed in the large canvases of the Ocean Park series belies the enormous amount of vacillation and turmoil in his works on paper, both drawings and prints.

Diebenkorn "learned" to be a good printmaker. His pursuit of techniques and imagery that could best express his vision led him to a distinguished position among the printmaking painters of his generation. He worked with some of the most highly regarded print publishing studios such as Gemini GEL in Los Angeles, and Crown Point Press in San Francisco. Working with these master printers and technicians, Diebenkorn learned about technical aspects of printmaking, but also, taught a few lessons himself. In his lifetime, Diebenkorn produced very few more than 100 prints. Most of them are made in editions of less than 50.

Prices and availability subject to change. Please email us for current prices.

Though born in Portland, Oregon, Richard Diebenkorn was raised and educated in San Francisco where he became associated with the Bay Area figurative painters in the 1950s. International recognition did not come until the 1960s and now Diebenkorn is probably the best known of the artists who never left the West Coast. He represented the United States with a one-person exhibition at the Venice Biennale in 1978.