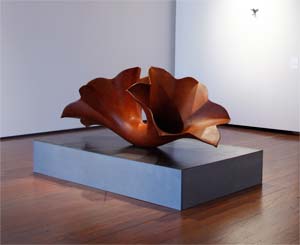 MARK CALDERON
Dominion
August 20 - September 26
Opening reception: First Thursday, September 3, 6:00 - 8:00 pm
Artist talk on Saturday, September 5, at noon



Greg Kucera Gallery is pleased to announce our eighth one person exhibition of work by Seattle artist, Mark Calderon. The exhibit, titled Dominion, will include sculpture made from a wide range of materials including cast bronze, lead and paraffin wax.

Nature and death have both been recurring themes throughout Calderon's career, and these recent sculptures draw inspiration from several species of flora and fauna that have become extinct since they were first recorded by humans. The work explores the relationship between these creatures and their environment as well as mankind's use and abuse of that environment.

Much of the work is cast in lead, a base metal carrying dangerous and taboo associations. A hummingbird is caught in frantic mid-flight, coiling snakes suggest the sinuous curves of Arabic calligraphy, skinks intertwine in unknown struggle, and mice rear up on hind legs as if in warning. A large swelling vertical form is shingled in embossed lead panels. Nearby an angular, six-sided column made of translucent paraffin, rises from floor to ceiling, reminding us of both life and death and the infinite nature of the latter.

BIOGRAPHY
Mark Calderon was born in 1955 in Bakersfield, CA. He received his BA from San Jose State University in 1978. His first exhibition with Greg Kucera was in 1985. The artist has received several "Seattle Artists" awards and been awarded many public commissions throughout the country. He has been awarded artist residencies at Walla Walla Foundry in Walla Walla, WA; Bullseye Glass Factory in Portland, OR; Pilchuck School in Stanwood, WA; and Centrum Foundation in Port Townsend, WA. He has been the recipient of artist grants from Joan Mitchell Foundation, New York; Artist Trust, Seattle and Art Matters, New York as well as the Seattle Art Museum's 1986 Betty Bowen Award recipient. Calderon's work is included in several prominent public and private collections, including: Boise Art Museum, ID; Seattle Art Museum; Tacoma Art Museum, WA. Clark College, Vancouver, WA; Microsoft Corporation, Redmond, WA; Philadelphia Museum of Art; Portland Art Museum, Portland, OR; SAFECO Corporation, Seattle and Boeing Corporation, Chicago, IL. A bronze sculpture "Floribunda" has recently been purchased for Tri-Met, Portland's light rail system.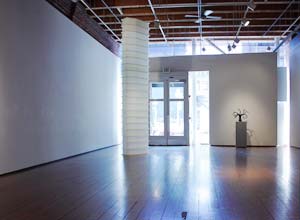 ---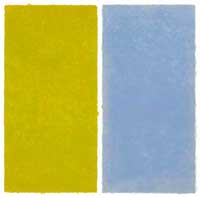 Anne Appleby
ANNE APPLEBY
Recent Large Prints
August 20 - September 26
Opening reception: First Thursday, September 3, 6:00 - 8:00 pm
Artist talk on Saturday, September 5, at noon

Anne Appleby's new "prints" are actually not so much editioned as they are serialized as similar objects. Relating to how Appleby's paintings form a strict grid of 1 – 6 wood panels, she has worked with Wildwood Press in St. Louis to make squares and rectangles of handmade paper. Each "panel" consists of two sheets of roughly textured handmade paper, each printed front and back with different colors that saturate the sheet, pushing against each other creating a subtle surface of intermingled color. The two sheets laid over one another suggest the subtly nuanced differences between the edges and centers of her painted surfaces. Color from the lower sheet also peeks through voids in the top sheet; the extravagantly deckled edge reveals color as well. This is printmaking at its best in the sense that the artist has used printing processes to enlarge the scope of her unique work rather than simply reproduce it.


The single panel work titled "Stone" depicts, as the artist suggests, "a limestone deposit anywhere. I was thinking about Lake Huron and the Niagara escarpment." The four-panel work, "Sweet Pea," suggests "these lovely perennial peas at my home in Helena...I love their fragrance and the fragility of the flowers." The colors of her print reveals the plant's life cycle from the dark brown of the seed, through the various greens and yellows of its leaves, to the soft pink of its flower.

BIOGRAPHY
Appleby was born in 1954 in Harrisburg, Pennsylvania and moved to Montana at age 17. She received her BFA from the University of Montana and her MFA from the San Francisco Art Institute in 1989. Appleby was awarded the 1999 Biennial Award from the Louis Comfort Tiffany Foundation, the 1996 Society for the Encouragement of Contemporary Art (a SFMOMA auxiliary) award, the 1996 WESTAF award, and a Pollock-Krasner Foundation grant in 1991. The artist's work is included in the permanent collections of the Berkeley Art Museum, CA; San Francisco Museum of Modern Art; Henry Art Gallery, University of Washington, Seattle; Tacoma Art Museum; San Jose Museum of Art; Yellowstone Museum of Art, Billings, MT; and the Seattle Art Museum.
---
Upcoming Exhibitions



Drew Daly
Recent Sculpture
October 1 - November 14
Opening reception:
October 1, 6:00 - 8:00 pm
Tim Roda
Photographs
October 1 - November 14
Opening reception:
October 1, 6:00 - 8:00 pm