GLENN LIGON
Recent Prints
October 6 - November 12, 2011

An opening reception for the artist will be from 6:00 - 8:00 p.m., September 1, 2011. Please join us Saturday, September 3, at noon for our "Saturday After" talk, Michael Knutson gives an informal walking tour of his work.


Greg Kucera Gallery is pleased to announce an exhibition prints by Brooklyn-based artist, Glenn Ligon. One of today's most powerful artists, Ligon's work explores language, racial identity and sexual identity in a variety of media, including painting, neon, video, and photography. This exhibition coincides with the artist's mid-career retrospective showing at the Los Angeles County Museum of Art, October 23 - January 2, 2012, after showing earlier this year at the Whitney Museum of American Art in New York. The retrospective travels to Modern Art Museum of Fort Worth in Texas, February - May, 2012. Having worked with found text and images ranging from 19-century wanted posters soliciting the return of runaway slaves to the writing of James Baldwin, Ralph Ellison, Zora Neale Hurston and Gertrude Stein (below) to signs carried at the Million Man March to the comedy routines of Richard Pryor, Ligon strives to, as he puts it, "make language into a physical thing, something that has real weight and force to it." BIOGRAPHY Born and raised in the Bronx, New York, Ligon earned his B.A. from Wesleyan University, Middletown, CT, and studied at the Whitney Museum Independent Study Program. He has presented solo museum exhibitions at the Whitney Museum of American Art; the Hirshhorn Museum and Sculpture Garden, Washington, DC; the San Francisco Museum of Modern Art; and the Walker among others. His work is found in the collections of the Museum of Modern Art, NY; the Art Institute of Chicago; the Los Angeles County Museum of Art; the High Museum of Art; the Hirshhorn Museum and Sculpture Garden, DC; the Solomon R. Guggenheim Museum, the Philadelphia Museum of Art, the Walker Art Center, and many more.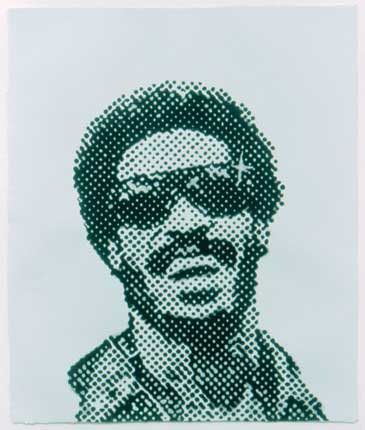 GLENN LIGON
SELF PORTRAIT AT 11 YEARS OLD, 2004
Stenciled paper pulp painting
36 x 30 inches
Edition of 20

See more Glenn Ligon's artwork

---
MARS VS. VENUS
Images of Male and Female
October 6, - November 12, 2011

Artists deal with the male and female figure in a myriad of intriguing ways. This show examines the ways that artists use the figure to explore the differences between men and women. But also the variety of expressions available to each gender and even the, occasional, confusion between them. This diverse show will include both regional and influential international artists whose work has approached the sexes in sometimes idealized, humorous, confrontational, academic and ambiguous ways. Work by Carolee Schneeman and Tom of Finland will be featured. Other artists in the exhibition include Louise Bourgeois, Adrain Chesser, Leslie Dill, Marcel Dzama, Claudia Fitch, Heyd Fontenot, Anthony Goicolea, Fergus Greer, Jane Hammond, David Hammons, Tim Hawkinson, Butt Johnson, Jacob Lawrence, Patrick Lee, Sally Mann, Kerry James Marshall, Annette Messager, Deborah Oropallo, David Rathman, Man Ray, Tim Roda, Roger Shimomura, Kiki Smith, SuttonBeresCuller, Mickalene Thomas, Joey Veltkamp, Kara Walker, Alice Wheeler and Lisa Yuskavage.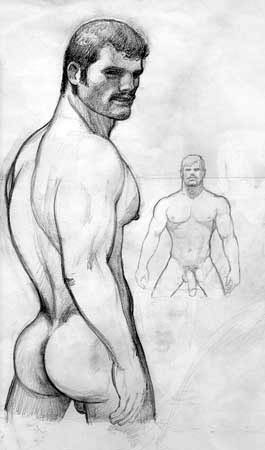 TOM OF FINLAND
UNTITLED (double portrait), date unknown
Graphite on paper
17.5 x 12 inches