KATY STONE
Myriad
November 17 - December 24
Opening reception: November 17, 6:00 - 8:00



Greg Kucera Gallery is excited to announce its fourth one-person exhibition by Seattle artist, Katy Stone. Created with a variety of media in a wide range of scale, Stone's pieces act as both microscope and kaleidoscope, evoking the forms and forces of nature with vivid color and lush materiality. The title of the exhibition, Myriad, is a poetic reference to the sense of multiplicity and expansiveness that permeates her work.

Inspired by
"...the river of material that I generate through stream of conscious drawing, and by Chinese landscape painting, The Group of Seven, and San Francisco Psychedelia,"
Stone presents work that suggests a myriad of associations at once. Known primarily for her paintings with acrylic on clear Duralar, Stone's practice has included a vast array of materials and this exhibition marks a return to working with both paper and found craft materials, in addition to metal and Duralar.

The centerpiece of the exhibition is a 15 x 5 foot collage/floor installation of paper and Duralar, improvised on-site in the gallery. A colorful and swirling chaos of imagery, the piece highlights Stone's process of generative drawing and serves as the starting point for all the other works in the exhibition. Individual framed collages throughout the exhibition "quote" the larger work, possessing the same spontaneity and directness. Installed on the walls are laser-cut, metal relief sculptures whose forms originated as painted gestures. Composed horizontally, the shapes create a streamlined, digitized, cloudscape. Turned vertically, the same elements grow from the floor to the ceiling like a massive tree trunk. On another wall, similar forms create a stream of mirror-polished stainless steel. Other works include smaller assemblages of painted metal, blooming like scribbles of flowers, and a fall constructed of bright blue chenille pipe cleaners.
KATY STONE
CANDY SKY 2 (studio shot in progress), 2011
16 ft x 5 ft x 3 inches,
acrylic on Aluminum 22 x 17 inches

---
LESLEY DILL
Selections (prints, works on paper)
November 17 - December 24

Greg Kucera Gallery is also pleased to announce an exhibition of prints, sculptures and mixed media works by New York artist, Lesley Dill. This exhibition will coincide with Dill's exhibition at Whatcom Museum, Lesley Dill's Poetic Visions: From Shimmer To Sister Gertrude Morgan, now through March 5, 2012.

Working on paper and fabric, the artist's work in this exhibition explores language and the human form. Female figures are filled with words. Phrases made of cast paper are stacked and sewn together to create a head and shoulders. Excerpts of poetry become captions for silhouettes and paper doll-sized cutouts. Using several kinds of lightweight exotic papers, Dill lend an ethereal, temporal quality to these words, while the quotes from classic poems give them a timeless, traditional aura.

The exhibition will consist of unique and edition work from the past 15 years of her career.

BIOGRAPHY
Dill received her BA from Trinity College, Hartford, and her MFA from the Maryland Institute of Art, Baltimore. She has work in the permanent collections of many major museums including the Museum of Modern Art, Metropolitan Museum of Art, and Whitney Museum, NY. She lives and works in Brooklyn, NY.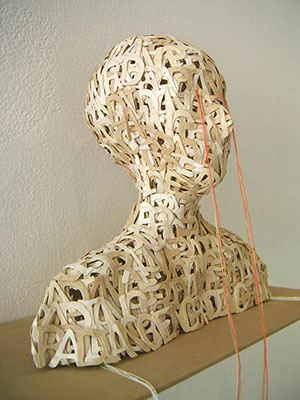 HEAD, 2003
Cast, die-cut pigmented abaca paper letters with thread
6 x 7 x 3 inches
Edition of 25
Published by Dieu Donne