Chris Engman
Dust to Dust
November 18 - December 24, 2010
Opening reception: Thursday, November 18, 6:00 - 8:00
Artist talk on Saturday, November 20, at noon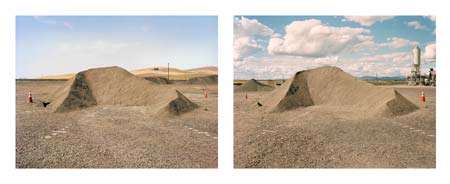 Greg Kucera Gallery is pleased to announce its second exhibition of photography by Seattle artist, Chris Engman. Exploring themes of time, struggle, failure, death, illusion, and disillusionment, Engman inserts labor-intensive, man-made alterations into landscapes and documents the results. The exhibition title, Dust to Dust, refers to the impermanence of existence, how everything comes to an end.

One of the pieces, also titled DUST TO DUST (above), is a diptych depicting a large dirt pile. In the first photo the pile sits in the sun on a clear day somewhere in Eastern Washington. In the second the pile casts the same shadows and appears unchanged, but the landscape around it is different. Hills have shifted, large industrial equipment has moved in, and clouds have begun to fill the sky.

To create EQUIVALENCE (below) a large wooden structure is built and photographed by the artist in an Eastern Washington desert landscape. Prints are made in an identical scale and attached to the original structure which is then rephotographed. The resulting image confuses fact with fiction. The structure appears to be a window to the earlier moment, when clouds moved through the sky and shadows were cast in conflicting directions. The title makes reference to EQUIVALENTS, an influential series of photographs of clouds taken by Alfred Stieglitz during the late 20s and early 30s.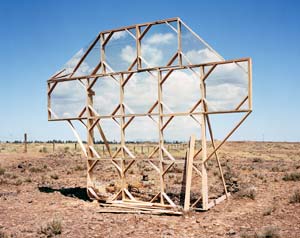 We often say, photographs "capture" time. But to capture something is not to understand it, because in the act of capture the thing is changed. Family albums, travel photographs - what they do with time is give it boundaries. They make memory possible by giving it shape. They describe an event or a place as if in the absence of time, as if time does not exist. My recent work aims at a photography that can speak to the passage of time more as it is experienced and in doing so it aims to enhance that experience. - Chris Engman

BIOGRAPHY
Chris Engman received his BFA in photography from the University of Washington in 2003. He has shown in and around the University at the CMA, Jacob Lawrence Gallery, and the Photographic Center Northwest. His work has been collected by the City of Seattle and the Henry Art Gallery. He lives in the Ballard District of Seattle and makes his artwork in Seattle and his "giant outdoor studio" of Eastern Washington.

Creation of this work was made possible in part by the City of Seattle Office of Arts & Cultural Affairs and Artist Trust Grants for Artist Projects (GAP).

See more Chris Engman's artwork
---
Enrique Martínez Celaya
Recent Watercolors
November 18 - December 24, 2010
Opening reception: Thursday, November 18, 6:00 - 8:00



Greg Kucera Gallery is pleased to announce our third exhibition of work by Enrique Martínez Celaya. Martínez Celaya's work has elicited comparisons outside the visual arts to the writings of Paul Celan and José Saramago and the philosophy of Ludwig Wittgenstein. Since his first show in 1995, his paintings, photographs, works on paper, and sculptures have been exhibited widely in the United States, Europe, and Latin America, including a traveling 10-year survey of his work organized by The Contemporary Museum, Honolulu (2001), SCHNEEBETT, an art environment installed at the Berliner Philharmonie (2004) and again at Museum der bildenden Kunste, Leipzig, Germany (2006), as well as a 10-year survey of his works on paper at the Oakland Museum of California (2005-2006).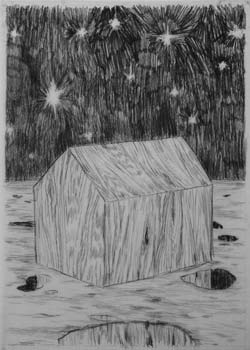 Humble in means, and informally composed of fragmented and stylized forms, the phenomenological and spiritual themes of Martínez Celaya's work emerge slowly. Sometimes specific, at other times mythic, Martínez Celaya's human and animal forms are deployed in fictional, undefined landscapes. The figures interact with the landscape and with each other, in some cases feeding on each other. His quiet and contemplative compositions are executed in watercolor using elemental hues of blood red, dirt brown, and sky blue or in fragile line work of contact crayon on paper.

My focus has been on the relationship of the figure and the landscape. In particular, their interconnectedness and what the landscape imposes upon consciousness. - Enrique Martínez Celaya

BIOGRAPHY
Enrique Martínez Celaya was born in Palos, Cuba in 1964. While attending Cornell University on a physics scholarship he chose to pursue his work in art independently, an approach he continued during his graduate studies in Quantum Electronics at the University of California, Berkeley.

In 1994, five years after abandoning the Ph.D. program at Berkeley, he concluded his M.F.A., at the University of California, Santa Barbara, receiving the "Art Affiliates Award" and a department fellowship to attend the Skowhegan School of Painting and Sculpture in Maine. In 1998 Martínez Celaya received Los Angeles County Museum of Art's "Art Here and Now Award." His works are in the permanent collections of the Metropolitan Museum of Art, the Whitney Museum of American Art, the Los Angeles County Museum of Art, The Museum of Fine Arts, Houston, among others.

Martínez Celaya has published and edited several books and essays of fiction, poetry, science and philosophy. He currently lives and works in Florida.

See more Enrique Martínez Celaya's work