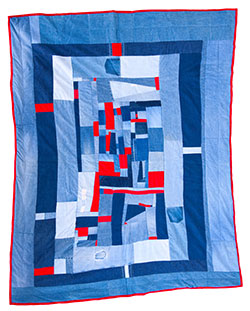 LORETTA BENNETT
Quilts
May 17 - June 30
Opening reception: Thursday, June 7, 6:00 - 8:00
Artist talk on Saturday, June 9, at noon

Greg Kucera Gallery is pleased to announce the first solo exhibition of Gee's Bend, Alabama artist, Loretta Bennett. Bennett is a fifth-generation quilter and one of the youngest to continue hand-stitching in the renowned Gee's Bend style. We are representing her as an individual artist because of her unique take on this Gee's Bend tradition. Greg Kucera Gallery is proud to be working directly with the artist.

The African American quilters coming from rural hamlets such as Gee's Bend rely on recognizable traditions of patterning but create their own unique riffs as well. These African-American quilts relate to the ongoing tradition of American patchwork quilts in ways similar to how American jazz and rural music forms relate to European classical music. The notes are the same but the rules are altered or loosened.
Born in 1960, Bennett's ancestry dates back to Dinah Miller, her great-great-great grandmother, who, according to folklore and family history, was one of the first slaves to have arrived in the Bend. In 1979, the artist married and moved to Germany, where her husband, Lovett, was on his first tour of duty in U.S. Army. This was the first of numerous places they would be posted during the following twenty years or so, giving them the opportunity to experience the customs and traditions of various cultures.
Traveling widely overseas and within the United States really had a big influence on my style, because in each place the people felt differently about their heritage. For instance, in the Southwestern U.S., houses and cars were often very bright, bold colors. Overseas, brilliant colors were apparent in flowers and festival clothing. By combining my travel experiences with my own legacy, I found my individual place in quiltmaking expressing a contemporary vision that still honors the quilters from Gee's Bend. - Loretta Bennett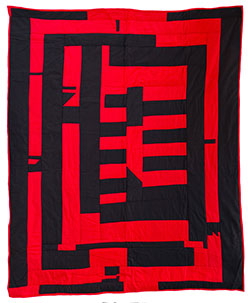 See more of Loretta Bennett's artwork


---
In our third gallery we present an exhibition of prints by Helen Frankenthaler featuring a selection of the artist's prints from the last five decades. One of the more influential and pioneering artists of her generation, Frankenthaler became famous for the process known as "stain painting." Her prints, perhaps her most consistently inventive medium, have developed a reputation equal in some ways to her paintings.


She has taken great care in making these images and one feels that care in the prints' richness and beauty. The transparent inks reveal radiant colors when printed on specially tinted handmade cotton papers. Inspired by the watercolor-like effects of ukiyo-e woodcuts the many thin veils of color are printed layer upon layer to achieve an editioned print with painterly resonance. Her etchings and lithographs similarly suggest the fluid look of the artist's early stained painting. This delicate layering of imagery highlights Frankenthaler's especially poetic use of color and form.


Frankenthaler was born in Manhattan in 1928. She studied at the Dalton School and also at Bennington College in Vermont. She was married to fellow artist Robert Motherwell from 1958 until they divorced in 1971. Frankenthaler taught at Harvard, Princeton, Yale, and New York universities. Her work has been the subject of several retrospective exhibitions, including at the Whitney Museum of Art and the Museum of Modern Art in NY. Frankenthaler has work in many museum collections around the world. In 2001, the artist received the National Medal of Arts. She had a home and studio in Darien, CT. She died December 27, 2011.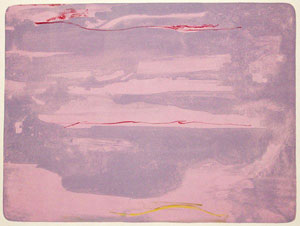 See more of Helen Frankenthaler's work


---
Upcoming Exhibitions

DANIEL CARRILLO
Ambrotypes
July 5 - August 18, 2012
Opening reception: Thursday, July 5, 6:00 - 8:00
(Re) Current Editions
July 5 - August 18, 2012