DEBORAH BUTTERFIELD
Seven Bronze Sculptures
June 2 - July 30, 2011
Opening reception: Thursday, June 2, 6:00 - 8:00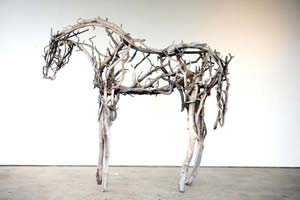 An opening reception for the artist will be from 6:00 - 8:00 p.m., June 2, 2011.
We are pleased to announce a special, two month exhibition of new sculpture by Deborah Butterfield, her 9th one-person exhibition with the gallery since 1991. Throughout the gallery, inside and outside on our sculpture deck, we will show three large standing bronze horses and at least four small standing bronze horses. Since 1980, Butterfield has been constructing life-size horses from sticks and plant material from which she creates a casting in bronze at the Walla Walla Foundry in Washington State.

DEBORAH BUTTERFIELD
TRACERY, 2010
Unique cast bronze with patina
100.5 x 115 x 42 inches



Butterfield keeps horses and rides them as frequently as most people drive. Her work owes some of its power to her bodily connection with its subject matter. She has not only observed horses in every phase of their lives, she has moved with them and against them, felt their individual energies and temperaments. -Kenneth Baker, 2009

DEBORAH BUTTERFIELD
UNTITLED, 2011
Unique cast bronze with patina
36 x 42 x 14 inches

Butterfield sculpts the original work, piece by piece, by fastening logs, branches, sticks, planks, and boards onto an armature that gives the basic posture of the particular horse. Molds are made for each chunk of wood—piece by piece, the burnable elements are covered with heat resistant plaster and then baked in a furnace until the wood completely burns away. Molten bronze is then poured into the recesses left by the wood. When the plaster is chipped away, the wooden piece has been refashioned exactly in bronze—right down to the grain of the wood. Since the wood is destroyed and the plaster is discarded in the casting process, each sculpture is unique and cannot be duplicated. The work is reassembled in bronze and intricately patinated to match the original wood sculpture.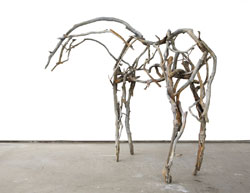 DEBORAH BUTTERFIELD
MA'ALAHI, 2010
Unique cast bronze with patina
45 x 46 x 32 inches


BIOGRAPHY
Deborah Butterfield was born in San Diego, California in 1949. She received her BA and MFA from UC Davis. Butterfield's work has been featured in over 50 individual exhibitions. In the last several years she has had one-person exhibitions at: The University Art Museum, University of Louisiana, Lafayette; The Hunter Museum of American Art, Chattanooga, TN; Appleton Museum of Art, Ocala, FL; The Contemporary Museum, Honolulu;Tucson Museum of Art; Figge Art Museum, Davenport, IA; Nevada Museum of Art, Reno, NV and The Norton Museum of Art, Palm Beach.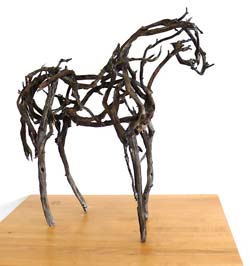 DEBORAH BUTTERFIELD
UNTITLED, 2011
Unique cast bronze with patina
31 x 33 x 11 inches

Butterfield's work is included in the permanent collections of several major museums, including: The Art Institute of Chicago; Museum of Contemporary Art, Chicago; Baltimore Museum of Art; Brooklyn Museum;The Contemporary Museum, Honolulu; National Gallery of Art Sculpture Garden, Washington, D.C.; Israel Museum, Jerusalem; Metropolitan Museum of Art, New York; Museum of Contemporary Art, Los Angeles; San Diego Museum of Art; San Francisco Museum of Modern Art; Seattle Art Museum; The Walker Art Center, Minneapolis; and The Whitney Museum of American Art, New York.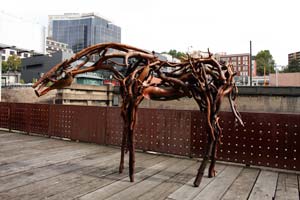 DEBORAH BUTTERFIELD
MADROÑO, 2009
Unique cast bronze with patina
86 x 117 x 26 inches

See more Deborah Butterfield's work