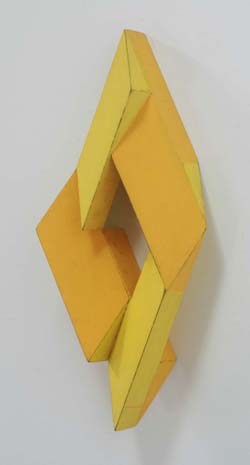 PETER MILLETT
SKYSCRAPERS
July 1 - August 14
Opening reception: July 1, 6:00 - 8:00 pm
Artist talk on Saturday, July 3, at noon


Greg Kucera Gallery is pleased to announce our eighth one-person exhibition of work by Seattle artist, Peter Millett. The artist continues to explore compositions of geometrically involved shapes that are fabricated to reveal booth the intrinsic qualities of the material and the hand of the artist. Much of Millett's work in steel is patinated with rust or the surface is galvanized. His work in painted wood has the worn feel of religious figurines that have been used, revered and touched often by human hands.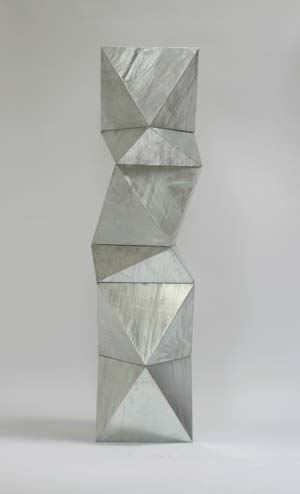 Millett builds his modular, mostly vertically oriented sculptures from a few simple shapes stacked and carefully fitted together. While precise in their geometry, these architectonic structures also possess an organic asymmetry, often making reference to the human figure.


Reductive in form, the attention paid to surface quality and the imperfections inherent in the wood and metal material give Millett's sculptures deceptive simplicity and a palpable tactile sensibility. His attention to positive and negative spaces makes his work effective when seen in the round.

BIOGRAPHY
Peter Millett was born in 1949 in Evanston, IL and resides in Seattle. He received his BFA at the Rhode Island School of Design and his MFA at University of Washington. His work is in the permanent collections of Museum of Modern Art, New York; San Francisco Museum of Modern Art; Microsoft Corporation, Redmond; Tacoma Art Museum; Seattle Art Museum and Henry Art Gallery, Seattle.
See more Peter Millett's artwork


---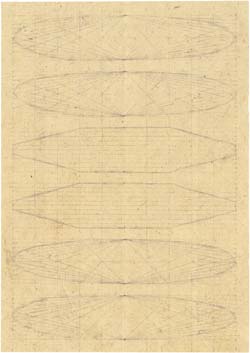 LYNNE WOODS TURNER
NEW WORK
July 1 - August 14
Opening reception: July 1, 6:00 - 8:00 pm
Artist talk on Saturday, July 3, at noon


Greg Kucera Gallery is also pleased to announce our third solo exhibition of work by Northwest artist, Lynne Woods Turner. Through the act of drawing, and now in painting, the artist works with shapes and the spaces she creates to explore that point where the geometric and the organic meet.

Woods Turner's sensual drawings exist as complex records of tremendous feats of concentration, skill and patience. The artist draws with graphite and color pencil on handmade papers—Chinese, parchment, Nepalese or otherwise. It may take weeks for a drawing to come to fruition and patterns to emerge. Subtle suggestions of relationships to landscape, architecture, and the body are revealed. In these most recent drawings the structural lines and grids are often left in the finished works, giving hints at their creation.

Needless to say, this is not an exhibition to be seen in reproduction. It is work that demands quiet and intimate engagement by the viewer and so will be installed sparely in the gallery space.

BIOGRAPHY
Lynne Woods Turner was born in 1951 in Dallas, Texas. She received her BFA from Stephens College in Columbia, Missouri in 1973 and her MFA from the University of Iowa in 1977. Her work is in the permanent collections of the Museum of Modern Art in New York; Arkansas Art Center; Hood Museum of Art, Hanover, NH; Judith Rothschild Foundation, New York; Fogg Art Museum, Cambridge, MA; U. of Iowa Art Museum, Iowa City; Weatherspoon Art Gallery, Greensboro, NC; and Yale University Art Gallery, New Haven, CT; San Diego Museum of Art and UCLA Hammer Museum.
See more Lynne Woods Turner's work
---
Upcoming Exhibitions

TIM BAVINGTON
Paintings
August 19 - October 2, 2010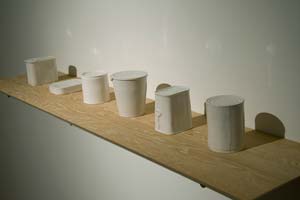 LYNNE YAMAMOTO
Genteel
August 19 - October 2, 2010