Joseph Goldberg
Paintings
February 24 - April 2, 2011
Opening reception: March 3, 6:00 - 8:00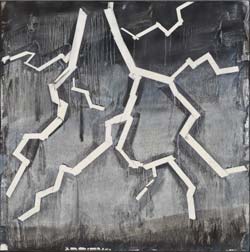 Greg Kucera Gallery is pleased to announce its third one-person exhibition by Northwest painter Joseph Goldberg. The compositional and painterly concerns in this body of work are consistent with the artist's practice and inquiry over the course of his more than 40-year career.
Goldberg's first few exhibitions in the late 1960s, with Francine Seders Gallery in Seattle, revealed an inquiry into abstraction that was mindful of both the Russian Suprematist work of Kasimir Malevich and the work of post-war abstract artists. In these first abstractions on paper, small shapes floated within larger planes of color. This paring down of essentials had, by the 1970s, become a direction followed by various artists across the United States.

JOSEPH GOLDBERG
STORM, 2010
Encaustic on linen over wood panel
36 x 36 inches

In the early 1980s, Goldberg had perfected the technique of encaustic painting for which he would become most well known. By mixing brilliantly hued raw pigments with translucent beeswax, Goldberg is working with a tradition of painting with wax that connects him with some of the earliest paintings known to man. Goldberg builds his painted surface with layer after layer of color until a palpable luminescence is achieved. The surface is flamed and buffed developing a waxy, lustrous sheen unlike most encaustic painting.

Many of the paintings in this exhibition reflect Goldberg's interest and attraction to nature. The night sky, the snow covered clearing and the flight of a bird of prey are reduced to their barest elements, filtered through Goldberg's interests in Minimalist painting. As the artist says in his statement for the exhibition: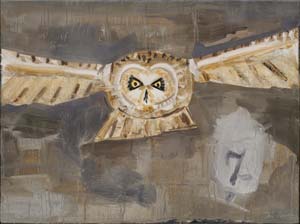 COMES THE NIGHT, 2010
Encaustic on linen over wood panel
24 x 30 inches


What is it that takes your breath away? Paint that.

-Joseph Goldberg

See more Joseph Goldberg's artwork
---
Kerry James Marshall
Recent Etchings
February 24 - April 2, 2011 Opening reception: March 3, 6:00 - 8:00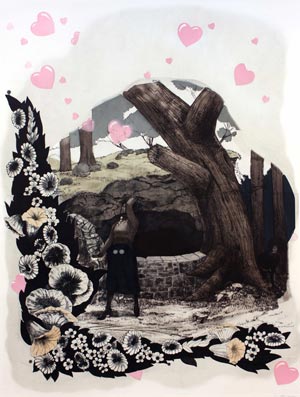 Please join us for an opening reception with the artists Thursday, January 6, from 6:00-8:00 p.m., as well as an informal "Saturday After" walk through of the exhibition with the artists Saturday, January 8 at noon.

Greg Kucera Gallery is pleased to announce an exhibition of new prints by Chicago artist Kerry James Marshall. One of the brightest stars of the contemporary art scene, Marshall is an able and inspired chronicler of urban African American life, fashioning paintings, prints and sculptures that detail elements of his own history and larger political issues.

Marshall's work is based on a broad range of art-historical references, from Renaissance painting to black folk art, from El Greco to Charles White. A striking aspect of his paintings is the emphatically black skin tone of his figures, a development the artist says emerged from an investigation into the invisibility of blacks in America and the unnecessarily negative connotations associated with darkness. Marshall believes "you still have to earn your audience's attention every time you make something." The sheer beauty of his work speaks to an art that is simultaneously formally rigorous and socially engaged.

His most recent etchings were published by and printed at Paulson Bott Press in Berkeley, CA. In these new prints, the artist transposes motifs and genres from Rococo and Romantic painting to historical portraiture, mixing them with the signs and symbols of contemporary Black culture. In VIGNETTE (WISHING WELL) Marshall shows that rare subject, the fully clothed, black, female figure at a wishing well in a romanticized glen redolent with a border of flowers and pink hearts.


BIOGRAPHY Kerry James Marshall was born in 1955 in Birmingham, Alabama, and raised in South Central Los Angeles. He was educated at the Otis Art Institute in Los Angeles, from which he received a BFA, and an honorary doctorate in 1999. Marshall lives and works in Chicago.

His work is in the permanent collections of the Addison Gallery of American Art, Andover; Laguna Art Museum; List Visual Arts Center, MIT; Los Angeles County Museum of Art; Microsoft Corporation; Museum of Contemporary Art, Chicago; Art Institute of Chicago; Birmingham Museum of Art; San Francisco Museum of Modern Art; Seattle Art Museum; Studio Museum in Harlem; The Contemporary Museum, Honolulu; The MacArthur Foundation, Chicago; The Whitney Museum of American Art, New York; and many others.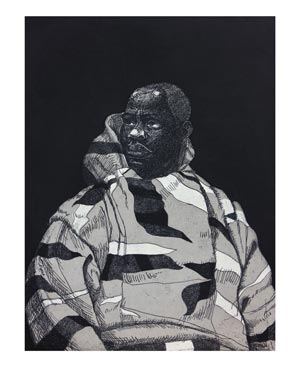 Kerry James Marshall
KERRY JAMES MARSHALL
UNTITLED (HANDSOME YOUNG MAN), 2010
Hardground etching
22.5 x 19 inches
Edition of 50

BIOGRAPHY
Victoria Haven received her BFA from the University of Washington and her MFA from Goldsmiths College/University of London. She was the 2004 recipient of The Stranger "Genius Award", the Betty Bowen Award from the Seattle Art Museum as well as the Pollock-Krasner Award in 1996 and 2000. Her work is in the permanent collections of Washington State University, Henry Art Gallery and the City of Seattle. The artist lives and works in Seattle.

See more Kerry James Marshall's work