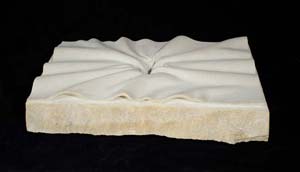 Dan Webb
Stones and Flowers
February 18 - March 27
Opening reception: Thursday, February 18, 6:00 - 8:00
Artist talk: Saturday, March 20, at noon



Greg Kucera Gallery is pleased to announce our first one-person exhibition of work by Seattle artist, Dan Webb. Working in a variety of materials including wood, limestone and bronze, the artist displays his consummate carving abilities to great effect.

The work in this exhibition explores two themes that have been sources of inspiration to the artist for the past several years. The first is the idea that much of the meaning of a work of art is elusive and, to an extent, hidden. Neither the artist nor the viewer can be aware of every possible meaning within a work since each interpretation is revealed only by the experience and perceptions of the individual. Webb carves, in stone and wood, objects seemingly covered by a material that hints at what is beneath. The subject of the work is the fact that so much in the image is covered up and unseen. The show's second theme concerns the dandelion as a metaphor for resiliency. Despite manís efforts to prevent its growth, dandelions always find a way to resist those efforts.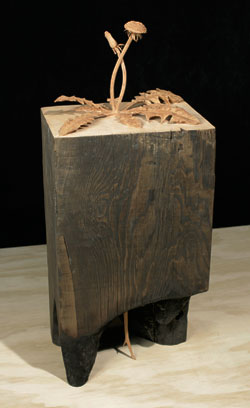 Resiliency is a transformative, even creative act in the face of adversity, and I frequently use the dandelion to represent that. The dandelion is a hardy survivor despite our prodigious efforts to kill it. That it does so, attracts bees and butterflies, and is edible from flower to tap root doesn't seem to endear it to us. That it follows us as we disturb the soil, thus creating a symbiotic relationship to our destructive ways, goes unnoticed.—Dan Webb
BIOGRAPHY
Dan Webb received his BFA in 1991 from Cornish College of the Arts. He lives and works in Seattle.

Dan Webb's work is also currently featured in a retrospective exhibition, Unring The Bell, at Cornish College of the Arts through February 26, 2010. Curated by Jess Van Nostrand.



Dan Webb's exhibition is supported in part by Seattle Office of Arts and Cultural Affairs
---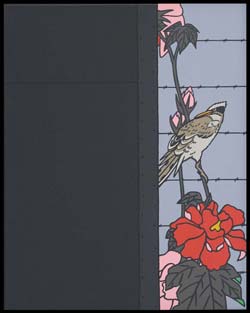 Roger Shimomura
Small Paintings
February 18 - March 27
Opening reception: Thursday, February 18, 6:00 - 8:00


In a group of relatively small paintings, Roger Shimomura expands on ideas explored in "Minidoka on My Mind," his previous one-person exhibition at Greg Kucera Gallery. The artist explores the racial conflicts of the 1940s war years and the unjust imprisonment of approximately 120,000 Japanese Americans, 60% of whom were U.S. citizens. In particular this work focuses on his family's internment during World War II at Camp Minidoka in Hunt, Idaho.

Shimomura's camp paintings portray the wide array of ages, economic backgrounds, moods, and situations of the political detainees. There are several works that show the attempts by these captured Japanese Americans to make themselves comfortable within the bleak, arid landscape. Views of a garden built on the site are poignant reminders that these fellow Americans, uprooted from their own homes, were making every attempt to create comfort in a comfortless environment. The architectural aspects of the simply built barracks play a large role in these paintings. Shimomura shows these rude accommodations with their bare wooden floors and tar papered walls, situated within barbed wire enclosures amid the bleak, sandy Idaho terrain.

Roger Shimomura has a one-person exhibition, Yellow Terror: The Collections and Paintings of Roger Shimomura, at Wing Luke Museum, in Seattle through April 18. Please join us at Wing Luke Asian Museum for a lecture by the artist on March 18 at 7pm. Tickets and details are available at www.winglukemuseum.org .

See more Roger Shimomura's work


---
Upcoming Exhibitions:

I COULD DRINK A CASE OF YOU
Gallery Artists
April 1 - May 15, 2010