April 5 - May 12
First Thursday, April 5, 6:00-8:00
Artist talk, April 5, at 5:00




BRION NUDA ROSCH
IMAGINE THE WORLD IS FLAT, 2011
Found book page on found book page
11 x 10.25 inches

Greg Kucera Gallery is pleased to announce the first Seattle solo exhibition of San Francisco artist and curator, Brion Nuda Rosch. The work shown in the Bay Area Now 6, and now at Greg Kucera Gallery, encompasses several series of sculptures and collages that interact conceptually with each other. Nature in the human form or as landscape are deliberately brought towards abstraction with small moves, collaging over an image with bits of painted paper, or obscuring a figure through erasure of detail. The simple processes and concepts in Rosch's work demand time and contemplation asking many questions of the viewer and offering few answers.

"Within my process based works every action is considered. If arranging a lunch is an artwork, eating it is performance, the stems, crusts and seeds are the ephemera and evidence that the event took place. Whether making a collage, arranging materials or collaborating with others, the immediate task and material at hand claim the most importance. Projects are initiated with different levels of authorship and function on various platforms of display." - Brion Nuda Rosch

Based in San Francisco, Rosch is originally from Chicago and is self-taught. He has participated in numerous exhibitions including It's Not Me, It's You and IEG at the San Jose Institute for Contemporary Art, Trace Elements at the San Francisco Arts Commission, Grounded at Southern Exposure, and in 2011, Bay Area Now 6 at Yerba Buena Center for the Arts, and Material Deposits at the Atlanta Contemporary Art Center. Rosch is represented by Eli Ridgway Gallery in San Francisco and DCKT in New York.
See more Brion Nuda Rosch's work
---
JOSEPH GOLDBERG
FOCUS: Boxes and Paintings
April 5 - May 12
First Thursday, April 5, 6:00-8:00

Greg Kucera Gallery is pleased to announce its fourth one-person exhibition by Northwest artist Joseph Goldberg. In addition to the encaustic paintings the artist is known for, Goldberg will exhibit several 3-dimensional box sculptures. Minimal wooden boxes contain gridded compositions made of tightly strung wires with coke cinders attached and arranged in seemingly random compositions that resemble constellations of stars or rocks strewn across a desert landscape.

"I noticed if you have chaos on one side and then mirror it, on the other you end up with balance, order, and a peaceful stillness." - Joseph Goldberg

Joseph Goldberg was born in 1947 in Seattle, and was raised near Spokane in Eastern Washington. He was educated at the University of Washington until he dropped out in 1968 at the encouragement of some of his teachers who knew that academic rigor wasn't going to teach (or tame) this most natural of artists. He has exhibited throughout the Northwest since the late 1960s. In 2007, Joseph Goldberg: A Retrospective opened at the Museum of Northwest Art in La Connor, WA.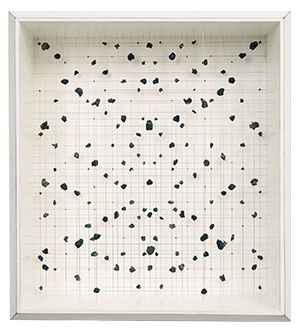 MOTH, 2011
Wood, stainless steel wire, coke cinders, gesso and oil
19.25 x 17.5 x 5.5 inches