click on any image to enlarge: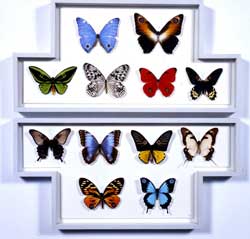 FAMILY SECRET/SECRET FAMILY, 2004-2005
Digital inkjet prints on archival paper with acrylic paint,
horsehair, Jade glue, on rice paper
28 x 25.5 x 2 inches
Edition of 2
$7,000.

"...in the piece Denomino Duplex (Literally, Naming and Doubleness) I made butterflies and gave them two part Latin names. The piece is a kind of visual poem. All the names are fictional—I have made them up. And on the backside of the piece, with its glossary, you see the poetic association with each butterfly. A black butterfly with white spots might be named, for instance, "Crow" and "String of Pearls."

The piece "Family Secret/Secret Family" again uses butterflies. In fact, a comparison of the butterfly maps, Denomino Duplex and this piece could show a person how the same image could have three completely different meanings depending on how it is used in each piece. Each half of this piece consists of a kind of family tree study of eye-color representing two families in which two parents of differing eye colors each have four children of their resulting eye color." —Jane Hammond, 2007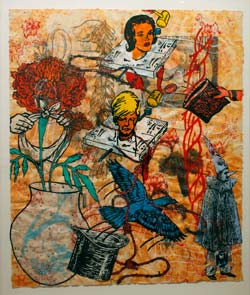 BOUND AGAIN, 1993
Graphite, transfers, lino block prints, color Xerox, gouache and acrylic on Japanese papers
36.25 x 32 inches
$8,000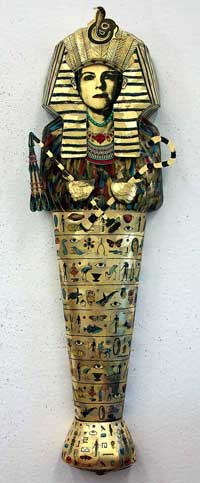 SPELLS AND INCANTATIONS, 2007
Color lithograph with silkscreen, Chine colle, and gold leaf
$10,000. framed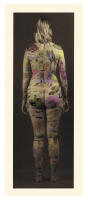 TABULA ROSA, 2001
Digital graphic print with light-fast pigmented inks
75 x 30 inches
Edition of 43, published by ULAE
$8,400. framed

This work incorporates an "actual size" photograph of Hammond's nude backside with her signature motifs in potent color wrapped around her body using digital imagery. It is also printed digitally with a new generation of conservation quality ink.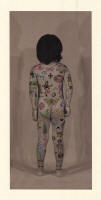 BODY LANGUAGE (From the Doctors of the World benefit portfolio), 2001
Digital graphic print with light-fast pigmented inks
47 x 24.5 inches
Edition of 100, printed at ULAE
$3,000.

"Lastly, the flower monoprints. It is very important here to me that they are monoprints. They are about variability and arrangement. I made the monoprints the way one would actually go about making a flower arrangement—first I made vases, then I made lots of flowers and foliage, then I arranged the flowers and foliage in the vases. They employ many different printing techniques—lithography, linoleum block printing, relief, digital, rubber stamps, etc and they also have lots of hand work, particularly water coloring by the artist—but I think of the real art of them as the art of the arrangement." —Jane Hammond, 2007

Other Available Work: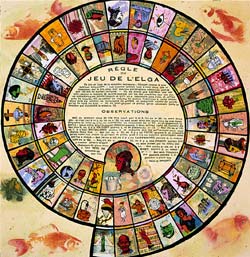 FROM THE GOOSE TO THE GIRL, 1999
Iris print with relief printing, pochoir, handcoloring
27 x 26.5
Edition of 25
$6,000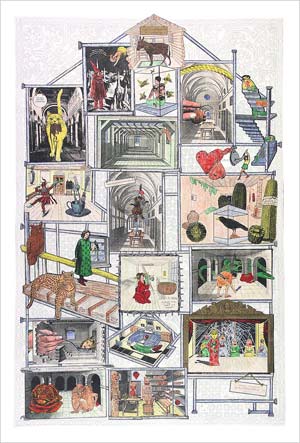 LOVE LAUGHS, 2005
Lithograph w/ hand coloring and collage
33.75 x 51.25 inches
Edition of 45
$10,000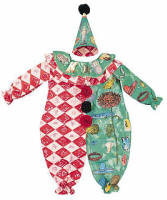 CLOWN SUIT AND HAT, 1995
Lithograph, silkscreen and photo offset on ricepaper
60 x 30, with 5 inches variable depth
Edition 16 of 45
$7,500


The works on paper by Hammond are a complex combination of acrylic and gouache paint, graphite drawing, rubber stampings, color copier transfers, transfers from magazine illustrations and fruit labels, linoleum block printings, and ink drawings. Hammond derives her images from a multitude of interests including phrenology, astrology, knot diagrams, magic tricks, medical and technical illustrations and shadow puppets to name just a few. The combination of these disparate images depicted in such a variety of media gives Hammond's works on rice paper a wonderfully rich feel.

The artist's unique works on paper begin with stacks of various cutouts, Xeroxes and stampings from which she chooses appealing images to start gluing and layering. As she works, all the seemingly dissimilar elements begin to trigger associations with other images or ideas for the artist, which she continues to develop using the transfers, prints, paint and ink.

This deliberate degree of suggestion carries through in her paintings as well, allowing the viewer opportunity to connect these images by drawing on their own interests and associations. Hammond uses a hermetic lexicon of messages and images, investing her paintings with complicated but unspecific meanings.

Hammond's New York representative is Galerie Lelong, where she had a one-person exhibition of paintings in the fall of 2001. Jane Hammond's work has also been recently on exhibit at the Whitney Museum of Contemporary Art at Philip Morris, New York, the Cleveland Center for Contemporary Art, Ohio and the Contemporary Museum, Honolulu. The exhibition then traveled to the Madison Art Center in Wisconsin and University of Houston's Blaffer Gallery in Texas. She also had a one-person show of the rebus paintings at the Weatherspoon Art Museum, Greensboro, NC, in 2003.