Sky and Stone
February 19 - March 28, 2015
Opening reception: February 19, 6-8pm



BRIGHT DAY, 2014
Encaustic on linen over wood panel
30 x 24 inches
$8,500



OPEN SKY, 2014
Encaustic on linen over wood panel
47.5 x 32 inches
$14,000



GLACIER, 2014
Encaustic on linen over wood panel
30.25 x 63 inches
$14,000
HOLD



SANDS, 2014
Encaustic on linen over wood panel
33.5 x 44.75 inches
$14,000

Born in 1947 in Seattle, Goldberg was raised near Spokane in Eastern Washington. He was educated at the University of Washington until he dropped out in 1968. His first few exhibitions in the late 1960s, with Francine Seders Gallery in Seattle, revealed two separate inquiries into abstraction. He was producing small landscape drawings and paintings that were somewhat surrealistic in nature while, at the same time, beginning a course of abstraction that would define his early career. In these first abstractions on paper, small shapes floated within larger planes of color, the central shape often echoing the shapes the larger field. They were mindful of both the Russian Suprematist work of Kasimir Malevich and the work of post-war abstract artists such as Albers, Rothko and Held. This paring down of essentials had, by the 1970s, become a direction followed by various artists across the United States - one thinks of Robert Irwin or John McCracken as easily as Brice Marden or Kenneth

By 1975, these works on paper would develop into larger works in oil or wax over linen stretched over wood panels. The central floating images became striated and sometimes even gestural. A series of tall vertical paintings in the late 1970s and early 1980s suggested classical columns or stacks of rectangles within the larger rectangle.

In the early 1980s, Goldberg had perfected the technique of encaustic painting for which he would become most well known. By mixing brilliantly hued raw pigments with translucent beeswax, Goldberg is working with a tradition of painting with wax that connects him with some of the earliest paintings known to man. Goldberg builds his painted surface with layer after layer of color until a palpable luminescence is achieved. The surface is flamed and buffed developing a waxy, lustrous sheen.

In the late 1990s, Goldberg exhibited a group of landscapes depicting the familiar forms such as gorges, ridges, fields as well as Soap Lake in Eastern Washington, where the artist had been living since 1984. These land, sky and waterscapes revealed that this appreciation of the natural world have been the most enduring images in Goldberg's work. In his current paintings, Goldberg adds elements of weather and observations of the sky to these abstracted landscapes--lightning, to be more specific, is a recurring theme in a number of works.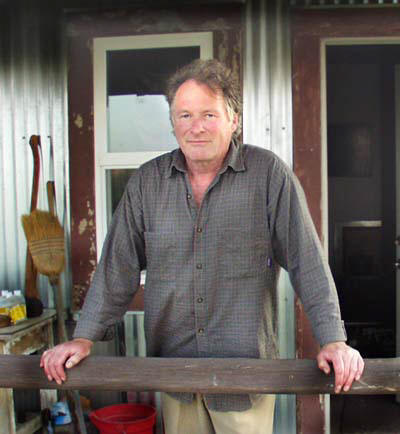 The artist in his Eastern Washington State studio

Other works in the exhibition parallel Goldberg's earlier interests in Minimalist painting. Several pieces investigate a severely reduced composition-a field of rich, nuanced white is edged with small bands and rectangles of high key color intruding slightly into it. These are mindful of the late Mondrian works and also of Motherwell's ongoing Open Series in which he would create a painted space suggestive of the openness of doors or windows without being representational. Similarly, much of Goldberg's past and present work seems related to architecture. Suggestions of archeological relics, mosaic panels, floor plans, doors, tunnels, arches, windows and columns, have figured in nearly every body of work. Other paintings in this exhibition are overtly representational with figurative elements in the forms of silhouettes and skeletons, as well as a haunting painting of an owl.

The Northwest has so little history with reductive art that Goldberg seems a refreshing comment on a minimalist aesthetic with these newest works.