Exhibiting at Greg Kucera Gallery (Selected Works, 1965 - 1999)
January 8 - February 14
Opening reception: Thursday, January 8, 6:00 - 8:00 p.m.

Exhibiting at Francine Seders Gallery (Selected Works, 2000 - 2008)
January 8 - February 9
Opening reception: Sunday, January 11, 2:00 - 4:00 p.m.
http://www.sedersgallery.com


The Seattle Times
Art review | Entrancing works of Michael Dailey at 2 galleries (pdf)
by Gayle Clemens
January 16, 2009
Link to review online: here


Seattle Post-Intelligencer
It takes two galleries to capture the colorful career of Michael Dailey (pdf)
by Regina Hackett
January 22, 2009
Link to review online: here

Color, Light, Time, and Place: Selected Works, 1966 - 2008
Dailey's work was the subject of a recent retrospective, curated by John Olbrantz, at the Hallie Ford Museum, Willamette University, in Salem, Oregon. Previous one-person museum exhibitions include a 2002 retrospective at the Museum of Northwest Art in La Conner, WA, and early surveys at the Tacoma Art Museum in 1975 and 1966; University of Idaho, Moscow, in 1974; University of Wisconsin, Madison, in 1967; and the State University of New York, Alfred, in 1963. The artist continues to live and work in Seattle after retiring from the University of Washington School of Art.
Oil paintings on canvas

Click on an image to enlarge: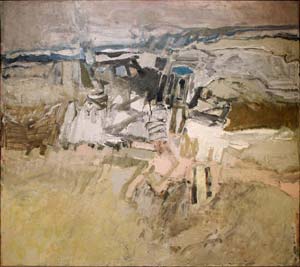 COASTAL LANDSCAPE III, 1965
Oil on canvas
60.75 x 68.25 inches
$15,000
Courtesy of Francine Seders Gallery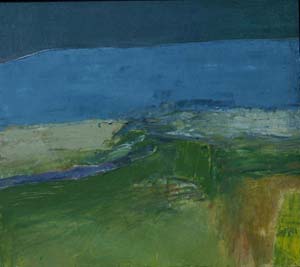 CALIFORNIA COAST, 1966
Oil on canvas
61 x 61 inches
SOLD
Courtesy of Francine Seders Gallery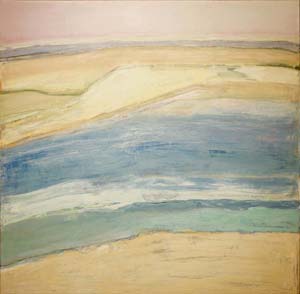 COLUMBIA CROSSING, 1967
Oil on canvas
67 x 69.5 inches
Collection of ACT Theater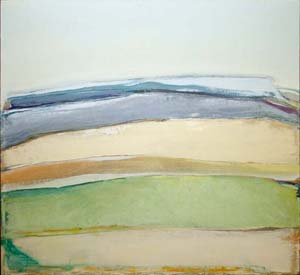 NEW MORNING LANDSCAPE, 1968
Oil on canvas
40.5 x 43.5 inches
SOLD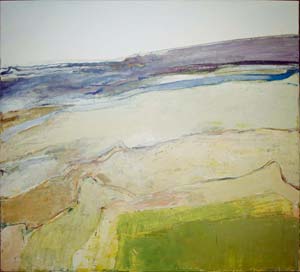 YELLOW COAST #2, 1973
Oil on canvas
62 x 69 inches
Collection of Barbara Taber Wilson

In the era between the mid-1960s and 2000, there was a thoughtful development in his work starting with abstract, landscape painting typical of the time and related to other 1960s landscape painters such as Richard Diebenkorn or Elmer Bischoff. In these works, vertical passages of paint collide with horizontal areas as the land, water and sky are flattened and reduced to painterly passages of color.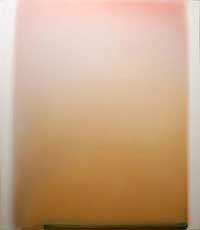 SCAPA, SUNDOWN #3, 1975
Oil on canvas
77.5 x 67 inches
Collection of Roberta Sherman






MEADOW SERIES #1, 1977
Oil on canvas
62.5 x 66.75 inches
$15,000
Courtesy of Francine Seders Gallery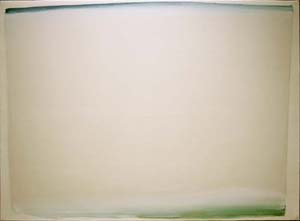 BEACH SERIES (white), 1978
Oil on canvas
30 x 41 inches
SOLD

By the early 1970s and into the 1980s Dailey embraced a kind of skyscape painting in which the land, or beach, or water seemed increasingly peripheral to the depiction of the ever-changing sky. The horizontal bands widened and seemed to open up the painting as fewer and fewer elements compete for attention. At this point the reference to anything solid was relegated to the bottom edge and, to an even lesser extent, at the sides and top of the paintings. The centers of the paintings became subtle readings of light and color as affected by the times of day, and the sky seemed to stretch from edge to edge, and even beyond, with the suggestion of infinite depth. By the late 1980s, he seemed to be attempting to paint the vaporous atmosphere itself.

Acrylic paintings on canvas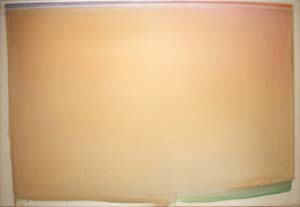 BEACH DAWN #4, 1980
Acrylic on canvas
39.75 x 58.25 inches
SOLD


In the late 1970s, Dailey's health, and a diagnosis of Multiple Sclerosis, necessitated a change in medium from oil paint to acrylic. After a period of trial and error, the artist achieved a nearly miraculous transition in medium without greatly affecting the look of his work. In fact, the shift is nearly undetectable between them and the gravity of the work was maintained.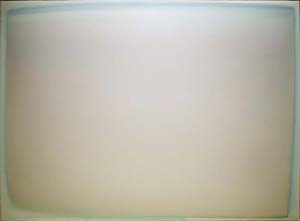 BEACH SERIES TWILIGHT #2, 1981
Acrylic on canvas
42.25 x 58.25 inches
$8,500
SOLD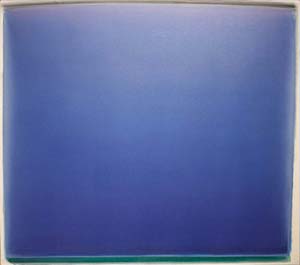 DEEP BLUE SEA #2, 1981
Acrylic on canvas
37.25 x 41.75 inches
$7,500
HOLD
Courtesy of Francine Seders Gallery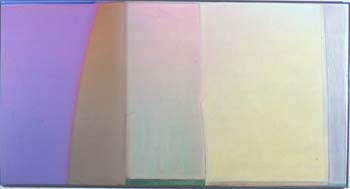 SUNSET LANDSCAPE BY THE SEA , 1984
Acrylic on canvas
46.5 x 88.5 inches
$12,000
Courtesy of Francine Seders Gallery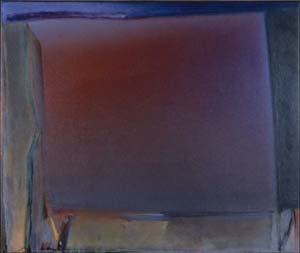 SPANISH COAST, NIGHTFALL, 1994
Acrylic on canvas
56.25 x 67.25 inches
Collection of Greg Kucera and Larry Yocom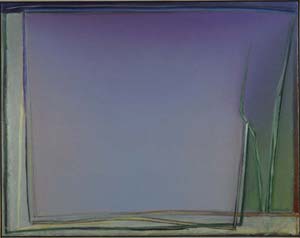 DUNRAVEN NIGHT, 1999
Acrylic on canvas
45.5 x 57.5 inches
$8,500
Courtesy of Francine Seders Gallery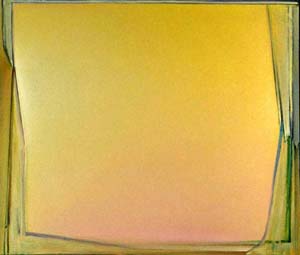 BUTTERFIELD , 2000
Acrylic on canvas
57.75 x 67.25 inches
$12,000
Courtesy of Francine Seders Gallery

The work of the later 1980s and into the present time has been a shift back toward a more complex composition where the painting shifts from horizontal areas of paint to vertical bands that seem to each have their own individual aspects of time or relations to space. If there is a central open space, that space is often framed or held in place by both horizontal and vertical structures. The general scale of the paintings has progressed toward smaller canvases and works on paper, necessitated by the decreased mobility of the artist due to MS. Despite the reduction in size, the recent paintings have become almost baroque in comparison to the very spare mid-career works and come full circle to a complex composition, similar to the works of the 1960s.

Works on paper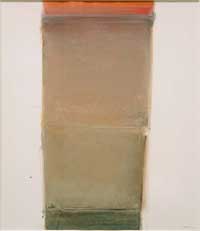 LIKE THE EVENING SUN, 1973
Oil on paper
13.5 x 13.5 inches
SOLD




NORE, WINTER #2, 1973
Oil on paper
13 x 17.5 inches
$3,500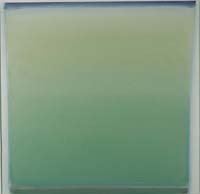 COAST AT GREENFIELDS #2, 1977
Oil on paper
22.5 x 24 inches
SOLD
Courtesy of Francine Seders Gallery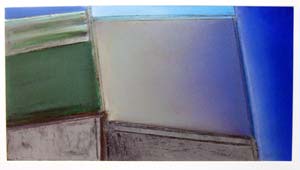 NIGHT LANDSCAPE BY THE SEA, 1989
Acrylic on paper
8.5 x 15.75 inches
$3,200

Michael Dailey has been a producing and exhibiting artist for nearly 45 years. He has been an influential teacher for many artists and students, including me, during his three decades long tenure at the University of Washington School of Art.

Francine Seders has been his long time dealer (representing his work since 1970), and has served as a great advocate for the artist. I have been a collector of Dailey's work since the mid-1970s and have always benefited from Francine's advice in following Dailey's career. Based on our mutual admiration for the artist, Francine and I decided to work together to present a modest sort of retrospective of some of the best of his work. Dailey has had museum shows in various smaller museums around the Northwest, (most recently in Salem, Oregon), but never in Seattle itself.

As Francine and I thought of this, by combining our spaces, we could present a cohesive look at the developments in his work, albeit separated into two separate eras and in two places, for viewers in Seattle.
Greg Kucera, December, 2008