Paintings on Paper
click on an image to enlarge:

The "Corona" series of ash paintings on paper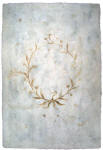 2.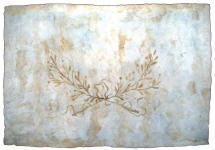 6.

CORONA (2, and 6), 2003
Plant and animal ash, clay and glue on handmade Mexican bark paper
16 x 23.5 inches each
$1,800. framed in artist's choice of dark wood molding
Click to enlarge any image above


Editioned Prints
click on an image to enlarge:

UNTITLED (Red Torso), 1989
Woodcut 15.5 x 22.5 inches Edition of 6 $500.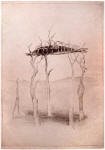 UNTITLED (Suspended), 1989
Drypoint, 21 x 15 inches Edition of 15
$300.



Pyrograph Prints
Mark Calderon's Santos series employs an unusual technique called pyrography to create editioned images. Loosely translated as "drawing with fire," pyrography involves scorching an image into paper with a heated tool. To make these mysterious images, Calderon fabricates elaborate branding irons, cut and shaped from ¼ inch steel. After heating the branding iron in a forge, it is used to sear the image into handmade Mexican bark paper, creating a softly burnt, sepia-colored impression.

click on an image to enlarge: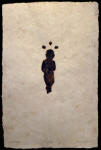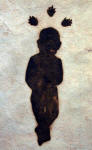 INFANS, 2001
Pyrograph brand on handmade Mexican bark paper
24 x 16 inches, Edition of 20
$600.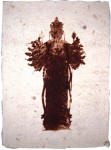 GOTAMA, 1999
Pyrograph brand on handmade paper, 37 x 27.5 inches, Edition of 20
$800.


The "Santos Series" of pyrographs, 1994
All of the prints in this series were inspired by Mexican retablos - devotional objects traditionally cut or constructed from sheets of tin. Often they depict Christ, Madonna, or the major saints but occasionally some of the regionally known and more personally identified saints. This aspect of folk art flourished in central Mexico during the nineteenth century and is still practiced today. Many of the saints depicted in Calderon's selection are a bit more obscure, such as Expedito, the saint invoked against procrastination, Puente, the saint prayed to for keeping secrets, or Palermo, the patron saint of slaves (African-American slaves, in particular.) These works refer to religious symbolism but they resist a singular interpretation. Certain aspects of these images can also be tied to Latin, Caribbean and Hispanic cultures but many of the themes are more universal. Calderon prefers to allow these works the ambiguity necessary for a broad audience.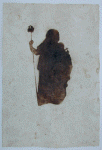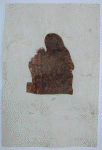 Left to right: ANA, BAILON, BASTON, EXPEDITO, 1994
Pyrograph brands on handmade Mexican bark paper, 23 x 16 inches each, Edition of 5
$900. each


Santa Ana is the mother of Mary. She is the Patron Saint of the old. She is prayed to during maternity and is believed to be especially effective against sterility; San Pascual Bailón kneeled in front of the monstrance for hours at a time. He is considered the Patron Saint of Kitchens and Cooks; It is said that Mary's husband was selected by the placing of all eligible suitor's staffs (bastons) in the courtyard of the temple. The next day, San José's (Joseph's) had bloomed. This staff became his attribute as well as his symbol of purity; San Expedito is the patron saint against procrastination.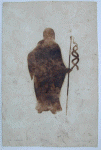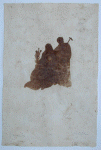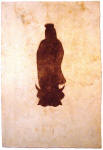 Left to right: JOAQUIN, LA MAGNA, LOYOLA, MANDORLA, 1994
Pyrograph brand on handmade Mexican bark paper, 23 x 16 inches each, Edition of 5
$900. each


San Joaquín is the father of the Virgin Mary and Patron of the Elderly.
Santa Gertrudis La Magna (The Great) was devoted to the worship of the sacred heart. She is shown here holding the staff of the abbess; San Ignacio de Loyola, founder of the Jesuits, received a military education at an early age. Later, he resolved to imitate the saints. He is shown holding a religious banner; San Juan Nepomuceno is the Patron Saint of Confessors, Lawyers, and Bridges (puentes). He is invoked for the keeping of secrets.
Mandorla refers to the almond-shaped aura of golden rays that typically surrounds the virgin Guadalupe.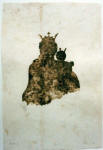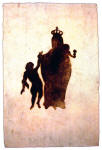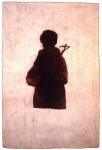 Left to right: REFUGIO, SANTISIMA, AND PALERMO, 1994
Pyrograph brand on handmade Mexican bark paper, 23 x 16 inches each, Edition of 5
$900. each


Ramos (Branches) refers to the Martyr's palm associated with this saint; Refugio (Refuge) refers to Mary as a refuge for sinners; Santísima, or Holiest, refers to the Virgin Mary also. In this image as the most Holy Mother of Light, she serves as protection from plagues, storms, and invasions. She has become the Patron Saint of Electricians; Purísima (The Most Pure) refers to a variety of depictions of the Virgin Mary; San Benito de Palermo was the Patron Saint of African American slaves in the Americas;
"I was born of a Mexican father and an American mother of Norwegian-Irish descent, and was raised without much specific religious or ethnic influence. Later, during my college studies, I was exposed to many artists and cultures with which I was previously unfamiliar. Only recently have I recognized the influence of the Chicano aesthetic in my work. The rich and varied textures of the materials used in the construction of my work call to mind the important function crafts play in the daily life of the Mexican people. Commonplace materials such as plaster, wood, muslin, steel, tarpaper and cheesecloth are used as integral rather than incidental components of the work and provide a warmth and approachability, which might not be there if I used other media. These materials, often in an old and weathered condition, are an integral part of my work and through the use of these raw and varied textures, I hope to give the pieces an appearance and quality which resists placement in time and position within any specific culture.

The discovery of Victorian mourning jewelry has also made a lasting impression on my work and me. I was fascinated to learn that 100 years ago it was customary to use the hair of a loved one to weave intricate jewelry and decorations as a keepsake or as a memorial. The degree of intimacy that is achieved by using the physical reminders of a loved one is profound. This reinforced my belief that the material and process used can contribute a great deal of meaning to the work.

Much of my work has been quite abstract but recently, I have begun to make direct reference to the rich history Christian images: the cross, the heart, and the torso. These images, so significant in Chicano culture, are for me a representation of individual spirituality rather than the dogmas of any particular religion. For me, spiritual belief and practice is very personal. Nonetheless, the influence was there.

Because of this, my understanding of the creative act has also changed. Originally, I felt my art was affected only by outside influences, quite separate from my life and personal history. As my work and my artistic personality have developed, I began to realize how inseparable they are from my personal heritage."

— Mark Calderon, 1996