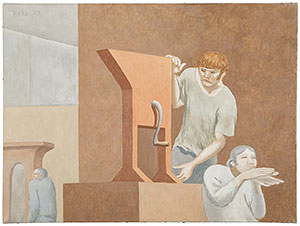 AUCTION BLOCK (259), 1973
Oil on canvas
18 x 24 inches
$6,500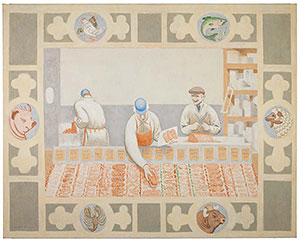 BUTCHER SHOP (208), 2009
Oil on canvas
40 x 50 inches
$20,000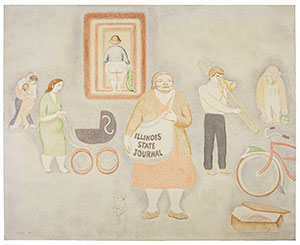 FOSTER FAMILY, 1990
Oil on canvas
42 x 51 inches
$21,000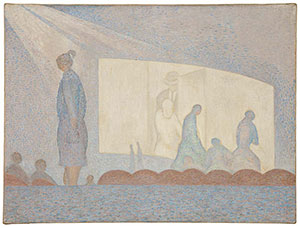 MOVIE HOUSE (070), 1959
Oil on canvas
15 x 20 inches
$4,800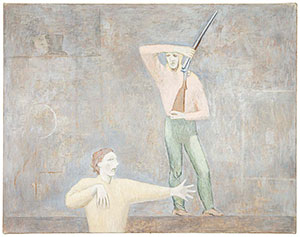 SELLING A GUN (084), 2000
Oil on canvas
22 x 28 inches
$8,200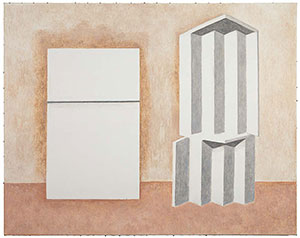 REFRIGERATOR AND GHOST (279), 2012
Oil on canvas
33 x 42 inches
$14,200



STUDY IN BROWN (173), 2008
Oil on canvas
20 x 25 inches
$7,200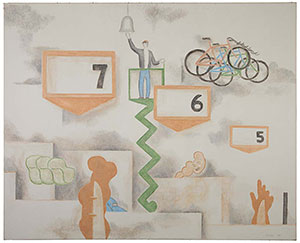 SUPERMARKET INTERIOR (195), 1985
Oil on canvas
40 x 50 inches
$20,000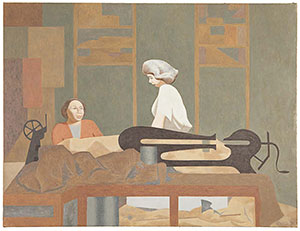 TWO WOMEN TALKING (247), 1970
Oil on canvas
26 x 34 inches
$10,500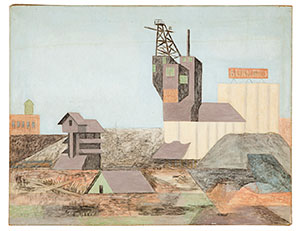 COAL ELEVATOR (014), 1955
Oil on canvas
20 x 26 inches
$7,400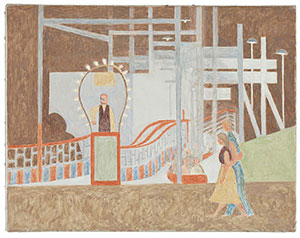 CONEY ISLAND SKETCH (237), 1987
Oil on canvas
14 x 18 inches
$4,200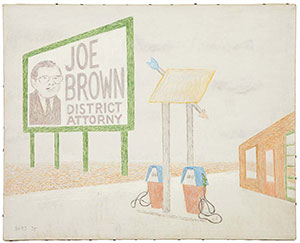 DISTRICT ATTORNEY (100), 1975
Oil on canvas
16 x 20 inches
$5,000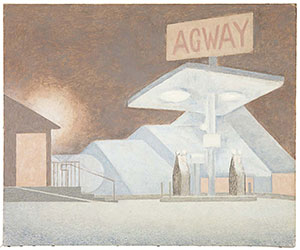 FILLING STATION AT NIGHT (172), 1997
Oil on canvas
20 x 24 inches
$7,000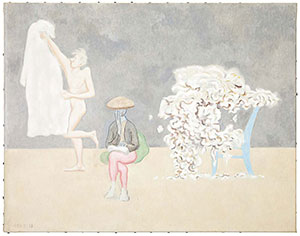 IN THE SHOWERS (177), 2012
Oil on canvas
22 x 28 inches
$8,200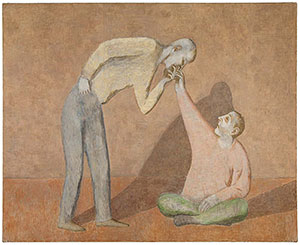 MAN GIVING A LIGHT (276), 1990
Oil on canvas
34 x 42 inches
$14,500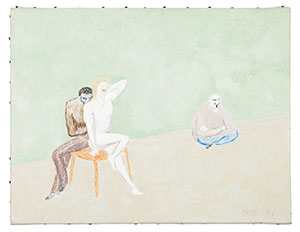 NURSE, AID AND PATIENT (206), 2009
Oil on canvas
13 x 17 inches
$3,800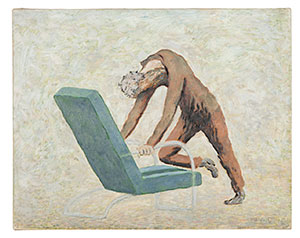 MAN AND CHAIR (226), 2013
Oil on canvas
16.25 x 20 inches
$5,000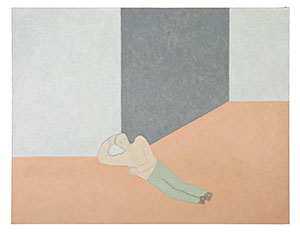 MAN RECLINING (289)
Oil on canvas
33 x 42 inches
$14,200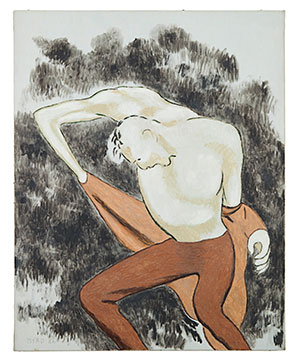 MAN UNBUTTONING HIS CUFF (123), 1986
Oil on canvas
28 x 22 inches
$8,200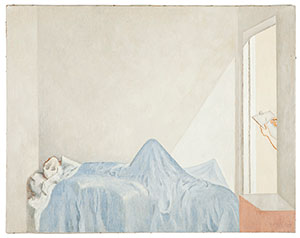 PATIENT EXPIRING (149), 1972
Oil on canvas
22 x 28 inches
$8,200



PATIENTS IN DISARRAY (069), 1972
Oil on canvas
15 x 19 inches
$4,600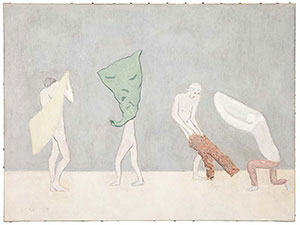 VARIED DRESS (067), 1988
Oil on canvas
18 x 24 inches
$6,500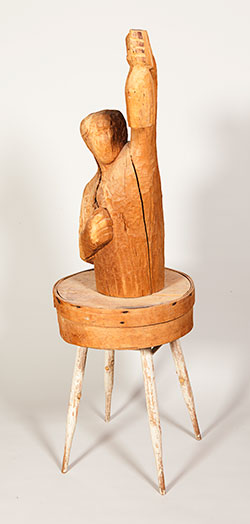 CENTAUR (003), 1993
Carved wood and found objects
54 x 16 x 16 inches
$4,000

Additional view of: CENTAUR, 1993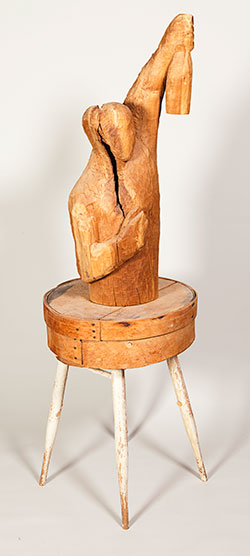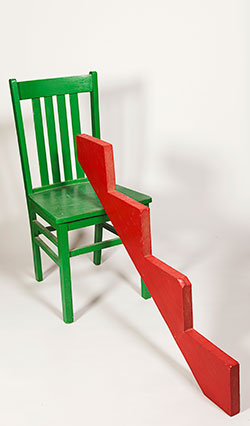 CHAIR AND STAIR (002), 1993
Wood and found objects
36 x 17 x 48 inches
$2,500



GHOST (001), 1993
Wood and found objects
82.5 x 25 x 25 inches
$5,000


Additional view of GHOST, 1993
David Byrd | Introduction: A Life of Observation
Introduction: A Life of Observation
April 4 - May 18, 2013

Huffington Post
David Byrd Gets His First Gallery Show At 87 Years Old (PHOTOS)
by Kathleen Massara

Visual Art Source
David Byrd Greg Kucera Gallery, Seattle
Recommendation by Amanda Manitach

KIRO RADIO, MyNorthwest.com
Man in a Garbage Can
by Tom Tangney

The Medium of Memory: David Byrd at Greg Kucera Gallery
by Zoë Samels

the Stranger
A Vast Empathy
One Man's Life's Work, Uncovered
by Jen Graves

Seattle Met
At 87, Artist David Byrd Is Just Getting Started
by Laura Dannen

Recently in the Stranger Slog
Currently Hanging: The Grandly Odd Paintings of an Eightysomething Artist About to Have His First-Ever Commercial Gallery Show
by Jen Graves
Installation views

David Byrd - Installation View 1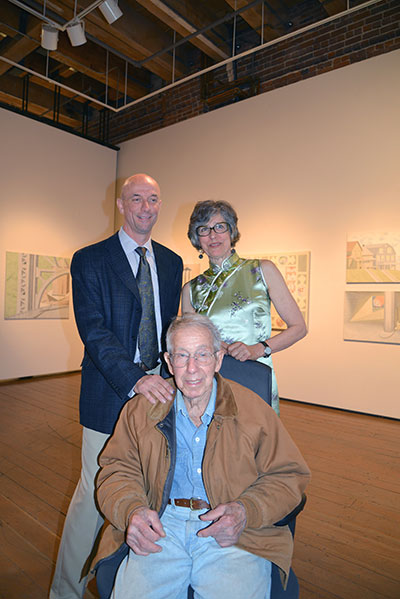 Opening reception, April 4, 2013. From the upper left, Greg Kucera, Jody Isaacson, and David Byrd.




View youtube video of David Byrd here.
About David Byrd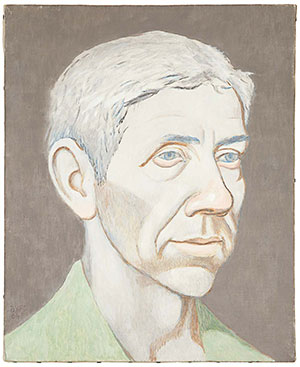 Byrd was born in 1926 and raised in Springfield, Illinois. His life experiences include living in foster homes as a child, traveling the world as a Merchant Marine, a brief military service, and studying with the Ozenfant School of Art in New York City. From 1958-88, he worked as an orderly at the Veteran's Administration Medical Hospital, Montrose, NY, caring for psychiatric patients damaged by the war. This experience provided him with his defining body of paintings related to the patients' individual behaviors, general routines, and distinct personalities.

In 1988, Byrd retired from the hospital, built his permanent home (mostly by himself), and devoted himself to painting from memory the places, people and situations he had seen in his previous lives. Byrd has a subdued palette, a minimal paint surface, and compositions with a striking interrelationship of space and shape. His sculptures are combinations of handcarved wood and found materials.

While not ignorant of recent art history, Byrd's work is anachronistic in that he has remained true to the period of his formation as an artist. Though he's now 87 years old, one senses the concerns of the artists of the 1940s, of social realism, and of genre painting. Here is that great anomaly in the art world: a fully formed artist with a tremendous history of painting, untouched by the commercial world, but deserving of a place within the history of 20th century art.