Ross Palmer Beecher: Americana
The Hallie Ford Museum of Art Willamette University, Salem, Oregon
Through July 31, 2011

See her interview online

Installation views of 2011 Ross Palmer Beecher: Americana at The Hallie Ford Museum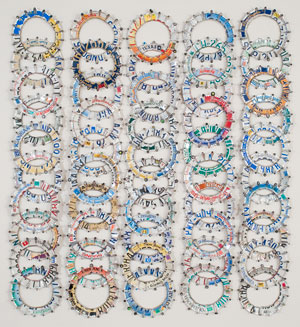 WEDDING BAND QUILT (License Plates and Hot Wheels), 2012
License plates, Hot Wheels cars and mixed media
89 x 80 inches
Photo credit: Josh Harrison
$12,000


Details of: WEDDING BAND QUILT (License Plates and Hot Wheels), 2012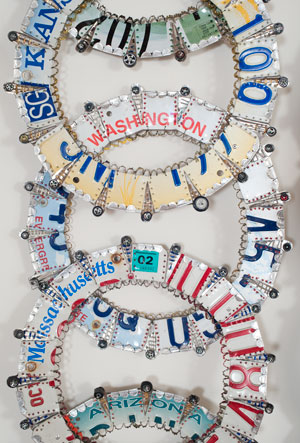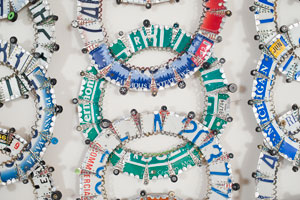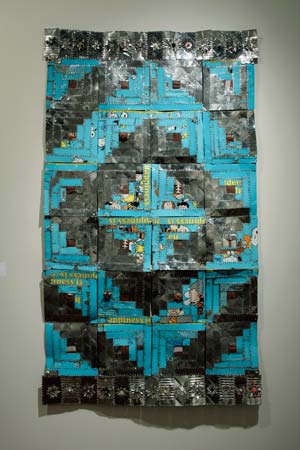 PEANUTS QUILT, 2010
Woven metal and found objects
77.5 X 43.5
$8,500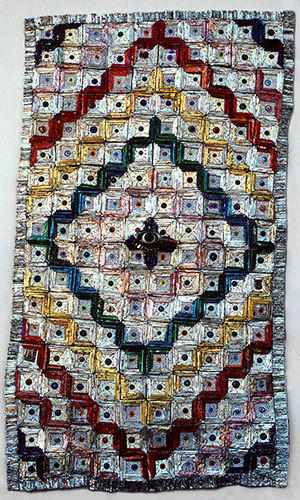 PHILIP GUSTON QUILT, 2005
Mixed media and found objects, 45 x 25.5 x 2 inches
$5,000.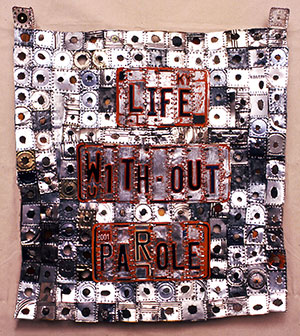 LIFE WITHOUT PAROLE, 2003
Mixed media and found objects
31 x 27.5 inches
$6,000.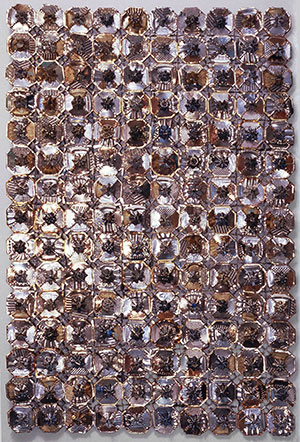 ENIGMA QUILT, 2002
Wire-stitched metal, paint, wood, costume jewelry and found objects
48 x 72 x 3 inches
SOLD


Ross Palmer Beecher's eighth one-person exhibition at the Greg Kucera Gallery included new work inspired by the American folk-art traditions of quilting, flag-making, bricolage and primitive portraiture. Beecher is not a "Folk" artist, but she is endlessly fascinated by the many forms it can take, the contexts surrounding its production, and the complete devotion to a given craft that Folk artists bring to their work. Beecher filters these traditions in making her contemporary objects. Beecher embraces her New England roots while her contemporary observations of the world are revealed through a wide variety of political and topical themes executed in her own peculiar brand of Yankee ingenuity.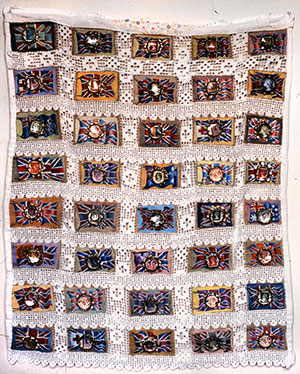 QUEENS II, 1999
Oil paint, linen, postage stamps and embroidery floss, 29.5 x 23 inches
$4,000.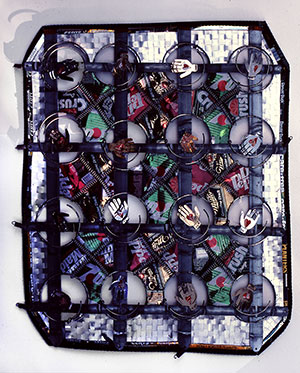 BOX SPRING QUILT, 1992
Woven metal and found objects, 23 x 28 x 4 inches
$3,000.