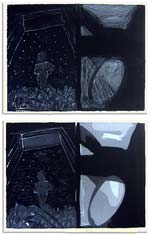 IN THE GARDEN #190, 1982
Screenprint on two sheets
17 x 23 inches each, edition of 52
Co-published by the artist and Simca Print Artists
$3,000.
Go directly to:
Seattle artRESOURCE
for information about this work

Detail of: IN THE GARDEN #190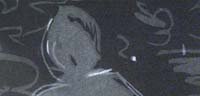 Jennifer Bartlett's fourth exhibition with the Greg Kucera Gallery focused on images of houses and trees, two of her most well-known images that have intermittently been present in her work in various ways since the mid-1970s. Included were several large paintings on canvas and square steel plates rendered in her characteristic painting systems involving plaids, dots, gestures and grids.
Jennifer Bartlett was born in 1941 in Long Beach, California. She received her M.F.A. from Yale in 1965. She has exhibited her work in some of the most prestigious exhibitions of our time including the Venice and Paris Biennials, and the Whitney Biennial Exhibitions. Her works are widely collected privately and by museums throughout the world. She has had major one-person exhibitions at the San Francisco Museum of Modern Art; Baltimore Museum of Art; Albright Knox Gallery, Buffalo; Walker Art Center, Minneapolis; Museum of Art, Carnegie Institute, Pittsburgh; The Brooklyn Museum; Nelson-Atkins Museum of Art, Kansas City; The Cleveland Museum of Art; and the Milwaukee Museum of Art.

Bartlett's first major work, "Rhapsody," focused many stylistic tendencies of the 1970s, from minimalism to pattern painting to conceptualism, in a single work. This work was composed of 987 painted steel panels, each 12 x 12 inches. When displayed, "Rhapsody" fills 153 running feet of wall space and reads like a piece of music or poem in a carefully planned rhythm and repetition of images. When "Rhapsody" was first exhibited in New York in 1976, John Russell of the New York Times called it "The most ambitious single work of new art that has come my way since I started to live in New York."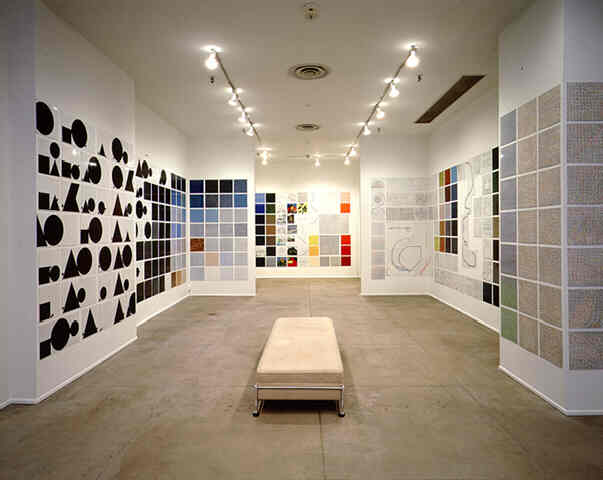 In the "Homan-ji" series, Bartlett again created a single work of art that is composed by combining many smaller increments. For "Homan-ji III" she created 220 individual works on paper. Each piece measures 23.5 x 23.5 inches, and uses traditional Japanese techniques and materials. While the entire series includes 11 color cycles (sets) of 20 works each, we will show only 2 cycles. Many of these works specifically deal with Bartlett's major themes of variation and repetition.

In the four "Seasons" screen prints Bartlett offers the weather, flora and fauna associated with each season combined with bits of plaid, hands of playing cards, configurations of dominoes, patterns from tiles in her home, and a skeleton. Printed with as many as 79-colors of transparent and opaque silkscreen inks these are extraordinarily rich prints with layers of imagery for the viewer to sift through.

In the "Elements" series Bartlett takes a large central image such as a skull or a clear glass vase and fills in at the edges with other smaller images of the plaid squares, flowers, tile patterns and once again the skeletal figure. These etchings are printed in brilliant color. With each print comes a separate object meant to be displayed with the print: A cast iron lily pad with the water image, a red lacquer box with the fire image, a painted concrete tile with the air image and a blue glazed ceramic bowl with the earth image. This combination of object and image is an idea which Bartlett has been exploring for the last decade but this is the first time she has created an edition which includes a multiple sculpture with a print.

Bartlett went on to produce other works which were made of many panels and multiple images. Among these was the untitled "Graceland Mansions" series named after the home of Elvis Presley, that depicted a symbolic house, drawn from several vantage points as if it were spinning in space.

In 1979-80 Bartlett spent a winter in a dilapidated villa in Nice. From that visit came her most well known series called "In the Garden" is a visual ode to the pool, with a fountain and gardens which surround the villa. These drawings evoke the various moods of the artist, the changing light on her surroundings and the romantic and sensual connotations of the place itself.

Over many years, Bartlett has gathered the respect of curators and collectors all over the world as she has created a very diverse and provocative group of works. At times her imagery has seemed reminiscent of Monet or Matisse, her philosophy has been compared to LeWitt and Andre, and her prolific variations on a single theme bring to mind Stella or Hockney.

Please contact us for the current availability on the images from Homan-ji III: staff(at)gregkucera.com