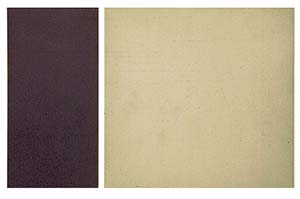 POD, 1999
Oil and wax on canvas on panel
Two panels, one panel 72 x 72 inches, one panel 72 x 40
72 x 114.5 inches overall


Appleby grew up in Pennsylvania, and moved to Montana at age 17. She still lives in Big Sky Country most of the year, spending just a few months at her home in San Francisco. She was schooled at the San Francisco Art Institute and graduated with an MFA in 1989. A strong influence on her work was a 15-year apprenticeship with an Ojibwe Native American elder in Montana. What she gained most from this apprenticeship was a strong level of patience and an incredible ability to observe. Appleby would watch and translate into color the amazing cycles in her vast backyard of Montana. Leaves, stems, buds, fruit, seeds and more are transformed into two-dimensional portraits of captured moments in nature's fluid evolution.