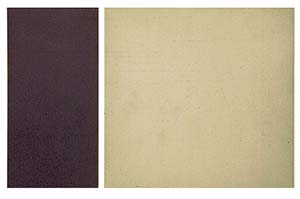 POD, 1999
Oil and wax on canvas on panel
Two panels, one panel 72 x 72 inches, one panel 72 x 40
72 x 114.5 inches overall
$70,000


VERONA VARIATIONS
Appleby's latest series of aquatint etchings, published by Crown Point Press, San Francisco, creates harmonic couplings of rich panels of color. A group of 15 prints titled VERONA VARIATIONS are the latest effort by this artist.

Acknowledging the tiny bit of Native American blood still flowing in her veins, Appleby connects her bond with nature to her ancestral heritage through a description of information that is not only seen but felt - without the clichè-ridden trappings of feathers and smoke. These are highly subjective works. They speak of the ineffable spirit of unknowable things more than any finite quantity of known data. They intrigue, they satisfy and they encourage.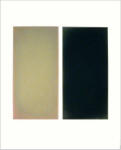 VERONA VARIATIONS NO. 11, 2003
Aquatint with burnishing, 32 x 31.5 inches, Edition of 10, Crown Point Press
$3,000


Appleby grew up in Pennsylvania, and moved to Montana at age 17. She still lives in Big Sky Country most of the year, spending just a few months at her home in San Francisco. She was schooled at the San Francisco Art Institute and graduated with an MFA in 1989. A strong influence on her work was a 15-year apprenticeship with an Ojibwe Native American elder in Montana. What she gained most from this apprenticeship was a strong level of patience and an incredible ability to observe. Appleby would watch and translate into color the amazing cycles in her vast backyard of Montana. Leaves, stems, buds, fruit, seeds and more are transformed into two-dimensional portraits of captured moments in nature's fluid evolution.