Guy Anderson
Selected Paintings
July 20 - August 25, 2017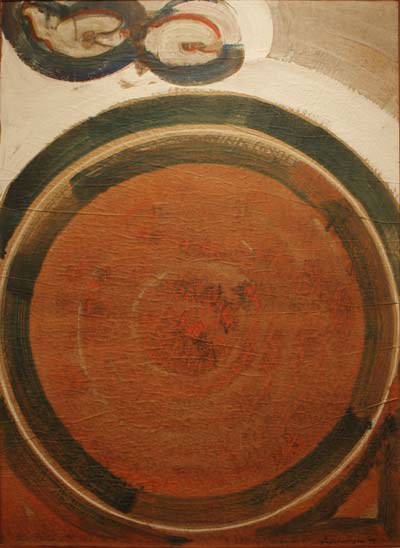 CONJUGAL VAJRA, 1979
Oil on paper
96 x 70 inches
$55,000



MAN READING WHILE IN FLIGHT, 1979
Oil on roofing paper
90.5 x 48 inches
$42,000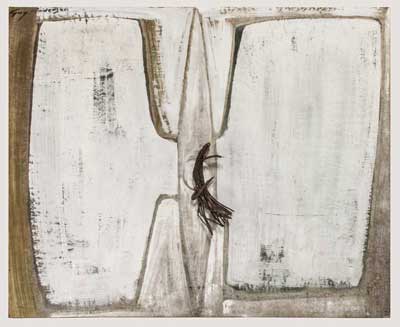 UNTITLED (summer), 1972
Oil on paper mounted on wood panel with found steel object
39 x 48 inches
SOLD



More about UNTITLED (summer)
In UNTITLED painting, the large forms in the background reference Native American carved wood motifs. The seed shape in the middle reflects his inspiration by Hindu philosophy and religion. The found steel piece is common for his works in the early 1970s. Its twisted form provides a gesture of its own at the painting's center.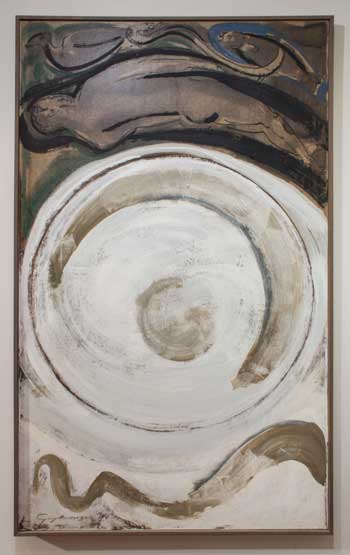 MAN SPORTING AMONG HIS ANCESTORS, circa 1974
Oil on paper mounted on wood panel
69 x 40 inches
$40,000



More about MAN SPORTING AMONG HIS ANCESTORS
At the top of MAN SPORTING AMONG HIS ANCESTORS, Guy Anderson depicts a snake, a fish and a bird - animals of earth, sea and sky. Below that, archetypal Man is shown floating above a large white orb, gentle waves beneath it. This is Anderson's origination myth, with his signature images of the dreamily floating man and the circular orb that is both earth and egg.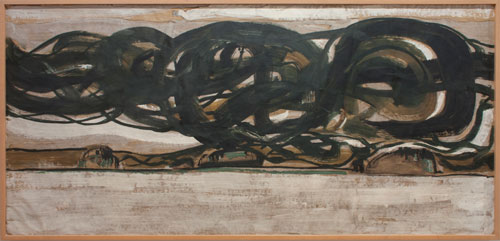 UNTITLED (clouds over horizon), 1976
Oil on paper mounted on wood panel
40.25 x 85.5 inches
HOLD




RIVER AND ISLAND, 1979
Oil on paper
15 x 83.5 inches
$18,000



More about UNTITLED (cloudes over horizon)
Living and working in the Skagit Valley, the image in UNTITLED (above) is a familiar landscape for Anderson. The islands or mountains on the horizon line is a typical scene, but the rain-thick clouds festering above them makes for a dramatic portrayal of the Skagit landscape. While the clouds are automatic gestural painting at its most vigorous, if one looks closely, the hilltops have trees sketched on them under the brush strokes of color.